Levine Plotkin & Menin Heads to Vornado
---
---
Levine Plotkin & Menin LLP, an entertainment law firm, is jumping from one Vornado-owned building to another after it inked a 10-year lease at 888 Seventh Avenue.
The firm, which has leased space at 1740 Broadway since 1994, is set to take 7,600 square feet of space on the 10th floor of 888 Seventh Avenue.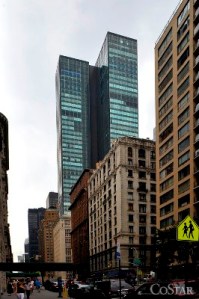 Josh Kuriloff, Jodi Roberts, and Andrew Braver, all of Cushman & Wakefield, represented Levine, Plotkin & Menin. Vornado was represented in-house by Glen Weiss and Jared Solomon. Asking rents were in the $70s-per-square-foot range.
The law firm had been on the hunt for a "unique, high-quality work space" that would also keep them close to the heart of Broadway, said Mr. Kuriloff.
"Being an entertainment law firm, they were looking to stay in the geography of the theater district," Mr. Kuriloff added. "Their preference was to maintain a West Side presence."
The 841,000-square-foot, Class A office building had the location and the office space suitable for Levine Plotkin & Menin's needs.
As for how the firm will design the space, Mr. Kuriloff said to expect something different from the traditional law office.
"It will be a cool, hip space," he said. "Not necessarily dropping ceilings on the entire space, just a design that is fitting of an entertainment law firm."
Levine Plotkin & Menin was founded in 1977 and represents a variety of entertainers, from directors to producers and classical musicians.
There is currently 113,894 square feet of space available in 888 Seventh Avenue, which counts businesses like Hudson Advisors and Rosecliff Capital as tenants, according to CoStar data.
Drosen@observer.com
1740 Broadway
,
888 Seventh Avenue
,
Andrew Braver
,
Cushman & Wakefield
,
Glen Weiss
,
Hudson Advisors
,
Jared Solomon
,
Jodi Roberts
,
Josh Kuriloff
,
Levine Plotkin & Menin LLP
,
Rosecliff Capital
,
Vornado Realty Trust