Ideeli Grabs Space in New York Times Building
---
---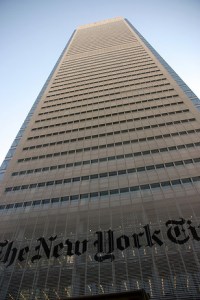 Ideeli, the online retailer of fashion and home decor goods, has snatched up another piece of Manhattan commercial real estate.
The company recently signed the dotted line on an 11-year sublease for British Telecom's space at the 620 Eighth Avenue. This will be their second deal in the past month: Ideeli signed a 23,500 square foot lease at 1385 Broadway to accomodate a larger photo studio to shoot their models.
The new office spans 31,524 square feet across the entire 45th floor of the building. The work space, designed by architect a&i, will serve more than 200 of the company's employees and will be finalized in late August. Studio operations staff will be housed at 1385 broadway.
Eric Deutsch of CBRE represented Ideeli and Robert Bakst and Steve Chasanoff of Colliers International represented British Telecom.
Sources close to the deal revealed to the Commercial Observer that the asking rent for the office was $70 per square foot. British Telecom was consolidating and looking for a company to take some of their lease. The telecommunications company will continue to operate out of the 46th floor of the building.
The building, standing 52 stories high, is one of the tallest buildings in Manhattan. Ideeli's office is in tremendous condition and will have floor to ceiling windows with stunning views of the city, the source later noted.
620 Eighth Avenue, more notably known as the New York Times Building, is one of the most desired buildings in Midtown, having held a firm 100% occupancy rate since its construction. The venture is between the New York Times and Forest City Ratner Companies. The Times owns the lower half of the building and Ratner owns the top half of the building.
Ideeli will join notable tenants such as New Jersey Nets, SJP Properties, Dean & Deluca, MUJi, and, of course, the New York Times.