Five Ink 50,000 at 600 Lexington Avenue
---
---
Five tenants have leased nearly 50,000 square feet at 600 Lexington, the building's landlord, SL Green, announced on Tuesday.
F5 Networks, an information technology company, signed a 10-year deal for 12,487 square feet, the roughly 300,000 square foot building's entire fifth floor. Robert Stella, a broker at Cresa Partners represented F5 Networks in the deal.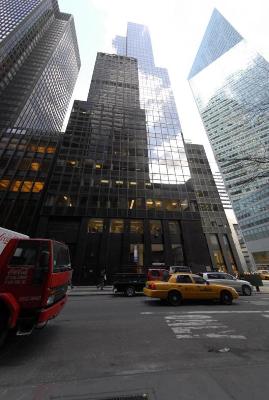 Executive search company Herbert Mines Associates signed a 10-year deal for 10,879 square feet, which comprised the entire second floor.
CBRE brokers Clyde Reetz and Yuan Tang, repped the firm in the deal.
LibreMax Capital LLC, an investment company, did a seven-year lease for 8,875 square feet, the entire 19th floor. Cynthia Wasserberger and Ryan Masiello, executives at Jones Lang LaSalle, handled the deal for LibreMax.
Law firm Caplin & Drysdale completed a 10-year lease for 8,875 square feet, the entire 21st floor. James Millard and Jonathan Schifrin, two executives with Transwestern Commercial Services, repped the firm.
Lastly, Intermediate Capital Group, a specialist investment firm and asset manager, signed a 10-year for 6,780 square feet, the entire 24th floor. CBRE brokers David Hollander and Sam Sieller represented Capital Group.
A brokerage team from Jones Lang LaSalle led by executives Paul Glickman, Frank Doyle, Mitti Liebersohn, Alexander Chudnoff, Diana Biasotti and Ben Bass handle deals at the property for SL Green.
SL Green's director of leasing, Steve Durels, credited renovation work the company has completed at the building for the string of deals.
"We completed a lobby renovation together with upgrades to the entrance plaza, corridors and bathrooms and implemented an aggressive marketing program to re-introduce the building to the brokerage community," Mr. Durels said in a statement. "The building upgrades and location… is attracting tenants from Park Avenue and upper Madison Avenue."

600 Lexington Avenue
,
Alexander Chudnoff
,
Ben Bass
,
Capital Group
,
Caplin & Drysdale
,
CBRE
,
Clyde Reetz
,
Cresa Partners
,
Cynthia Wasserberger
,
David Hollander
,
Diana Biasotti
,
F5 Network
,
frank doyle
,
Herbert Mines Associates
,
Intermediate Capital Group
,
James Millard
,
Jonathan Schifrin
,
Jones Lang LaSalle
,
LibreMax Capital LLC
,
Mitti Liebersohn
,
Paul Glickman
,
Robert Stella
,
Sam Sieller
,
SL Green Realty Corp.
,
Steven Durels
,
Transwestern Commercial Services
,
Yuan Tang