Is It Still Too Quiet Out There? New Developments Slowly Bringing in New Tenants
---
---
As the first month of 2012 was coming to a close, many in the industry wondered aloud whether this would be a moribund year for leasing in many of the city's newest buildings. There were notable new developments –1 and 4 World Trade Center and 51 Astor Place among them– dealing with equally-as-notable vacancies.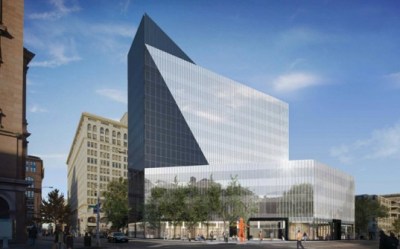 The NY Post's Steve Cuozzo in January wrote that he detected "nothing substantive, or close to it, happening at no fewer than a half-dozen-odd new projects, from the World Trade Center to West 55th Street."
Since then, however, the market has picked up, and many of these new developments have notched significant deals that have kept the naysayers mum…. at least, temporarily so.
Earlier this month, The Commercial Observer's Daniel Geiger broke the story that Hult International Business School was in discussions to take 55,000 square feet at Edward Misnkoff's ambitious 51 Astor Place development, the first such tenant in the 400,000 square foot building. The school needs to secure approval from the New York Board of Regents before it completely signs off on the deal.
Last week, luxury leather goods maker Coach was reported to have added 150,000 square feet in the South Tower at the Hudson Yards development, increasing its foothold to 750,000 square feet. Coach may take an additional 100,000 square feet in the Related Cos.-owned South Tower, which is expected to break ground sometime this autumn.
The Commercial Observer has been hearing rumblings that 4 World Trade Center is close to bringing in two new tenants. CBRE and Silverstein Properties, the exclusive leasing agents and the developers for 4 WTC, respectively, have denied the rumors, saying that no deal is close being signed. Meanwhile, The Westfield Group recently made its first payment of the $612.5 million owed to the Port Authority of New York & New Jersey to secure its 50 percent stake in the 460,000 square feet of retail space at WTC. As part of the deal, Westfield will handle development, leasing, and operating of retail spaces in 4 World Trade Center and other parts of the massive Downtown development.
Meanwhile, at 1 World Trade Center, The Durst Organization announced its plans to invite 250 brokers as part of the building's first-ever on-site marketing event. Despite landing Condé Nast as an anchor tenant, the office tower still has a lot of vacant space to fill.
11 Times Square brought in Russian restaurant company Global Food International Corp. to take 25,000 square feet of retail space that had been vacant for two years. The office tower, which is jointly owned by SJP Properties and a fund run by Prudential Financial, has been dealing with a stubborn near-60 percent occupancy rate since it opened in 2010. .
Those aside, it has been quiet for other developments like Brookfield Properties' Manhattan West and Hines' 7 Bryant Park. It will remain to be seen whether the approaching summer months will bring more activity to these projects.
drosen@observer.com
4 World Trade Center
,
51 Astor Place
,
7 Bryant Park
,
CBRE
,
Durst Organization
,
Edward Minskoff
,
Global Food International Corporation
,
Hines
,
Hult International Business School
,
Manhattan West
,
Silverstein Properties
,
Westfield Group