Downtown Manhattan on the Up and Up
---
---
For much of the past decade the only hope for a broker looking to make money off of Downtown office space was to do a deal like 70 Pine Street: Take a lavish 62-story Art Deco headquarters that was once owned by a spectacularly failed financial firm like AIG and turn it into opulent apartments where bankers would rather live than work.
Deals like 70 Pine Street, which instantly wiped off one million square feet from Downtown's commercial real estate inventory when it was sold for $200 million in 2011, have been propping up statistics for the neighborhood's office space market for years. Ever since large banks and financial companies started fleeing offices in the financial district, an influx of young families and bankers wanting to live Downtown, rather than just work there, have kept the vacancy rate from tanking even further by reducing the math on the supply end.
Now, say the brokers who have long suffered the horrors of Downtown's commercial market, those residential conversions are starting to also pay off on the demand side. A flurry of infrastructure and amenities building to keep up with the new residents in the neighborhood is also making the area more enticing for large corporations to move in.
"It's a chicken-and-egg scenario," said Mark Shapses, executive managing director at Studley. "Downtown is seeing the light at the end of the tunnel."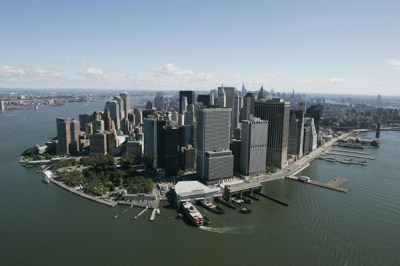 Figures from Cushman & Wakefield show that Downtown emerged from the first quarter of 2012 with an office vacancy rate of 5.9 percent.That's an impressive 13.8 percent drop from the year before. A significant improvement appears to be coming from Class A commercial buildings. The vacancy rate for the most expensive buildings in the neighborhood dropped by nearly 15 percent, according to Cushman & Wakefield.
Brokers say the growing numbers of tenants in Downtown buildings in the past year has as much to do with the amenities that are being built as great deals on rent.
A brand-new billion-dollar transit hub at Fulton Street will make it easier for thousands of commuters flooding Downtown every day. Workers heading in from Westchester and Connecticut will still grouse about the extra leg it takes to get to the area, but at least it won't be the vast cultural wasteland that it used to be.
Last year, Brookfield Properties inked a $250 million contract with the Spector Group to upgrade the Winter Garden. The facelift will add 25,000 square feet of high-end retail, a European-style gourmet food court and 30,000 square feet of six new restaurant spaces overlooking the Hudson River. It will also offer 15 chef-driven "fast-casual" eateries à la the Plaza Food Court by Todd English.
"It's going to be spectacular. It's going to as good as anything that I've experienced living in Midtown," said Scott Spector, a principal of the Spector Group. The neighborhood now boasts a Barnes & Noble, a Whole Foods, a wine store and several Danny Meyer restaurants to serve what demographers have declared one of New York's most exploding populations.
"You have a population increase in lower Manhattan that's pretty shocking," said Mr. Shapses.
To be precise, the number of people living Downtown went from 14,000 in 1993 to 60,000 today. Truth be told, it's not just amenities that are fueling Downtown's revival. It hasn't hurt that businesses continue to get more for less in the financial district.
Condé Nast was wooed to 1 World Trade Center by the Port Authority and Silverstein Properties, which offered to buy out the last two years of the glossy magazine company's lease at 4 Times Square. The deal by the Vogue, New Yorker and Vanity Fair publisher sent a message to the creative fields that Downtown is becoming a hipper place to work. American Media, the publisher of Men's Health and Playboy, and the New York Daily News moved to 4 New York Plaza.
Rental rates Downtown remained the lowest in the city, averaging about $43.50 per square foot—$15 less than the rest of the city. Those rates have meant that it's not just media and young tech companies making the move from Midtown to Downtown. Corporate clients are also returning to the area.
Looking to increase its profile in the state, Japanese investment firm Nomura Holding pulled up stakes from its World Financial address and snatched up a whopping 902,000 square feet at 825 Eighth Avenue, 1 World Wide Plaza.
When the mega law firm WilmerHale, advocates for Ivan Boesky and McCain-Feingold before the Supreme Court, was pushed out of Midtown's Worldwide Plaza by Japanese investment firm Nomura Holdings, Silverstein Properties saw an opportunity and swooped in.
Silverstein offered the legal eagles more than 200,000 square feet at 7 World Trade Center for $60 to $65 per square foot, a fraction of what the firm was paying before, thanks to Studley executive Mitch Steir, who helped broker the deal.
The WilmerHale deal was notable for another reason: its green leasing agreement in the LEED Gold-certified building, the first of its kind in the city. Under the terms of the agreement, the law firm shares the costs of capital improvement to the building, but also shares in the savings. The move was touted by Mayor Michael Bloomberg's office for all its environmental bells and whistles.
It's not just the out-of-the-rubble back story down at the World Trade Center site that's bringing in new tenants. Companies such as Weidlinger Associates have also been attracted to rehabbed properties, such as 40 Wall Street, owned by the Trump Organization.
Weidlinger, an international structural engineering firm that's worked on the Brooklyn Bridge, the Jacob K. Javits Center and the CBS building, snapped up 61,000 square feet at 40 Wall Street after moving from its 375 Hudson Street office, where it had its flagship location in 50,000 square feet of office space.
It is expected to move into the landmark, 927-foot tower, taking up the entire 18th and 19th floors.
"With the lease at 375 Hudson Street expiring in 2013, our client wanted to secure another long-term lease sooner rather than later, due to market conditions," said Jason Schwartzenberg, managing director at Studley, who brokered the deal.
"Studley began evaluating alternatives in late 2009, and we were ultimately very pleased to facilitate Weidlinger's relocation to this iconic Downtown location."
The multinational investment technology firm Investment Technology Group said goodbye to Midtown as well, finding cheaper more accommodating digs at 1 Liberty Plaza after its 13-year lease at 380 Madison Avenue with irascible real estate mogul Sheldon Solow expired.
Some of the greatest gains in office occupancy have occurred near Ground Zero in the past year. The World Financial District submarket saw nearly a 50 percent decrease availability in 2011 from the year before. Seven World Trade is now full, but its sister tower 3 World Trade has not proved so popular.
But brokers are optimistic for the first time in years. For instance, Microsoft is fast approaching the end of its lease at 1290 Avenue of the Americas in Midtown and is reportedly itching to find a hipper space that can accommodate its needs.
Robert Sammons, vice president of research at Cassidy Turley, said the Seattle-based computer company had initially wanted to move to Midtown South, but after failing to find the right 200,000 square feet, it was now setting its sights farther south.
"They are very interested in getting a 'cool' space," said Mr. Sammons.

janonfisher@gmail.com
1 World Trade Center
,
1 World Wide Plaza
,
1290 Avenue of the Americas
,
380 Madison Avenue
,
4 New York Plaza
,
40 wall street
,
70 Pine Street
,
American Media
,
BARNES & NOBLE
,
Brookfield Properties
,
Cassidy Turley
,
CBS
,
Conde Nast
,
Cushman & Wakefield
,
Danny Meyer
,
Investment Technology Group
,
Ivan Boesky
,
Jacob K. Javits Center
,
Jacob K. Javits Convention Center
,
Mark Shapses
,
McCain-Feingold
,
Men's Health
,
New York Daily News
,
New Yorker
,
Nomura Holding 825 Eighth Avenue
,
One Liberty Plaza
,
Playboy
,
Plaza Food Court
,
Port Authority of New York & New Jersey
,
Robert Sammons
,
Sheldon Solow
,
Silverstein Properties
,
Spector Group
,
Studley
,
the Spector Group
,
Todd English
,
Trump Organization
,
Vanity Fair
,
Vogue
,
Weidlinger Associates
,
Whole Foods Market
,
WilmerHale
,
Winter Garden