Air Conditioning Giant to Cool Its Heels at 1350 Broadway
---
---
Carrier Corp. is moving one of its New York area sales offices to 1350 Broadway to take nearly 6,000 square feet of space at the 400,000-square-foot W&H Properties building.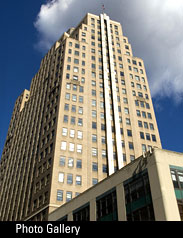 The air conditioning behemoth, based in Farmington, Conn., will move the sales force into space on the 23rd floor sometime in June. Cushman & Wakefield (CWK)'s David Itzkowitz represented the tenant in the deal along with colleagues Mark Wanic, John Slattery and Bernhard Weinstabel.
Robert Silver, Anthony Sciacca and Neil Rubin from Newmark Grubb Knight Frank represented W&H Properties.
Mr. Itzkowitz told The Commercial Observer that Carrier is moving from 450 West 33rd Street, a Broadway Partners building over by the Hudson Yards redevelopment site.
"They wanted a new build-out in an upgraded environment," Mr. Itzowitz said. "And this location gave them excellent access to Penn Station and public transportation."
The build-out that W&H will do prior to the planned move was attractive to the tenant, according to Mr. Itzkowitz, who said that it will follow the landlord's pre-built standards.
Anthony Malkin, president of W&H's supervisor, Malkin Holdings, also referenced other tenant draws for its portfolio of nearby Broadway buildings.
"Broadway between 34th Street and 42nd Street used to be off the radar for quality, credit tenants," Mr. Malkin said in a prepared statement about Carrier's lease. "But starting a few years ago we upgraded our four office buildings along Broadway and brokers and tenants began to recognize that this area has great office assets, unbeatable convenience to all mass transportation and great amenities."
Mr. Malkin went on to reference the area's "surprising affordability." The asking rent for the Carrier deal was in fact $49 a square foot, according to a W&H spokesperson. For this particular building, the upgrades that Mr. Malkin mentions include a new lobby, renovated elevators, a new roof and façade—all part of a $53 million upgrade program that was undertaken there.
cgaines@observer.com