Justin Elghanayan: Rockrose Development's Next Generation
---
---
In 2009, the brothers behind the Rockrose Development Corporation—Henry, Thomas and Frederick Elghanayan—divided their four-decade business partnership in half, with Frederick and Thomas spinning off to form TF Cornerstone, and Henry staying put at Rockrose with his son, Justin Elghanayan, 33. Since that relatively amicable split, in which the company's $3 billion empire was divided in half, Henry Elghanayan has rebuilt the portfolio and elevated his son, who has taken the reins as the project manager of Linc LIC, a development in Long Island City, Queens, scheduled to include two residential towers and a retail complex that, when finished in 2013, could breathe new life into the long-simmering neighborhood. Last week, Justin Elghanayan spoke to The Commercial Observer about his family's recent split, the future of Rockrose and his Long Island City project, which includes what could be the tallest building in Queens.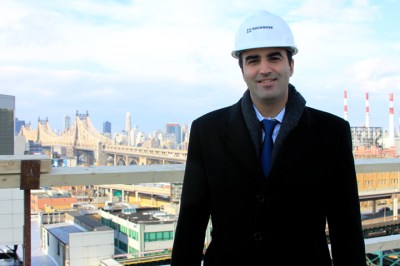 The Commercial Observer: What's the latest with Linc LIC, the 41-story rental tower that Rockrose Development Corporation is building in Long Island City?
Mr. Elghanayan: The first phase is under construction. We started in September, and that's a 709-unit building that's now on the 12th floor, and it's quite amazing how fast it's going up. I went away for the holiday and I came back and there were, like, three more floors, so it's really zipping along.
Besides Linc LIC, Rockrose is developing two other parcels at the site. What's the plan?
The second parcel is a big parcel of land that will have an additional 900 apartments that will go in two phases. And the third parcel of land is right in the middle, and we call it the Triangle. That's going to go last, and it already has on that lot a garage, which, when I saw it, I just said, "Wow, this has an amazing sense of character and place, a real sense of history and character and a sort of neighborhood identity."
When you say garage I don't immediately think character.
It's not like a parking garage. It's more like a mechanic's facility. It has wood-beam ceilings, skylights and high ceilings. And we're going to put a restaurant there.
Have you found a tenant?
We're pretty close. It's going to be very exciting what we do there, and that's just the existing building. That restaurant's going to have outdoor space and so you'll have a sort of beer-garden vibe and atmosphere there, and then we're going to supplement that with additional activity on that site, which is under development. We've already been putting food trucks on the site. We inaugurated the Rockrose Food Truck lot on the Triangle site.

Frederick Elghanayan
,
Henry Elghanayan
,
Justin Elghanayan
,
Linc LIC
,
Long Island City
,
M. Wells
,
PS1
,
Rockrose Development
,
SculptureCenter
,
Thomas Elghanayan
,
TF Cornerstone