Pret A Manger to Mange More Spots
---
---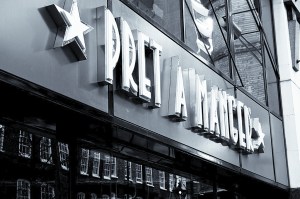 Valhalla of fine dining midtown is not, but the high-density office district has at least mastered the art of the weekday power lunch.
Now, Pret A Manger plans to triple its New York City presence over the next two years. The expansion will include more locations downtown, as well as in Brooklyn, the Bronx and White Plains, Robert K. Futterman's Joshua Strauss told The Commercial Observer. Pret, which currently has 24 locations smattered around Manhattan, is looking to open 15 to 20 new stores this year in the city and an additional 15 to 20 stores the next year.
The British maker of inoffensive, natural, pre-made sandwiches is looking for spaces around 2,000 square feet, but would consider anything between 1,300 to 3,000 feet. The company is targeting areas with high office traffic, including midtown, as well as downtown, the Flatiron district and Metrotech in Brooklyn.
The company started in London in 1986 and arrived in New York in the early 2000s. But in 2003, the company shut down a number of locations and decided to re-jigger the menu for New York tastes (meaning less mayo), according to Serious Eats. "It's hard for New Yorkers to understand the idea of taking a sandwich that's pre-made," said Mr. Strauss. But he added, "New York is finally very receptive. … People are starting to realize that they have a real commitment to quality."
The company's focus will remain midtown, which Pret has "done a good job of saturating," said Mr. Strauss. This raises the question: Does a market where a cellophane-wrapped Pret sandwich is already easy to come by need a bunch of new stores? "Their current stores are doing very well," Mr. Strauss said. "All of them are making money. New York has fallen in love with Pret."
lkusisto@observer.com