Gehry Jigs for Joyce at Ground Zero
---
---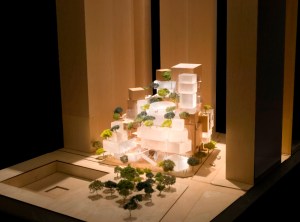 The final piece of the World Trade Center redevelopment has fallen into place, as the mayor, governor and Assembly Speaker Sheldon Silver announced the allocation of $100 million in federal funds for the completion of Frank Gehry's long-delayed performing arts center at ground zero.
The $450 million center will house the Joyce dance company. It was also to include the Signature Theatre, but the group abandoned the building over uncertainty about its completion — or even realization — for a site in midtown.
As the redevelopment of ground zero trudged along, it was not clear there would be funds for the performing arts center, and it was nearly cancelled earlier this year. That is because the spaghetti of tunnels and mechanical systems that undergird the entire 16-acre site was being held up over the project's uncertain future. Just three days ago, the Post was casting renewed doubt on the project. (Take that, chumps.)
"I am tremendously pleased that this $100 million commitment clearly paves the way for this long-promised performing arts center, which will be a cultural jewel for Lower Manhattan," Mr. Silver, whose district includes the World Trade Center site, said in a statement. "I want to thank Mayor Bloomberg for his strong support and for realizing how important this is to the rebuilding of my Lower Manhattan community following the tragedy of 9/11. We are creating a world-class venue for music, dance and the performing arts that will be a celebration of the vital cultural life of our Downtown neighborhood."
The new $100 million adds to the $50 million of 9/11 rebuilding funds that had already been set aside for the project. Andrew Brent, a mayoral spokesman, said the rest of the funding would likely come from private sources, though that has not officially been determined. "This is a major contribution to make sure it happens," Mr. Brent said.