House of Hoops Temple Coming to Herald Square
---
---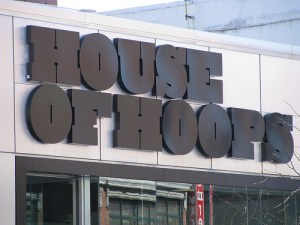 A House of Hoops—Nike and Footlocker's concept store/temple to all things basketball—will open a second New York City location at 11 West 34th Street, between Fifth and Sixth avenues, according to someone involved in the transaction.
The first House of Hoops opened in Harlem, at 268 West 125th Street, in the fall of 2007, with a player-studded bash featuring Charles Barkley and Julius "Dr. J." Erving. At the time, Nike brand president Charlie Denson described the store in a press release as "a hub for all things basketball and a new home for consumers who live and breathe the game."
The release went on to say:
As the ultimate consumer experience, House of Hoops flagship stores will feature basketball product available nowhere else in the U.S., including coveted player exclusive footwear. These limited edition personalized performance shoes include the embellishments that All-Star players like Kobe Bryant, Jason Kidd and rookie Kevin Durant have on the shoes they lace up on court each night. These styles will be made available for the first time at House of Hoops. Other limited edition styles will also be offered, such as the China-specific colorways created for LeBron James and Dwyane Wade.
Neither Nike, nor landlords SL Green or Wharton Properties' Jeff Sutton, would comment for this article. The lease for the entire five-story building—only the bottom two floors will actually be used for retail—is estimated to be worth about $40 million.
drubinstein@observer.com