David Arena Defects to JPMorgan Chase
---
---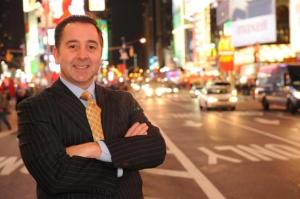 In 2009, when the real estate environment in New York City was nothing if not irretrievably gloomy, Grubb & Ellis tristate chairman David Arena told the Commerical Observer's Jotham Sederstrom that he succeeded in dragging himself to work every day by remembering the following: "In New York City, every street is paved with gold. Every time you deal with a new tenant, you're dealing in a new industry, or new to you, with a new culture, a new set of goals and objectives. So every day is different than the day before and that's what makes it interesting. And that's what keeps you coming back."
That keeps him coming back no more.
JPMorgan Chase has just announced that Mr. Arena has been named co-head of JPMorgan Chase's corporate real estate team — a plum gig indeed. Here's the release:
We thought you might like to know about the new senior leadership team for the Corporate Real Estate Group at JPMorgan Chase. Frank Bisignano, our Chief Administrative Officer, announced today that Kim Bertin and David Arena will become co-heads of the Corporate Real Estate team.

Kim will be responsible for our real estate portfolio for the Americas and David will focus on International and Retail Financial Services. They will each be responsible for all design and construction, facilities, asset management and transactions in their respective footprints and jointly responsible for strategy and real estate policy across the firm.

In addition to her 24 years of experience at JPMorgan Chase, Kim has held leadership roles as a Senior Director at CB Richard Ellis and Head of Real Estate at Bertlesmann/Random House. David joins JPMorgan Chase from Grubb & Ellis Real Estate Services and Investment Management, where he is currently the Chairman of their Tri-State division.

JPMorgan Chase operates in more than 60 countries and owns or rents real estate in 24 U.S. states. The firm rents or owns 6,700 locations, with 78 million square feet, around the world.
drubinstein@observer.com