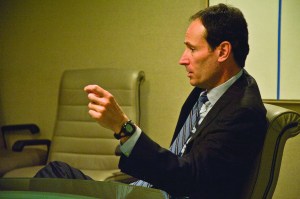 When it was announced last week that the coveted Drake Hotel site had been sold for $305 million to the California-based investment firm CIM Group, mum, apparently, was the directive.
Indeed, neither a peep nor chirp emanated from CIM Group or seller Macklowe Properties, which had accrued $540 million in loans at the Park Avenue site before German lender Deutsche Bank filed for foreclosure back in August 2008.
But one day before word of the deal trickled down to The Wall Street Journal, the otherwise cool-as-a-cucumber Studley powerhouse Woody Heller was struggling to contain his glee for having brokered the deal on behalf of CIM. Indeed, reader, a faint smile seemed to cross his face while relaying the news to a reporter.
"I'm announcing that I was the sole broker involved in the transaction, but I'm not saying anything about the transaction itself," said Mr. Heller, who during an hourlong interview with The Commercial Observer honored his word by not divulging details, but did let slip that he had bought his longtime girlfriend a substantial piece of jewelry as a closing present. "What I can say is that it was one of the more complicated transactions we've ever worked on."
Combined with the Dec. 31 sale of 515 Madison Avenue-a deal that faced more than a dozen obstacles over two years of negotiations-Mr. Heller's latest string of transactions has positioned the Studley executive managing director as a master at closing eyebrow-furrowing deals. Indeed, as a two-time recipient of the Real Estate Board of New York's prized "Most Ingenious Deal" award, the New York City native has become a solver of complicated problems for real estate investment groups, including heavy hitters like Dai-ichi Life Investment Properties, Vornado Realty Trust and SL Green, among others.
During his tenure at Studley, which began in 2003 and has included the complicated sale of notes and a mortgage at the Chrysler Building, Mr. Heller has closed more than $6.5 billion of asset and note sales transactions, comprising an estimated 33 million feet, according to his bio.
"For some reason complicated deals seem to find me," said Mr. Heller, 50. "It's a good and a bad thing."
With the sale of 515 Madison Avenue, in particular, Mr. Heller closed a deal that, by his own estimation, had nearly as many moving parts as it did tenants, chief among them a rapidly torpedoing economy and a leasehold with only 20 years remaining that was seen as a risk to potential lenders.
Mr. Heller said his work began when two large tenants at the 42-story building announced in January 2008 that they had outgrown their offices and intended to leave, a move that created 100,000 feet of vacant space.
The decision unearthed a number of challenges, including a need for major repairs and renovations that had gone unanswered, in part because each of the exiting tenants gobbled up space in the building as it became available over the years, Mr. Heller said. But because of the ownership structure, Mr. Heller added, the onus for all repair work was on the operating leaseholder alone, an agreement that must have looked more attractive to the other three entities involved than to the party actually stuck paying the bill.