Cushman & Wakefield Hires Glenn Rufrano as CEO
---
---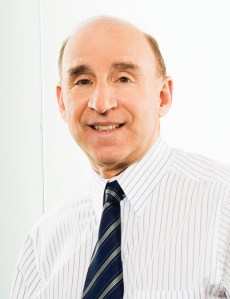 Following an extensive hunt, and contrary to speculation that Cushman & Wakefield (CWK) would name an industry outsider to replace departing CEO Bruce Mosler, the real estate brokerage has hired consummate insider Glenn Rufrano.
This comes just over three months after Mr. Mosler announced that he would be resigning, transitioning to co-chairman of the board, a move the firm depicted as a lateral one.
Mr. Rufrano has an ample real estate resume. He will occupy his current position—as CEO of Centro Properties—until March 22, at which point he will formally begin his tenure at Cushman. The full release is copied below.
Unlike the October memo announcing Mr. Mosler's departure, which was released to staff first, brokers and reporters received Tuesday's news at the same time.
NEWS RELEASE FOR IMMEDIATE RELEASE – 02/02/10
CUSHMAN & WAKEFIELD NAMES GLENN RUFRANO CEO
Accomplished global real estate executive to join Cushman & Wakefield NEW YORK, Feb. 2, 2010 – Cushman & Wakefield Inc. today announced that Glenn Rufrano has been named President and Chief Executive Officer of the company.
Mr. Rufrano, who will also be appointed to the company's Board of Directors, will join the firm March 22 following the completion of his tenure as CEO of Centro Properties Group. He will be based in New York. Mr. Rufrano is a highly accomplished global real estate executive who has held leadership positions at public REITs and in the private real estate investment arena. Since 2008, he has been CEO of Australian-based Centro Properties Group, and previously he served as CEO of New Plan Excel Realty Trust Inc. from 2000 to 2007.
Prior to joining New Plan, from 1983 to 2000, Mr. Rufrano was a co-founder of The O'Connor Group (currently known as O'Connor Capital Partners), which has invested in real estate internationally. He also spent more than five years at Landauer Associates Inc. where he was involved in the sale of some of the most prominent office properties in the United States.
"We are delighted that Glenn will join Cushman & Wakefield as President and CEO. His extensive real estate experience and management background make him the ideal leader to grow the company and further expand the brand worldwide," said Carlo Barel di Sant'Albano, a Cushman & Wakefield board member and Chief Executive Officer of EXOR S.p.A., the investment company of the Agnelli family and the majority shareholder of Cushman & Wakefield. "We are confident that Glenn has the vision to lead Cushman & Wakefield, creating meaningful value for our clients, employees and other stakeholders."
"Cushman & Wakefield is one of the most recognized and respected commercial real estate services firms in the world, and I am looking forward to contributing to its growth," said Mr. Rufrano.
Mr. Rufrano is a graduate of Rutgers University and holds a master's degree in real estate from Florida International University. He serves on the Boards of General Growth Properties Inc. and New York University's Real Estate Institute, and was previously a director of Trizec Properties Inc., a public REIT which owned office properties throughout the United States, and Criimi Mae Inc., a mortgage REIT.
As Cushman & Wakefield's President and CEO, Mr. Rufrano replaces Bruce Mosler, who became co-chairman of the Board on January 1, 2010.
* * * About Cushman & Wakefield Cushman & Wakefield is the world's largest privately held commercial real estate services firm. Founded in 1917, it has 231 offices in 58 countries and 15,000 employees. The firm represents a diverse customer base ranging from small businesses to Fortune 500 companies, offering a complete range of services within four primary disciplines: Transaction Services, including tenant and landlord representation in office, industrial and retail real estate; Capital Markets, including property sales, investment management, valuation services, investment banking, debt and equity financing for all property types; Client Solutions, including integrated real estate strategies for large corporations and property owners, and Consulting Services, including business and real estate consulting. A recognized leader in global real estate research, the firm publishes a broad array of proprietary reports available on its online Knowledge Center at www.cushmanwakefield.com. A company Fact Sheet is available at the following link, Cushman & Wakefield/ Facts.
About EXOR S.p.A. EXOR S.p.A., Cushman & Wakefield's majority shareholder, is the investment company of the Agnelli Family. EXOR sums up an entrepreneurial story based on more than a century of investments. Listed on Borsa Italiana's Italian Stock Exchange, with a NAV (Net Asset Value) of $7.7 billion, it is headquartered in Turin, Italy, and has a presence in New York and Hong Kong amongst other major markets. EXOR is the majority shareholder of the Fiat Group and makes medium- to long-term investments in diversified sectors, mainly in Europe, the United States and in the two major emerging markets of China and India. To find out more about EXOR, visit www.exor.com.