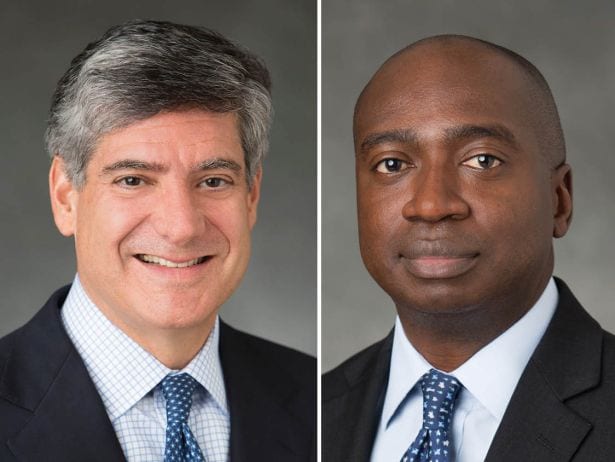 #6
James Flaum and Kwasi Benneh
Global Head of Real Estate Lending; Head of Large Loan Origination and Syndication at Morgan Stanley
Last year's rank: 11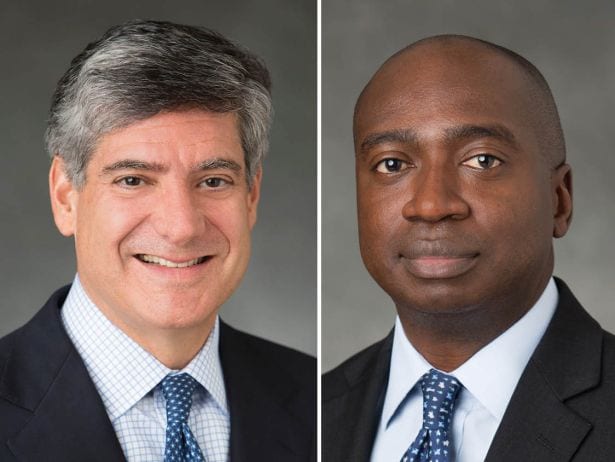 Morgan Stanley executed $21 billion of balance sheet and commercial mortgage-backed securities (CMBS) originations in the U.S. over the past year and helped deploy capital to borrowers in the sectors hardest hit by the COVID-19 pandemic.
The investment banking giant's impressive lending activity included $4.2 billion in office, $2 billion in retail and $1.1 billion of mall financings. It also ranked second in U.S. conduit securitizations last year.
"2021 was a textbook year for lending, as well as investing," James Flaum said. "Our origination numbers were very robust and it was a tighter market so there were good conditions to execute in." 
Morgan Stanley's loan portfolio as of March 9 consisted of 60 percent office, 12 percent industrial, 11 percent hospitality, 9 percent multifamily and 8 percent retail. It provided borrowers with a variety of debt strategies to navigate market conditions, including bridge lending, revolving credit facilities and peer-to-peer acquisition financing. 
Notable deals during the past 12 months included a $1.4 billion CMBS debt package for Oxford Properties to purchase a $2.2 billion industrial portfolio of 149 properties across seven states from KKR. The five-year floating-rate loan will be securitized in a single-asset, single-borrower transaction. 
On the balance sheet side, Morgan Stanley led an $860 million refinance in August for Paramount Group's 1301 Avenue of the Americas, a 45-story Midtown Manhattan office tower. The deal marked one of the largest office refinances to close post-COVID-19 in New York City. 
Kwasi Benneh said the versatility to execute large balance sheet deals when the CMBS market cooled in the second half of the year proved instrumental to Morgan Stanley's success. 
"There weren't a lot of large shops that could execute large balance sheet deals," Benneh said. "The demand was there and we really stepped up for our clients." —A.C.