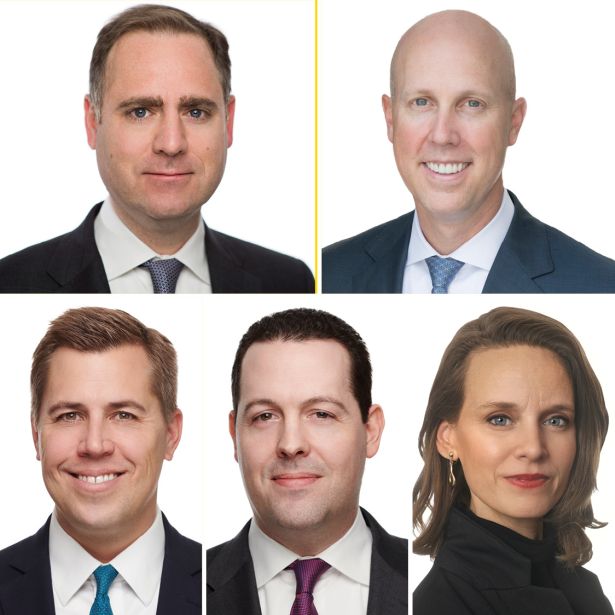 #10
Matt Salem, Patrick Mattson, Joel Traut, Rene Theriault and Lindsey Wright
Partner and head; managing director and COO; partner and head of originations; managing director and head of securities investing; managing director and head of investment services at KKR Real Estate Credit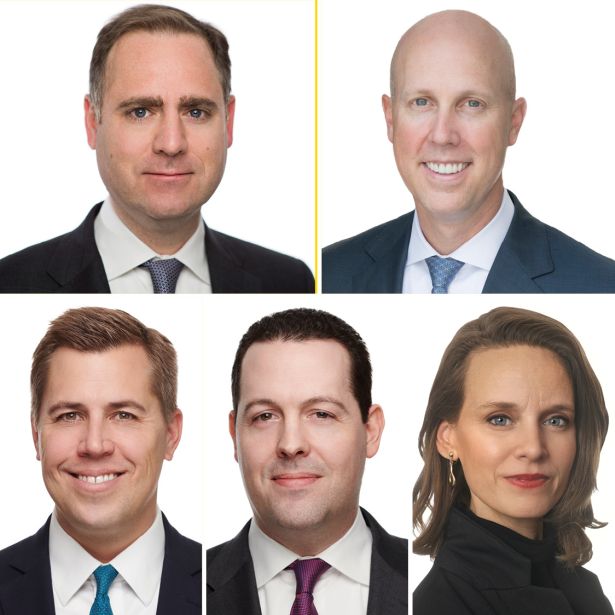 In a year quite unlike any other, having several tools in your kit is more handy than ever. 
"Our diversity of capital has been key," KKR Real Estate Credit's Matt Salem said. "We're doing traditional bank lending, we have [KKR's insurance company] Global Atlantic, we've got our mortgage REIT, and we have private debt funds. The fact that we can lend across different segments of the market when some are active and some are inactive and meet the needs of borrowers who are looking for different types of loans at different leverage points has been a big competitive advantage this past year."
KKR's real estate credit team originated $8 billion of loans across 58 deals in the last 12 months, and remains one of the largest investors in CMBS junior tranches, across both conduit B pieces and SASB. In fact, it has invested more than $1.7 billion in real estate securities over the last year. 
Digging further into the stats, roughly 45 percent of those originations were to repeat borrowers, but the platform also added 28 new sponsor relationships in 2022, delivering both fixed- and floating-rate loans up and down the capital stack. 
The team also advised on 94 real estate debt and equity transactions, totaling $22 billion in proceeds raised across the most coveted of sectors, including data centers, multifamily, industrial, life sciences and self-storage. 
Key transactions included a $505 million senior loan for the recapitalization of a portfolio of 14 industrial properties totaling over 5 million square feet and located primarily in California; and a $305 million senior loan for the acquisition of ParkLine Miami Central, a recently built two-tower, 816-unit multifamily property in Downtown Miami.
"We were able to take advantage of what was happening in the capital markets. It was pretty impactful for us, and we did some really large loans," Salem said. "We had a $500 million loan, for instance, on a pool of industrial properties to a major brand-name, institutional sponsor. And that's an opportunity we would not have had in a more normal market environment, where the loan would have gone the SASB or bank syndication route."
The platform's biggest strategic development this past year was the buildout of subsidiary K-Star Asset Management in Dallas, led by Lindsey Wright, who now oversees a team of 35 people and roughly $39 billion of special servicing. "It's pretty exciting, as you think about where the world is going," Salem said. "It's great to have that expertise in-house, working out loans. And of course, what we see through that business will make us more informed and better investors." 
Nine of the 30 professionals hired for Wright's team this past year are women. Further, 56 percent of KKR's new real estate credit hires in 2022 were women or from historically underrepresented groups. 
Looking ahead, "we think it's going to be a very big investing cycle for us," Salem said. "We're underweight in office, which is causing most of the problems in the market. So we're well positioned to create a track record that's going to outperform. Our opportunistic lending vehicle — our debt fund — is where we're really focused right now from a capital perspective because a lot of the mortgage REITs are sidelined and a lot of other debt funds now don't have access to senior financing, or they've gotten portfolio issues in terms of office exposure. So there's opportunity for us there." —C.C.