How the Battle for South Florida's Diplomat Resort Played Out 
'We came to the conclusion that this is exactly what we do: We've got to make every effort to buy this hotel.'
---
---
It was like a championship title fight. 
In one corner, billionaire developer Jeffrey Soffer, probably South Florida's most famous hotelier, aimed to become the owner of a major casino. In the other, the more straight-laced hospitality group Trinity Investments looked to add to its portfolio.  
Victory would bring ownership of the Diplomat Beach Resort in Hollywood, just north of Miami. Rising 36 stories on a prime site between the Atlantic Ocean and the Intracoastal Waterway, the 1,000-key property is South Florida's second-largest resort.
The four-year saga ended earlier this year with an $835 million sale — the single largest hotel sale in the nation since the onset of COVID-19. A big hurdle along the way was Soffer's desire to install a casino at the property, despite Florida's restrictive gambling laws. But, once the sale closed, it highlighted the hospitality sector's robust recovery from the depths of the pandemic, and showed that demand for premium South Florida properties was resisting skyrocketing interest rates.
The $835 million property came with an impressive history. When the Diplomat opened in 1958, the imposing L-shaped, MiMo-style structure became a fixture of South Florida nightlife. It attracted celebrities and politicians such as Frank Sinatra, Liza Minnelli, Judy Garland, Sammy Davis Jr. and Sen. Robert F. Kennedy. 
Three decades later, the Diplomat had fallen into ruin. Two fires in the early 1980s caused $30 million in losses and required $20 million in renovations. The storied property was demolished under new ownership in 1997, and a rebuilt resort opened a few years later. Two adjoining 36-story towers topped with quarter circles resembled a spaceship. They housed a giant hotel, a convention center and a retail complex. 
In 2014, Thayer Lodging Group bought the property for $460 million. Later that year, Brookfield Properties acquired Thayer, bringing the Diplomat under the fold of one of the world's largest real estate investors. In 2017, two years after completing a $100 million renovation to the interior, Brookfield refinanced the property with a $560 million debt package and rebranded the property from a Westin to Hilton's Curio. The investor put the resort on the market, seeking $1 billion — or $1 million a room.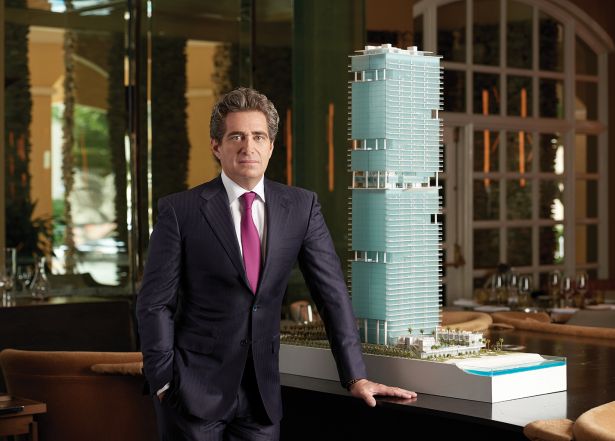 A suitor soon emerged: Jeffrey Soffer, considered Miami real estate royalty. His father, Donald Soffer, had turned a swath of swampland north of Miami into the bustling town of Aventura. By the turn of the century, the younger Soffer was running the family business, Turnberry Associates, alongside his sister Jackie. The Turnberry portfolio included some of South Florida's most notable properties, such as the 2.8 million-square-foot Aventura Mall and the iconic Fontainebleau hotel in Miami Beach. 
Tensions soon appeared to tear the family business apart, and gambling may have had something to do with it. Jeffrey Soffer has long harbored ambitions of owning a large casino. In 2007, he began building a 67-story casino on the Las Vegas Strip, which stalled indefinitely during the Great Recession. In Florida, he has paid lobbyists and made campaign contributions to lawmakers in Tallahassee to loosen the state's gambling laws in hopes of installing a casino inside the Fontainebleau. 
In 2018, the Soffers announced plans to build a hotel next door to the Miami Beach Convention Center, home to Art Basel and other top-flight events. The city commission approved Turnberry's development plans — on two conditions. No casino could be housed in the planned hotel, and the owners could not own a gambling facility anywhere else in Miami-Dade County. "There's no city in America that has casinos that we want to be," said Miami Beach Mayor Dan Gelber, fearing his glittering town would become a tawdry tourist destination.
Jackie Soffer campaigned for Miami Beach voters to approve the convention center hotel. Meanwhile, a lobbyist who had long worked for Jeffrey sent out flyers urging residents to vote No, though Jeffrey denied being behind the campaign. That same year he purchased the Mardi Gras Casino and Hollywood Greyhound Track, now known as the Big Easy Casino, in neighboring Broward County. Miami Beach officials publicly voiced their fears about Jeffrey attempting to transfer his casino license to the Fontainebleau resort.
After winning the Miami Beach hotel referendum in 2018, the Soffer siblings terminated their business relationship the following year. In the business divorce, Jackie continued to run Turnberry Associates, retaining control of the Aventura Mall, while Jeffrey founded a new firm called Fontainebleau Development and kept the namesake hotel. 
Once freed from the family business, Soffer set his eyes on the Diplomat. In early 2020, he offered $800 million, but COVID-19 intervened. As hotels abruptly closed, Soffer hemorrhaged cash. A $975 million commercial mortgage-backed securities loan for the Fontainebleau resort went into special servicing. Soffer called off the Diplomat deal. 
Still, the mogul remained hopeful a deal could eventually be hashed out. "We love the asset and continue to have discussions with Brookfield given the Diplomat's clear synergies within our wider hospitality portfolio," Soffer's deputy, Brett Mufson, told The Real Deal.
In the ensuing months, Soffer lobbied state lawmakers to rewrite Florida gambling laws. The billionaire wanted new legislation passed that would allow him to transfer his gambling permit from the Big Easy Casino to the Fontainebleau.
The mogul dined with top state leaders, including Florida House Speaker Chris Sprowls and State Senate President Wilton Simpson, aboard his 311-foot, $272 million yacht, according to The Miami Herald. Football legend Tom Brady, a close friend and neighbor, even stopped by to greet the politicians the night the quarterback won the Super Bowl. Soffer matched the schmoozing with over $1 million in campaign contributions, including $300,000 going to Simpson's re-election campaign. 
While the Florida legislature approved a gambling compact that removed some hurdles for Soffer to open a casino at Fontainebleau, legislators did not overhaul the state's gambling laws as much as Soffer wanted. 
"So it's not breaking news that Jeff Soffer would like to move his license to the Fontainebleau. Everybody knows that," Simpson told CBS Miami in May just a few months after yachting with Soffer. "I do not believe that [gambling license transfers] will happen this year."
After the setback, Soffer turned his attention back to the Diplomat, which represented another opportunity to own a large-scale casino in South Florida. Since the COVID lockdown, Soffer's depleted coffers had filled. The Fontainebleau's nearly $1 billion dollar loan had exited special servicing. Florida's hotels were packed. 
In November 2021, Soffer offered to buy the Diplomat for about $850 million. This time, he partnered with a powerful ally, Koch Real Estate Investments, an affiliate of Koch Industries, one of the country's largest private companies. 
Soffer was keen on adding a gambling component to the property, according to two sources with knowledge of the talks. The offer was contingent on getting approval to open a casino at the Diplomat, one source said. But Brookfield demurred, deeming the plan too risky and infeasible, given Florida's restrictive gambling laws. The rejection left Soffer feeling vexed, the source added. (Representatives for Brookfield and Fontainebleau declined to comment.) 
Brookfield didn't need to soothe Soffer because it had other interested suitors, but none was as motivated or offered as much as Trinity Investments, a hospitality investor based in Honolulu. The firm owned the Grande Lakes resort in Orlando, a property that's even larger than the Diplomat, housing 1,582 rooms on nearly 500 acres. The previous year, it had purchased the EAST hotel in Miami's bustling financial district for $174 million. 
In contrast to Soffer's brash style, Sean Hehir, Trinity's president and CEO, is soft spoken, careful not to ruffle. He grew up in Zimbabwe and came to the U.S. to attend college at Cornell University's School of Hotel Administration. He joined Trinity in 1998, about two years after its founding. 
The Diplomat represented "irreplaceable real estate," able to attract both leisure and business travelers, boasting ocean and river views, Hehir told Commercial Observer. Vacant parcels next to the hotel could be turned into valuable waterfront residential units. And, importantly for Brookfield, Trinity was not interested in adding gambling.
Negotiations between Trinity and Brookfield hummed along until the Federal Reserve began raising interest rates in March 2022. But Trinity's appetite for the property never waned. During the summer standstill, Hehir kept talking to potential partners and investors in hopes of working out a viable business plan. 
"We came to the conclusion that this is exactly what we do: We've got to make every effort to buy this hotel," Hehir said.
Instead of trying to land new financing, which would be expensive, Trinity proposed assuming Brookfield's existing CMBS debt. Hilton would brand the property under its Signia portfolio for large, luxury resorts. By the end of the summer, Trinity had gone under contract, putting down a $20 million nonrefundable deposit. 
Trinity still needed to secure a limited partner. Early on in the negotiations, it had approached Credit Suisse Asset Management. The bank division was intrigued, but still needed convincing. Instead of taking 5 percent equity, as is typical for an operating partner, Trinity offered to take 30 percent in equity. With about $550 million of debt attached to the property, Trinity's share amounted to $78 million. 
The check "spoke volumes for Credit Suisse," Hehir said. The bank's asset management officially came on board, allowing the $835 million sale to close in February 2023. Even as eight months have passed, no hospitality deal has eclipsed that of the Diplomat, either by total dollar amount or per room. 
Soffer, for his part, is realizing his dream of opening a large-scale casino — just not in South Florida.
The magnate returned to Las Vegas in 2021 and acquired the Fontainebleau casino resort project, which he relinquished control of midway through construction 12 years ago following bankruptcy proceedings in the wake of the Great Recession. 
The 67-story building, which has remained under development for nearly a decade, is set to finally open later this year.
Julia Echikson can be reached at jechikson@commercialobserver.com.