RMR Group Enters Multifamily Space With $80M Acquisition of Carroll
---
---
The multifamily space continues to be as competitive as ever, but one firm just made a double-whammy debut by acquiring a seasoned platform with billions of dollars in assets under management (AUM) — and one with a Sun Belt foothold, to boot. 
The RMR Group will acquire 100 percent of the equity interests in MPC Holdings — more commonly known as Carroll — in an all-cash transaction for $80 million, Commercial Observer can first report. 
The deal marks Newton, Mass.-based RMR's first big step into the multifamily sector. With a diverse commercial real estate portfolio that already includes industrial, office, retail and hotel properties, the acquisition of Carroll's multifamily platform was "the most important piece of the puzzle that we had been missing," Adam Portnoy, president and CEO of RMR, told CO. 
The transaction adds $7 billion of AUM to RMR's existing portfolio, growing the alternative asset management firm's total AUM to $44 billion, and adding more than 20 institutional partnerships. 
Atlanta-based Carroll has a significant footprint of its own. Its portfolio comprises 28,000 units across 81 multifamily properties, primarily in Sun Belt markets. In addition to snapping up those assets, RMR will also be able to leverage the platform's significant technology infrastructure and digital marketing capabilities across its broader platform. 
Carroll's track record is nothing to be sneezed at, either, having executed more than $12 billion in acquisitions since its inception in 2004, with average gross realized returns of 30 percent and $3 billion of dry powder available in its general partner fund series for future investments. 
"I'm incredibly proud of the business my team and I have built over the past nearly 20 years with the support of our investors and partners, and I'm thrilled to  see Carroll take the next step under RMR's ownership,"  Patrick Carroll, founder and CEO of Carroll, said in a statement. "Carroll's long track record of success and expertise in the multifamily sector will perfectly complement RMR's diverse real estate investment management platform. I believe RMR is the right company to lead the Carroll's team and business  through the next phase of growth, while continuing to focus on the core tenets of our business — consistently delivering best-in-class management and generating  meaningful value for our partners." 
While Patrick Carroll will depart the company once the transaction closes, RMR will retain Carroll's 700 employees. In addition to holding extensive experience in capital raising, acquisitions and asset management, the team also has significant property management expertise via Carroll's ARIUM Living consumer brand. 
The origin of the acquisition spans several years, Portnoy said. "We had been very interested in expanding and growing RMR for some time, and the obvious hole in our platform — the missing piece — was that we didn't have a multifamily division while we had pretty much every other type of commercial real estate."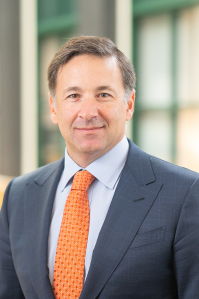 Portnoy said RMR found that missing puzzle piece in Carroll, with the firm ticking multiple boxes between its impressive track record in the multifamily sector, its significant Sun Belt foothold and the sheer size of AUM that RMR would be adding to its existing portfolio through an acquisition. 
After all, where better to establish your multifamily presence than the Sun Belt — the mecca for multifamily investment. 
Sun Belt states have experienced incredibly strong tailwinds over the past several years, and Portnoy doesn't see any signs of that interest being curtailed. "I think multifamily dynamics are so strong," Portnoy said. "We have a housing shortage overall in the United States, but in the Sun Belt it's even more acute because of population migration, which was only accelerated by COVID as so many people moved to that part of the country."  
The transaction is expected to close this  fall, and, while it marks RMR's first significant step into the multifamily sector,  it may not be the last. 
"This is the beginning," Portnoy said. "We  hope to grow the Carroll platform, but it will be our anchor and beginning [in the multifamily space]. After this transaction, the company's financial position continues to be very strong. We have no debt, and even after this transaction, we're still going to be sitting on over $200 million in cash and generating excess cash every quarter — so we're in a very strong position to continue to look at future acquisitions."
Cathy Cunningham can be reached at ccunningham@commercialobserver.com