Newmark's Jackie Totolo Talks NYC Retail at ICSC in Las Vegas
'What you will see over the next six months is all these brand-new stores opening.'
---
---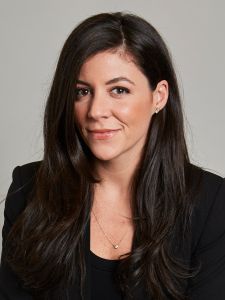 Jackie Totolo, a senior managing director at Newmark (NMRK), splits her time between landlord and tenant representation with new development and construction throughout Manhattan. 
She has represented tenants such as Shake Shake, Salt & Straw, Therabody, Pret a Manger, as well as other new-to-market food and beverage operations and some fashion brands. She also works with prominent owners and landlords that include Bettina Equities, Scholastic Books, The Winter Organization, Ruben Companies, Macklowe Properties and JDS Development.
Totolo joined RKF in 2007 as a marketing assistant and transitioned to brokering in 2008. (Newmark acquired RKF in 2018.) She spoke with Commercial Observer during ICSC's convention in Las Vegas this week about leasing activity over the past year, evolving negotiations, and the retail scene moving forward. 
This interview has been edited for length and clarity.
Commercial Observer: Tell me what you've been up to the past year and how that compares to years past.
Jackie Totolo: The past year has been great. Manhattan bounced back positively after COVID, and I think that we saw a lot of our tenants sharpen the pencil and take an interior look at how their business is operating now. 
The environment has changed in the city a bit. And, so, I think some people like Pret a Manger, for example, their core business is dependent on office workers coming into the office. So they've had to kind of take an introspective look at how their business operates. And now they have these really strict parameters about what they can do and how they could operate a business in New York City. 
I think it's been a great opportunity for a lot of the retailers to take that time to understand how to fine-tune construction costs, and then to focus on making really smart decisions in their strategy of opening new stores. 
Is that the main challenge right now, with interest rates, but also construction pricing going up as well?
Construction costs are pretty high and that changes construction profit and loss, especially when you're trying to get a payback period quickly. So I think that a lot of these people are looking for landlords to contribute. And I think that is one of those elements that we saw heavily is TI [tenant improvement] contributions, as well as free rents and landlords participating in that initial cost.
Are you seeing a lot of landlords participate?
Yes, we are. It helps negotiations and it's helped absorptions. We've seen a lot of landlords understand that this is what it takes to get good deals done and get great tenants.
What are some of the things you've seen built out?
Well, it's initial capital infrastructure, so it's making sure there's a brand-new HVAC system. If it's a restaurant, it's providing help with venting and making sure it has all the electric capacity, bringing gas up quickly. All these things take time and money. And I think when you're speaking to sophisticated retailers, whether they're in the food business or if they're selling clothing, they need as much help so they can hit the ground running and start making money quickly. And that's what's going to keep them in the space longer and there won't be much turnover.
I think there's become this kind of come-togetherness with a lot of our landlord population in New York City and across the country, where they understand that, and they're willing to participate, to make sure that they have good, long-standing relationships with retailers.
You talked about folks who were dependent on the office side. With that softening are you seeing different strategies or just targeting different locations?
I think it opens the doors to a lot of other neighborhoods, if you were strictly dependent on that. If they didn't have a residential kind of distribution or point of presence in the core residential areas, that's something that's now considered because there's more daytime population that needs to be serviced. 
But I think it just kind of changes the parameters. I think that you just study your business better, you understand the metrics, you understand the flows of when people are coming in the door; how they're spending money; when they're spending money.
And if you're educated and you have that data, you can communicate that to a landlord. And what you'll see is that pricing on some of those areas will probably level off because of the fact that there's only a certain amount of money you can make within five days.
How's this year going and what do you see moving forward? Do you see increased activity?
We've seen positive momentum in the first part of the year. We feel pretty confident that it's going to continue. We're seeing a lot of activity in some of the core luxury areas of New York City, which is great. Madison Avenue is a really great market. It's super strong right now. We're excited to see what's going on.
I think from a consumer perspective or just the person that's not in retail real estate, to walk down some of these streets and to see so much vacancy, it's easy to think, "What's going on?" But what you will see over the next six months is all these brand-new stores opening because all those deals were signed already.
Does it feel like tourism is back in Manhattan? And is that propelling the industry?
Yes, the subway is busy, Time Square is busy. You can see people on the street, you can hear the different languages and people coming from other countries.
Any other major takeaways? Is there anything else people should know about in the retail industry today?
I think retailers are getting smarter and smarter by the day, and landlords are listening. And I think that's what the whole aspect of growth is going to take into play.
I think that if everyone just kind of sits down and listens to one another's businesses and understands what their parameters are, there'll be a tremendous amount of success.
Gregory Cornfield can be reached at gcornfield@commercialobserver.com.