Brookfield Fund Late on Another Downtown LA Office Tower
In February, the borrower defaulted on $784 million in loans connected to two other office towers nearby
---
---
A Brookfield (BN) fund has missed payments on $275 million in CMBS financing tied to another office tower in Downtown Los Angeles and risks foreclosure at the property.
The fund has not paid in the last month on the 41-story, 920,300-square-foot EY Plaza, according to data provided by Trepp. The loan is now with special servicing.
The tower at 725 South Figueroa Street also includes a $30 million mezzanine loan, bringing the total debt on the tower to $305 million. Both loans are subject to an interest rate cap with a 6.02 percent strike rate and October maturity, per Trepp.
"We have always focused on quality, so 95 percent of what we own are trophy and Class A buildings that continue to see strong demand globally and benefit from the flight to quality," a Brookfield spokesperson said in an email to Commercial Observer. "While the pandemic has posed challenges to traditional office in certain U.S. markets, this represents a very small percentage of our portfolio."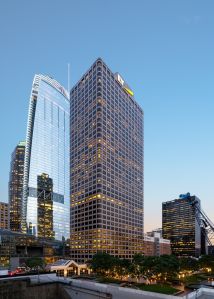 The special servicing comes after the fund defaulted on loans tied to two office skyscrapers in the city, the Gas Company Tower and the 777 Tower in Downtown L.A., which carry loans totaling $784 million and became prominent examples this year of receding demand for office and growing concern for workspace investment around the nation. The Gas Company Tower has since been put into a receivership.
E&Y Plaza was 74 percent occupied and had generated $12.5 million of net cash flow through September last year, per Trepp data. That sets an annualized $16.7 million of cash flow.
The fund, Brookfield DTLA Fund Office Trust Investor, owns one retail and six office properties with a total of 7.6 million square feet in L.A., according to Trepp. The fund previously warned that "negative cash burn" has raised "substantial doubt about the company's ability to continue as a going concern."
Brookfield also said it would likely not make the interest payments on EY Plaza, and that certain tenants are not in compliance with their leases, which could prompt a default. Additionally, the firm warned that it could face a potential foreclosure, explaining that the cash flow the property generates was insufficient to continue servicing its indebtedness, as well as cover leasing costs and capital expenditures.
The company's properties were 77.3 percent leased by 232 tenants as of the end of last year, generating $170.6 million of annualized base rent, or $29.13 per square foot. That compares with a 79.1 percent occupancy level at the end of 2020.
Brookfield carries $2.28 billion of debt against its properties, with $1.13 billion of that maturing this year and $400 million next year.
Gregory Cornfield can be reached at gcornfield@commercialobserver.com.