Top Two Candidates for Miami Commissioner Seat Support 'Smart' Development 
---
---
One of five seats on the City of Miami Commission are up for grabs this upcoming Monday, with the winner replacing Ken Russell, who resigned from his position as commissioner of District 2 to pursue a Senate run last year.
While the post is a short one — the elected commissioner will be up for reelection again in November 2023 — Russell's district covers the wealthiest and most populated swath of the city, encompassing the coastal neighborhoods from Edgewater down to Coconut Grove, including Downtown and Brickell.
The district provides 70 percent of the city's taxable property, according to Javier Gonzalez, a property manager and one of 13 candidates in the running.
The key issues at stake are the kind facing a city on a growth trajectory: adequate infrastructure, affordable housing, and balancing development with sustainability. Local issues include a response to more frequent flooding from sea level rise, increasing homelessness and crime in Downtown Miami, and protection of parks and greenspaces.
Retired Judge Martin Zilber is the leading candidate in terms of fundraising, having pulled in almost $130,000 during the six-week campaign period, according to campaign finance records. The next most flush candidate is Downtown Neighbors Alliance president James Torres, who raised $48,325.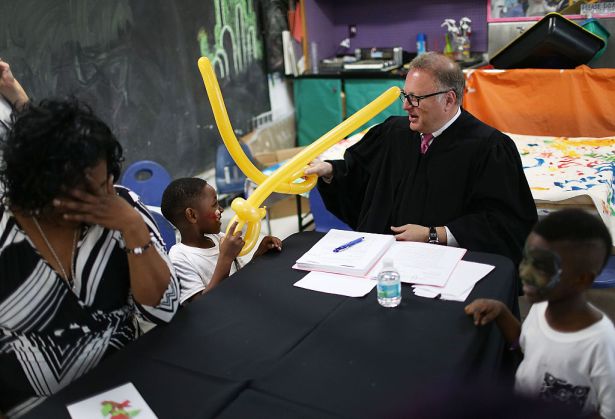 Real estate was the largest contributor as an industry, followed by attorneys, providing 36 percent of all money raised by the top four candidates, per the data. 
Zilber appears to be the preferred candidate of the real estate community, having raised 47 percent of his funds from the industry, including from the likes of Related Group, JDS Development's Michael Stern — who is planning to build a supertall tower at 888 Brickell — and David Martin's Terra. Torres, in second place, received 29 percent from real estate, while Sabina Covo, who raised $43,000, got less than 10 percent.
The maximum donation allowed is $1,000 but some contributed through several entities. At least four entities related to Related Group gave $1,000 each to Zilber, while entities related to Moishe Mana gave $7,000 to Torres.
"Development is a very funny word," Zilber told Commercial Observer. "A lot of people think of it as a dirty word, but it's not. We have to have good development."
Zilber's top priorities are increased policing, smart development — in particular, protecting the region's parks — and more affordable housing and capacity to help the homeless, in that order, he said.
"We can keep our development smart. We can take the impact and revenue fees, and we can build more workforce and affordable housing," Zilber said. "I believe the more successful we are with our private commercial real estate, the more successful we can be with our subsidized and workforce housing."
Torres, a sales executive at Hotwire Companies and first time political candidate, described the same three priorities only in a slightly different order: beginning with homelessness, followed by safety and then responsible development, according to an interview the Miami Herald conducted with all the candidates. The leading two candidates also both support development on Virginia Key and agree on the need for a more robust response to sea level rise. (Torres did not respond to an interview request before publication.) 
Zilber, a practicing lawyer, has real estate experience himself, having focused on real estate and commercial litigation during his 20-year tenure at Stolzenberg, Gelles & Flynn before taking his judicial position in the Eleventh District Court. 
He resigned from his position in 2021 amid an ethics investigation regarding allegedly missed work and his use of court staff to run personal errands, to which Zilber partially admitted. The investigation was closed without disciplinary action by a separate governing body after he resigned since it found "no probable cause" for discipline. 
The special election will be held on Monday, Feb. 27, though voters can vote by mail or in-person beginning Thursday, Feb. 23.
Covo and Gonzalez did not respond to requests for comment.
Chava Gourarie can be reached at cgourarie@commercialobserver.com.