VTS Hires Research Expert Lexi Russell From CBRE: Exclusive
She will focus on the San Francisco and Seattle areas
---
---
Commercial real estate platform VTS has hired Lexi Russell as a regional senior research manager covering the San Francisco Bay Area, including Silicon Valley, and Seattle. (Meanwhile, VTS announced in late August that Chief Technology Officer Niall Smart and Patrick Kehoe, its chief operating officer, were leaving the company. VTS does not plan to name a new COO, either.)
A real estate researcher with a decade of experience focused on the tech industry's influence across the U.S. office sector, Russell will be based in San Francisco and part of the VTS Data team, which VTS bills as the industry's only forward-looking, first-party market data product. VTS Data relies on aggregated and anonymized data captured directly from the $200 billion in transactions managed on the VTS leasing platform, according to the company.
Russell will also play a major role in VTS Office Demand Index (VODI), which tracks tenants of office properties entering the market across the nation.
A self-described "data nerd," Russell said of her plans at VTS: "My first goal is to really wrap my hands around what we're doing within data and then work on what impact I can have from within the company, primarily working with VODI and with our clients.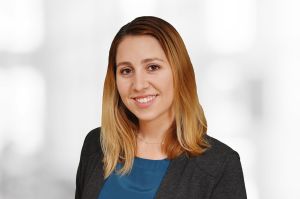 "What I really like about VTS is that it's bringing a traditionally non-tech industry, commercial real estate, into a more futuristic tech world that we're all now living in. I think that's the main focus for me: growing as a person, growing as an industry, and being a part of that change."
Asked how she views the tech and general office markets as they attempt to exit COVID, Russell said, "That's something that I love about the VODI. It does change monthly and that's exactly what it measures, office demand as indexed. It's forward looking. What's happening this month may not be what's happening next month, but it gives you an idea of what's going on."
However, she added, "The one thing I'm certain about is that I'm not certain about anything. I can't describe what's going to happen next, but what I do know is that our index right now is the most real-time, up-to-date version of what's happening within the office market."
Russell's hire comes on the heels earlier this month of Sebastian Abigail's return to VTS in London, where he leads a further rollout of VTS Rise in the U.K., as well as in Europe, the Middle East and Asia.
Prior to joining VTS, Russell was a director of research at CBRE covering the Bay Area and Seattle office markets. Before CBRE, she worked at Rosen Consulting Group providing analysis and forecasting on the economy, capital markets, housing markets, and commercial property types for top real estate investors.
Russell earned a master's in international and developmental economics and a bachelor's in economics from the University of San Francisco.
Philip Russo can be reached at prusso@commercialobserver.com.