Post-Pandemic Return to Office Fuels Demand for Janitorial Services
Deep cleanses of workplaces are becoming the norm, whatever advice coming from the CDC
---
---
They don't get a ton of attention. Just about when you're leaving for home —  and only if you stayed at your desk late — they sweep in and vacuum under your desk, and run a feather duster over your workspace so you have a nice, clean place to work the next morning. You probably treat them like ghosts if you're aware of them at all.
Well, going forward they are going to be distinctly more important.
In the world of post-COVID normalcy — whatever that is — having a clean, microbe-free workspace will be at a premium. So, don't be surprised if you encounter people in moon suits spraying or fogging your office, or wiping surfaces down with disinfectant.
"We have seen and we expect to continue to see growth and expansion in this space," said Damon Cleveland, owner of Pro Cleanings Co., a commercial cleaning service that is active in the New York tri-state area. "I expect for the foreseeable future, the next three to five years, an emphasis on hiring skilled, trained, insured cleaning companies that clearly understand what they're doing. Those companies are going to do well."
Cleveland is actually the owner of two cleaning services, Pro Cleanings, which specializes in commercial spaces, and Green Maids & Co., which cleans homes with a focus on organic cleaning. For years, Green Maids was the cash cow, while Pro Cleanings "did OK," he said.
Then, when COVID struck last year, "there was a flip-flop of focus from a revenue and operational standpoint," as office-using clients began to come to grips with the virus.
Typically, Pro Cleanings runs between 25 and 100 employees, depending on the number of contacts at any given time. There's also a high attrition rate — employees tend to come and go. But now, Cleveland expects the company to stay at the higher end of that employee range at a minimum "or well beyond that."
Caroline Gadaleta is New York project management lead for real estate services firm JLL (JLL), which manages more than 20 million square feet in the tri-state region, in office sizes that range from 2,000 square feet to 3 million square feet. 
She said that many of her clients paused their demand for additional cleaning for 14 to 15 months, following an initial flurry, as landlords and tenants alike chose to shut down their offices in the face of COVID and make their staff work remotely. 
Now, both landlords and tenants are preparing to reopen their offices, if they haven't already done so, and people like Cleveland say deep cleaning is becoming an expectation. The risk of the virus has declined substantially, as more and more people are vaccinated, but it hasn't gone away completely, nor is it expected to.
This comes even as the Centers for Disease Control and Prevention, the Atlanta-based federal agency that has become the clearinghouse for trustworthy information on the pandemic, has de-emphasized surface cleaning as a means of blocking transmission. In an April 5 statement, the CDC said, "the risk of infection from touching a surface is low," though not impossible. 
The most likely source of infection is "through exposure to respiratory droplets" in the air, the agency said. It continues to stress hand-washing, social distancing and mask-wearing, especially by those with compromised immune systems.
"This is still a work in progress," said Brian Jennings, managing director for property management, Americas business operations at CBRE (CBRE), the world's largest real estate services firm, in written answers to Commercial Observer questions. "Experts are learning more and more each day about the virus and how to mitigate its spread."
CBRE manages about 890 million square feet in the U.S. on behalf of owners, of which 315 million is office space, according to Jennings. The company manages about 32 million of office space in New York City, he said.
Jennings said CBRE clients "have a much greater comfort level" when they can visibly see workers cleaning their spaces. And that includes common areas, such as lobbies and elevator waiting areas, not just leased office space.
"The way it works in New York City is landlords provide base building cleaning, and the tenants always have the option to purchase additional 32M services," JLL's Gadaleta said. "Most of our cleaning companies have put together menus of services that are available to tenants for additional purchase."
The cost is about 8 to 10 cents a square foot per office cleaning in New York City, and 6 to 8 cents a square foot in New Jersey and Connecticut, she said. The expense typically increases every year due to annual labor cost increases of around 3 percent.
There's been a lot of hand-holding involved lately, too, Gadaleta added.
"Communication has been key throughout the entire pandemic," she said. "We are in constant contact with our tenants. We know when our tenants are planning on bringing their staff back. We have learned that many of our tenants are planning to have increased populations over the summer starting in June, and targeting September for a more significant increase in population. That helps us to plan for the future."
There's a pretty gigantic host of companies willing to provide this service. If you run "office cleaning" in, or near, New York on Yelp, you get 21 companies on the first page, and there are 24 pages.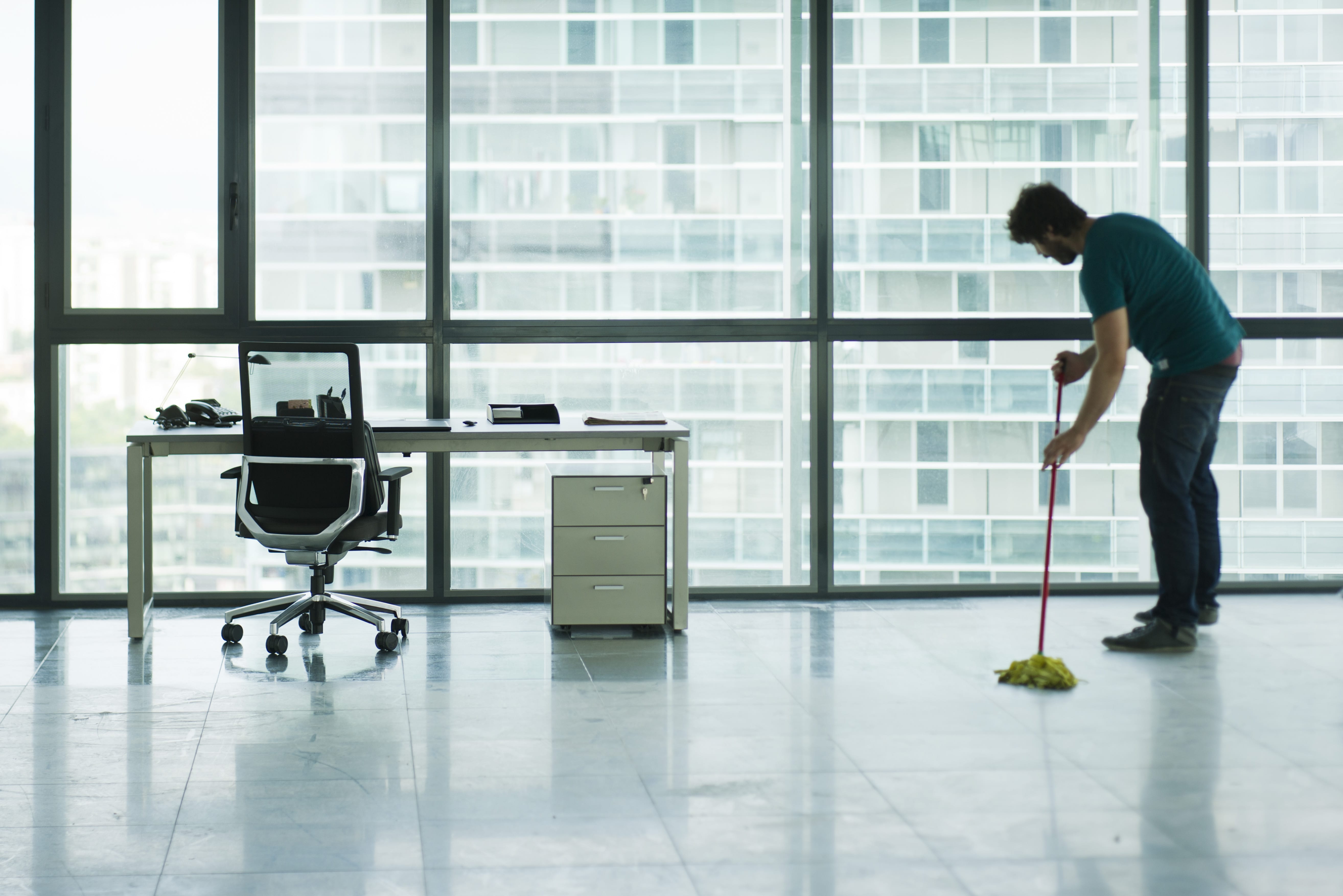 Minneapolis-based Onedesk Cleaning offers a review of the best electrostatic disinfectant sprayers in a banner across the top of its website. According to the CDC, electrostatic sprayers apply a small electric charge to aerosol cleaning fluids as they come out of the nozzle, making the disinfectant more likely to stick to surfaces when sprayed. It's not a fail-safe against viruses, just a more effective way of applying disinfectant, according to Roman Peysakhovich, co-founder of Onedesk. He said the company serves 17 markets, the largest of which is New York City.
Peysakhovich said that electrostatic spraying typically costs around 7 to 10 cents per square foot, and it's sometimes done nightly or weekly depending on what an office wants. "Due to the current conditions, most companies are on a month-to-month contract, with an option to pause should there be any restrictions due to COVID," he added over email. A typical contract can range from $500 a month for weekly services at a smaller office, he said, to $5,000 a month for a larger office with daily services. The average cost is about $1,500 a month.
"Initially, when people were still working out of the office, there was a slight increase in demand — make sure their office is sanitized, so that their employees can feel safe," Peysakovich said. "That only lasted a couple of weeks, until everybody just left the office completely. Then, the whole industry took a massive hit."
As winter turned to spring last year, and it looked like COVID would not disappear like a miracle, the services of Onedesk and cleaners like it picked up once again. Not in offices, though, according to Peysakhovich. That demand would have to wait until this spring. Instead, it was for such places as supermarkets and private schools.
"Then, in April," he said of 2020, "there was this demand for disinfection service, for the offices and facilities that were still open."