Presented By: Partner Insights
Community BIDs Work Hard To Attract Returning Office Workers
---
---
Throughout the worst of the COVID-19 pandemic, workers citywide set up makeshift offices and worked off coffee tables in their living rooms as work-from-home became the accepted model.
But workers for the city's Business Improvement Districts (BIDs), neighborhood associations, and other related civic organizations remained on the streets, fulfilling vital functions to help ensure that their neighborhoods were as safe and welcoming as ever.
"Lockdown was tough on everybody. But our teams out in the field never went on lockdown," said Jessica Lappin, president of the Alliance for Downtown New York. "They have been removing graffiti, washing and emptying garbage cans, and managing the Open Streets program 24/7 throughout the pandemic."
"We actually never stopped working," said Alfred C. Cerullo III, president and CEO of the Grand Central Partnership. "Our field staff came to work seven days a week and did the work they are used to doing in our neighborhood, including sweeping, patrolling, even monitoring our plantings. We can't successfully do the work we do unless we're in the neighborhood."
These organizations and others like them never stopped providing assistance to their local neighborhood businesses throughout the pandemic. The Avenue of the Americas Association, for example – not technically a BID, but a civic membership organization that's been executing similar functions for 100 years – held crucial ongoing safety meetings with landlords and tenants.
"I'm proud to say that the owners and tenants on Sixth Avenue worked to ensure continuous communication, keeping us together as a community even when offices were largely vacant," said Crystal Fisher, Managing Director of the Commercial Portfolio at Fisher Brothers & Ease Hospitality and President of the Avenue of the Americas Association. "It was important for us to support the many businesses that remained open during the pandemic."
As the number of vaccinated New Yorkers grew, the role of these organizations shifted yet again, turning from maintaining largely deserted streets and helping businesses stay open despite few customers to encouraging the city's robust reopening.
"Anecdotally, it's starting to feel much busier down here, and we're doing our best to encourage that," said Lappin, who is already establishing programs to help keep downtown streets busy.
In May, the Alliance launched Downtown Live, which brought 36 musical performances to various outdoor locations in the area over two weekends.
"As we look ahead to summer and fall, we have a number of marketing campaigns launching that will target everyone from returning workers to tri-state consumers to travelers considering a New York adventure," said Lappin.
This sort of forward-thinking action is being taken by BIDs and neighborhood organizations throughout the city.
"Our summer programs include outdoor yoga, a farmer's market, and several food festivals," said Fisher. "The purpose of these events is to showcase some of our retailers and restaurants, and to ensure that when employees return to their office, they have options available to them and feel a sense of community."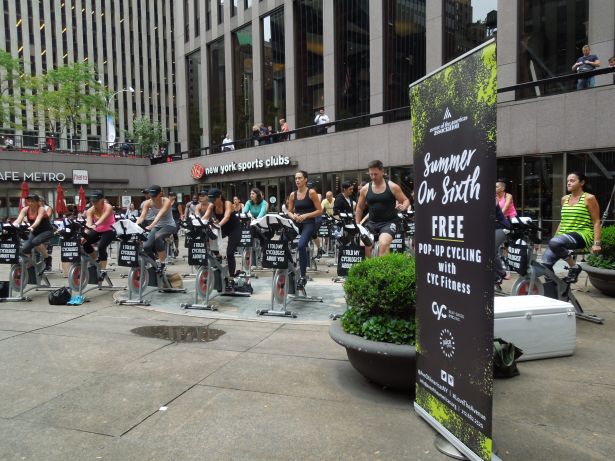 The Grand Central Partnership is re-launching the live version of its Summer Solstice Music Festival – which occurred virtually last year – which will feature ten local music acts performing at various spots along Park Avenue from 39th to 53rd Streets on June 21.
Also returning for the Partnership is its annual food tasting event, Grand Gourmet – The Flavor of Midtown.
"This year, it's obviously not possible to do it in person," said Cerullo. "So we created a sort-of sweepstakes, because we wanted to engage people with our businesses, and we wanted them to come to the city. So between the generosity of some sponsors and our raising some money, we bought gift cards to our local restaurants and food establishments, and had weekly sweepstakes for people to win dinner, desserts, drinks, etc. At the time we thought we needed the jolt, but then people started coming back. We're going to do a second round in the fall as sort of a welcome back."
While New York's comeback is happening faster than expected on many fronts due to rising vaccination rates, the return of workers to the office is still occurring at something of a crawl. This is an issue for all who support a return to normalcy, as office workers are crucial for the support of nearby businesses such as restaurants and grocery stores.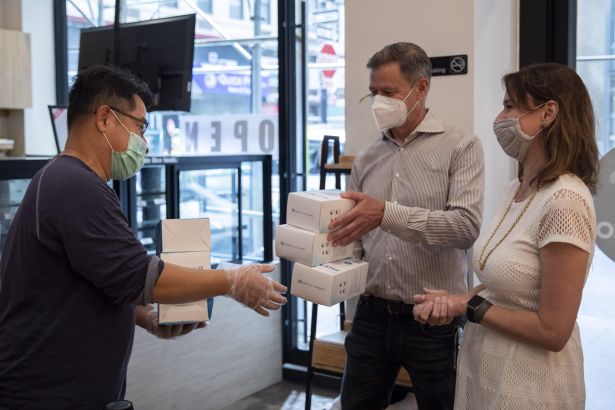 The BIDs and civic organizations, then, are doing what they can to try to convince office workers that returning to the office and patronizing surrounding businesses is both welcoming and safe.
"We have a number of initiatives in the works for this summer – some direct, and some indirect," said Lappin. "We're readying a program that will reward lower Manhattan workers for patronizing local restaurants and bars during lunch and happy hour. It will hopefully encourage workers to go back to their favorite neighborhood spots, plus, as a thank you, we'll be offering them some fun downtown swag."
Lappin mentions the many food and entertainment locations now scheduled to open or re-open, including the Smorgasburg food market at the World Trade Center, the Urbanspace food hall at 100 Pearl Street, and new restaurants SAGA at the 70 Pine Penthouse and Blue Ribbon Sushi at 84 William. Pier 17 in the Seaport Historic District is preparing to host concerts again this summer, and Alamo Drafthouse will open its first Manhattan location at 28 Liberty this fall.
That area will also see the Hall des Lumières, a permanent immersive art installation at 49 Chambers Street. This is expected to debut in late 2021 or early 2022.
The Downtown Alliance has also been working on shoring up and promoting local bicycling infrastructure, including new bike lanes on Broadway and on the Brooklyn Bridge, to encourage cyclists to return to the area.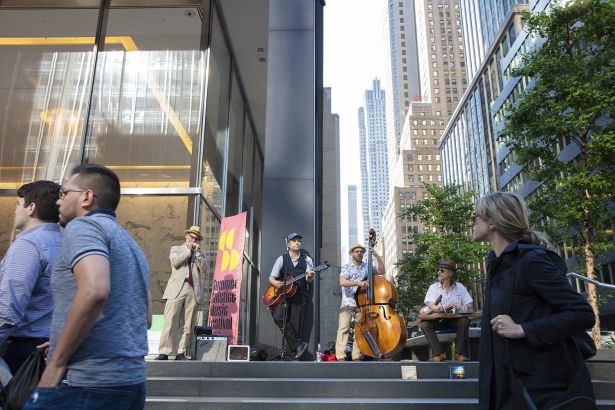 The Avenue of the Americas Association, meanwhile, has been working hard to create an events program that will help both attract workers back to the area, and reinforce the notion that normal life is returning a bit more every day.
Beginning in mid-July, the Association will host events including a festival of ice cream makers for National Ice Cream Day, a food truck festival, and a Broadway festival where Broadway stars will perform along the avenue. They will also be introducing a lunchtime farmer's market, and will be re-launching a longstanding public art installation in the fall.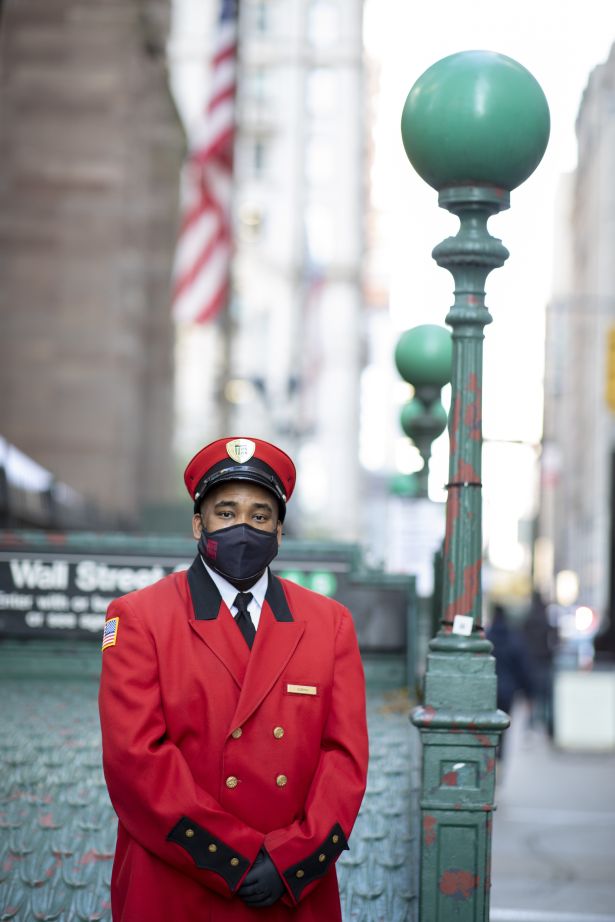 "We are excited to activate the Avenue this summer and fall with a series of creative events that will re-engage our community, and allow people to come together in a safe and fun way," said Fisher. "The Association wants our tenants to return to an amenity-rich community with many diverse opportunities to connect back to our neighborhood in Midtown."
This message is being echoed by BIDs and civic organizations throughout the city.
"We need our people back," said Cerullo. "The office worker supports the ground level retail, so the success of the recovery is not just in what the economic return is for a particular business, but in how many retailers are open and how much activity is taking place in our neighborhood."
Cerullo said the Partnership plans a marketing campaign centered around messages of safety, security, and programming, showing that the Grand Central area is already open for business in the safest way possible.
"Our message is constantly that the neighborhood is clean and safe," said Cerullo. "We've been very fortunate in terms of low crime rates. We have a lot of businesses open and activated in the streets, lots of restaurants and bars. We have to consistently message to the world that it's safe and healthy to come back, and that when they do, they can say, 'Wow, this looks beautiful. The plants look great. I love the music. Look how clean this is. I can walk down the street, and out of Grand Central, and feel safe.' That's really what we're focusing on."
Given the widespread vaccinations, rapidly falling COVID-19 infection rates, and the clear desire of New Yorkers to return to the shows, restaurants, and other activities that help make this city great, the BIDs are confident that this fall will find us inching closer to normalcy.
"We are optimistic that a large percentage of our tenants will return in some form in September," said Fisher. "We have worked hard to build a schedule of programming for the community that will make it exciting for tenants and employees to return to their offices, whether it's seeing an ice cream festival, a lunchtime farmer's market, a food truck festival, or an outdoor fitness class. These will be added touches to the programming that many of our owners and landlords have already created in their own buildings and amenity spaces. We feel confident that with these additional community activities, tenants will be happy that they've returned to a thriving and amenity-rich Midtown neighborhood, and to pre-pandemic ways in general."
Alamo Drafthouse
,
Alfred C. Cerullo III
,
Alliance for Downtown New York
,
Avenue of the Americas Association
,
Blue Ribbon Sushi
,
COVID-19
,
Crystal Fisher
,
Ease Hospitality
,
Fisher Brothers
,
Grand Central Partnership
,
Grand Gourmet
,
Jessica Lappin
,
Pier 17
,
Ric Clark
,
SAGA
,
Smorgasburg
,
Summer Solstice Music Festival
,
UrbanSpace
,
World Trade Center