More Long Island Apartments Needed to Capitalize on Shift to Suburbs: CO Panel
---
---
Long Island will see increasing demand for office space and multifamily developments in the next few years, due to a growing desire for suburban living, according to panelists at Commercial Observer's "Corporate Relocation – Growth in Secondary Markets: A Boom in Real Estate Activity on Long Island" virtual forum on May 13.
"This is a really big opportunity for Long Island and it's a tailwind that it needs to take advantage of," Michael Maturo, president of RXR Realty, said during the first panel, "Looking East: The Rise of Secondary Office Locations," which Marc Fogel, partner at Berdon LLP, moderated. "We will over time lure larger companies to come out here."
Maturo expects "moderate movement" with Long Island office space demand in the near term and stressed the importance of elected officials pushing more transit-oriented, multifamily properties in downtowns similar to what has occurred in Mineola, Farmingdale, Patchogue and Glen Cove. He said increasing housing options that can attract millennials, coupled with Long Island's strong public schools, parks, health care facilities and research institutions, would help spur even more business development.
Larry Levy, executive dean of the National Center for Suburban Studies at Hofstra University, said that $400 million in estimated aid from the American Rescue Plan for Nassau County and $300 million for Suffolk County could make Long Island more attractive for economic growth. Federal infrastructure spending, too, could aid necessary upgrades for Long Island sewers and transportation, and foster residential development around Long Island Rail Road stations, Levy said.
"Village officials, town officials, county officials, state economic development officials are going to have more money than they know what to do with," Levy said. "People who do advocate should keep an eye on and make sure that beyond their own self-interest or business self-interest, they make sure this money goes to transformative, foundational change."
Maturo noted that RXR's Long Island office properties are drawing more interest, because workers can drive to them and avoid public transportation. The developer's Class A office properties, such as RXR Plaza and the Omni buildings in Uniondale, are at around 50 percent capacity now, with smaller structures at even higher levels. Maturo said the next five to six years could see more city-centric firms opting to open satellite offices in suburban areas closer to their employees.
By comparison, RXR's New York City office portfolio of roughly 20 million square feet is now seeing occupancy of around 15 to 20 percent compared to the five percent levels it hovered around during the height of the pandemic, Maturo said. He noted that some small- to medium-sized companies are opting not to extend leases in Manhattan, and are instead expanding office space in suburban areas like Long Island, Westchester County and New Jersey.
Panelists stressed that substantially increasing multifamily housing on Long Island is crucial toward enabling more office development in the region.
"Overall, there is a significant demand in just about every strata of apartments right now," TRITEC Company Principal Robert Coughlan said during the second panel, "The State of the MFH Market: How Residential Growth is Driving Long Island's CRE Boom," moderated by Berdon LLP Principal Nicole Barthelemy. "What we are seeing most demand for in our portfolio is in the transit-oriented projects and walkable communities."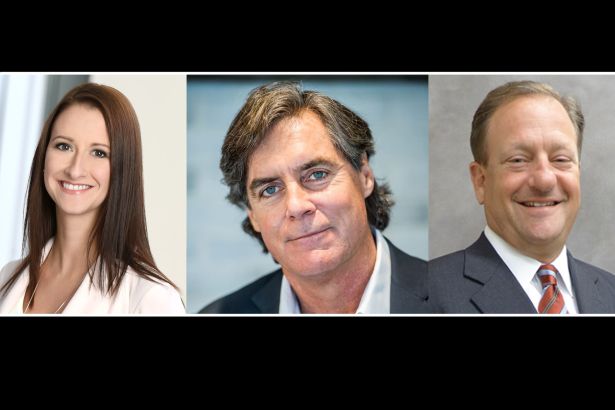 Coughlin noted that multifamily comprises only about 18 to 20 percent of Long Island's housing stock compared to the national average of around 35 percent. In nearby Westchester County and Northern New Jersey, multifamily housing levels are closer to 40 percent of the housing stock.
The high cost of housing has, in the past, caused some large corporate relocations off Long Island, such as Olympus America, which moved its headquarters from Melville to Center Valley, Penn., in 2006, according to Phil Heilpern, senior vice president at CBRE (CBRE). Heilpern cited Great Neck and Mineola as prime examples of communities that have created a number of apartments close to downtown businesses. That, in turn, has resulted in having among the lowest office vacancy rates on Long Island.
"Development in downtowns with multifamily and office space would be highly successful, but we need to build it in a scale where you can attract larger tenants," said Heilpern, who joined the CBRE Long Island office in 1985. "If you built it in scale on Long Island, you would attract many, many larger users to those locations."
Long Island's population density is increasing demand for warehouse and last-mile distribution facilities in the area from companies like Amazon (AMZN), resulting in land prices nearly tripling during the last two years, according to Heilpern. He said numerous industrial developments are planned in the region, including some that are replacing office buildings.
The surge of industrial activity sparked largely by the popularity of e-commerce has meant the reimagining of some mixed-use projects. Coughlan said the Ronkonkoma Hub development that TRITEC is master developer for has shifted during the pandemic to more "essential" retail options like grocery stores and fitness centers, rather than entertainment retail.
Shifting preferences from prospective multifamily tenants for more outdoor amenities is also spurring adjustments to Coughlan's Long Island projects. He expects this dynamic to proceed long after the pandemic as more New York City residents seek more open space in the the less dense suburbs, while still desiring apartment living. 
"Those preferences were there before COVID, and COVID certainly accelerated that and highlighted that to urban dwellers taking a look at opportunities in suburbia," said Coughlan, who added that more lounge and desk space is also being added to projects for enhanced remote-working capabilities. "Outdoor lounges, balconies, fire pits, dog-walking areas, rooftop sunning areas, pools … they are all very big selling points."
Berdon LLP
,
Hofstra University
,
Larry Levy
,
Long Island
,
Marc Fogel
,
Michel Maturo
,
National Center for Suburban Studies
,
Nicole Barthelemy
,
Phil Heilpern
,
Robert Coughlan
,
TRITEC
,
Amazon
,
CBRE
,
RXR Realty