Downtown Business Districts Mine 2008 Recession for Tips on Office Rebound
---
---
Office landlords can look to the 2008 recession for lessons on how to save downtown business districts that have been decimated by the pandemic, according to a new report from the Brookings Institute.
Remote work has left downtown office buildings abandoned — in Downtown Washington, D.C., only nine percent of office space was occupied by workers as of February, the report noted. A lack of office workers — which occupy the majority of real estate in the downtowns of the 30 largest U.S. metropolitan areas — has disrupted the downtown food chain, impacting everything from local businesses to tax revenues. 
"The one thing we can be sure of is that, as we make progress containing the pandemic, 100 percent of office workers are not coming back all the time," Tracy Hadden Loh, a fellow at Brookings' Metropolitan Policy Program, told Commercial Observer. "There absolutely will be weakening office demand and we are already seeing signs that that's happening."
The report takes lessons from the aftermath of the 2008 Great Recession in examining job trends. During that time, downtowns at first lost fewer jobs than other metropolitan regions, but then job growth lagged during the recovery. 
For example, the Los Angeles-Long Beach-Anaheim downtown areas gained 15,074 jobs from 2010 to 2018, a 13.8 percent increase. At the same time, the areas saw a decrease in job market share by 2.2 percent, as job growth accelerated in areas outside of downtown. On the flip side, the New York-Newark-Jersey City downtowns gained jobs by both metrics, gaining 135,978 jobs, an 18.3 percent increase in job growth and a 2.0 percent increase in market share.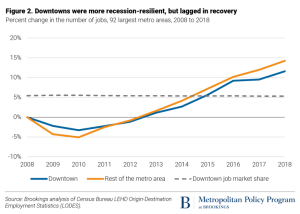 To contend with both the overall and pandemic-related trend away from office space, downtowns need to embrace being more than a business district, according to the report. Cities should consider reusing and adapting office buildings — turning them into anything from residential homes, schools, hotels, self-storage, retail space or even urban vertical farms.
Cities like Nashville and Austin, Texas, have embraced mixed-use developments, becoming more walkable, and made intentional efforts to preserve cultural spaces. Downtown Greenville, S.C., used development along the Reedy River to turn a former bridge into a recreational hub. 
The report asks downtowns to think boldly and inclusively about connecting downtown areas to more neighborhoods. Loh gave the example of Cincinnati, where the Tax Incremental Financing (TIF) district encompasses downtown and a nearby distressed neighborhood, allowing tax revenues to be shared by areas that need investment most.
Downtowns will need to think creatively during a post-pandemic recovery, according to the report, as dramatic growth in remote work and competition from hotels looking to adapt to new uses will likely lower the demand for office space. Loh hypothesized that areas with diverse commercial spaces — like schools, hospitals and construction sites, rather than just office spaces — may be more insulated from the impact of an out-of-office exodus.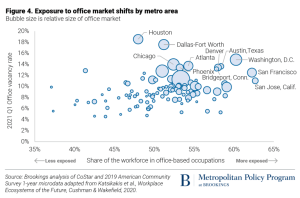 Lower demand is also due to pre-pandemic trends, said Loh, like knowledge sector jobs clustering in a few select locations and businesses desiring more flexible, collaborative spaces. As a result, many office buildings were in the wrong place or the wrong style. 
"COVID-19 didn't invent telework, it just supersized it," said Loh.
Update: This story has been updated to indicate that after the recession, downtowns lost jobs due to slower job growth, not to surrounding metropolitan areas.