Baye Adofo-Wilson Talks Hinchliffe Stadium, Investing in Minority Communities
---
---
Baye Adofo-Wilson wants to tell stories.
His mission is accomplished through BAW Development, which he founded almost four years ago with the goal of tackling historic, economic and urban revitalization and preservation projects for underserved or overlooked communities.
The Paterson, N.J. native is currently in line to finally begin work this month on a darling project that will center around the city's main cultural draw, the Paterson Great Falls National Historical Park.
Bordering the Great Falls is Hinchliffe Stadium, a dilapidated, forgotten relic aged nearly 90 years that many Paterson locals glide past without a second thought.
The 10,000-seat, landmarked stadium was built in 1932 and shuttered in the 1990s, and it has served many sporting and entertainment uses in its lifetime: hosting local high school sports, stock car racing, boxing matches, and even at one point, comics Bud Abbott and Lou Costello. Most notably, though, it was also an epicenter for Negro League professional baseball in the tri-state area and the mid-Atlantic, up until the last remnants of the storied leagues dissolved in the 1950s and '60s.
Black baseball stars and Hall of Famers like Satchel Paige; Josh Gibson; "Cool Papa" Bell; and local legend Larry Doby, who also played at the stadium while at Paterson's Eastside High School, graced the field as Negro League professionals. And it was home to renowned teams like the New York Black Yankees and the New York Cubans.
Adofo-Wilson, alongside development partner RPM Partners, has teamed with the City of Paterson and its public school district to completely redevelop Hinchliffe into a $94 million, mixed-use community staple with a fresh stadium and track, as well as housing, an expansive restaurant, and a museum and exhibition space dedicated to the history of the Negro Leagues and the civil rights movement.
That's the kind of multi-layered story Adofo-Wilson wants to tell in his hometown. The Army veteran and former deputy mayor and director of Economic and Housing Development for the City of Newark, sees these types of developments as rich educational opportunities, a way to preserve Black culture, and uplift Black and Brown communities.
Former major leaguer and broadcaster Harold Reynolds serves as an ambassador for the project, and the development comes at a ripe time — about a year after the Negro National League's centennial and just a few months after Major League Baseball decided to officially recognize Negro League statistics from 1920 to 1948 as official major league stats.
Adofo-Wilson likened the Hinchliffe redevelopment project to the Farish Street Historic District in Jackson, Miss., or the work that was done to the Stax Museum of American Soul Music in Memphis, Tenn.
"In a lot of ways, this project is the same type of project, where you have a community that was somewhat of a thriving community, a center of culture and activity amid segregation," he said.
Adofo-Wilson spent several years early in his career in the late 1990s and early 2000s at the non-profit Regional Plan Association, and, while he raved about how much he enjoyed it, he said there were still many things that fell through the cracks.
"People are always studying and coming up with plans to redevelop Black communities," he said. "But then, the plans sit and they get covered with dust. Back then, the plans were books."
Initiatives would fall by the wayside for various reasons, for not "being a good use of time or resources," Adofo-Wilson said. "I always felt it was important that if you created a plan, you should make an earnest effort to implement it. I like implementing plans."
Adofo-Wilson then began working in community economic development through the Lincoln Park Coast Cultural District, a community development organization he founded in 2002 and led for nearly 12 years.
"[We were] building affordable housing and mixed-use buildings, and doing music festivals and urban agriculture and job training," he said. "In particular, I focused mostly on the real estate development component of it. While I was at Newark City Hall, I decided that I wanted to do more, specifically in urban communities." That was when he launched BAW in 2017.
Commercial Observer: Around when did you realize you wanted to start down the path of working in urban redevelopment and planning?
Baye Adofo-Wilson: I realized relatively early on that I was interested in urban revitalization and development. I went into the Army after high school, signing up at 17 years old. I turned 18 on a Thursday and I left that following Tuesday, immediately after graduation. I quickly realized that a lot of my friends in the military went in for the G.I. Bill, but they also came from similar cities — they came from Detroit, Chicago, D.C. and Baltimore, Houston and New York. I was in a field artillery unit — in the infantry division — so it was a combat job, we were in combat.
And everyone had the same story. There were no jobs in their communities, therefore they went into the military for a job and for the opportunity to go to college. I was in the military during [Operation] Desert Storm. It was optional whether or not you wanted to go, so I decided I didn't want to go — I wanted to go to graduate school [at Cornell University]. I decided to get out. I can get shot at in New Jersey. I don't need to go to Iraq or Kuwait to get shot at — I can get shot at home, in Paterson or Newark. So, I got out.
What was very clear was that people from all over the country had the same experiences, that in urban America, there's a lack of jobs and opportunity — and people were making the decision that they would rather take a risk in Iraq or Kuwait, rather than in Newark or Philadelphia or Chicago. I just felt that was wrong, so I wanted to develop my skill set to help alleviate those issues.
How did working for the City of Newark help further influence your perspective on how local governments can best serve the needs of its people through urban and economic revitalization?
My time as deputy mayor was really critical. It showed me the multiple layers, challenges and complexities of projects, and how they can eventually do well or not do so well. One of the challenges in government are competing interests, like education, gentrification, policing and affordable housing. When I look at projects, I tend to look at it from different sides and viewpoints to see what are the security or affordability concerns, or the public and private concerns. The experience showed me the multiple ways you can look at [tackling a project]. They're all important, but you do your best at addressing all of them.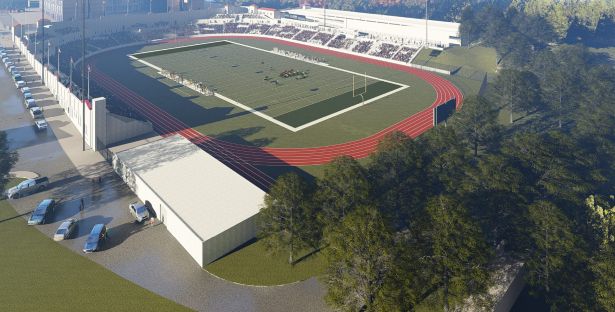 When did you first catch on to Hinchliffe as a meaningful target for redevelopment in Paterson?
I had just started BAW Development in 2017, and I grew up in Paterson. I went to high school with Assemblyman Benjie Wimberly and grew up on the same block as [other area officials]. I know them — I grew up with [former Paterson public official] Vaughn McKoy — the various people and actors in Paterson, and we're roughly all the same age. When I finished at City Hall, Assemblywoman [Shavonda] Sumter asked me if I was interested in doing anything in Paterson, and I said "yes." She said, "Well, maybe you can help us figure out Hinchliffe Stadium." It's something that's been blighted for 20 years.
My experience in Newark was critical, because we had done a lot of infrastructure projects, whether it was the Fairmount Heights Switching Station, or Mulberry Commons, or Riverfront Park. So, I was familiar with how to structure them, what the process would be like, the ways in which to finance them and the team needed to pull it together. In Paterson, still to this day, they haven't completed an ERB project, so I just took my experiences from Newark and brought them home to Paterson.
Are you a baseball fan?
When I was a kid, I was a big Yankees fan, but I haven't been into it as much lately. But, I'm getting back into baseball and Paterson, and it's really been great for me. My mother left around 10 or 15 years ago, so I don't have a lot of family here; I still have some cousins in Paterson, but that's about it.
What's the breakdown of the ownership structure of the project? I've read what seems like conflicting reports about who all is involved and how it's being financed.
The school district owns it, but we have a 35-year lease with the district. Of the stadium and housing, I hold a 51 percent interest. U.S. Bank came in and said they wanted to work predominantly with minority business after George Floyd and the protests around Black Lives Matter, so they invested in me and allowed me to negotiate an ownership structure that provided me with 51 percent ownership of the stadium.
Part of the hurdle under the extension was that we have a very complicated financing strategy that includes historic tax credits, low-income housing tax credits, new markets tax credits, state tax credits and a bond — so all those required approvals and there's a half a dozen banks involved in the projects. We have the school district, the city, the county and the state involved. All the different approvals from every entity have been resolved, so we're just working on closing documents right now, closing this month, and we have a groundbreaking at the end of the month.
It was hard. It was a challenge, which is unfortunate, because at its core, Hinchliffe Stadium is an infrastructure project, and an infrastructure project for the school district. So, we had to go the private route to fund an infrastructure project. You'd think it'd be funded predominantly by the public sector, but it was funded primarily by the private sector, to the extent that the tax credits are private-sector entity programs.
You were ready to break ground and get moving last summer before COVID-19 hit. What challenges did you face finally getting the approvals across the finish line?
It took municipalities a long time to move through the approvals via public Zoom meetings. That was a process. The logistics of that, and then the documentation, when you need to get something signed that had historically been signed in person in the courts and state legislatures to approve those signatures electronically. Those were sort of the things that we needed to get done.
Also, Goldman Sachs (GS) is our bridge construction lender and they required us to get an extension, because at the time — this is going back just six months — nobody knew what was going to happen as early as September or October. They wanted to make sure that if there was another bad round of COVID, that we had additional time, since we were working with the state Legislature and governor to grant an extension.
What do you make of previous opposition to the Hinchliffe project from some area public officials — one who actually grew up there and played high school football at the stadium — who've said that the restoration isn't a good use of tax credit financing and wouldn't help with economic revitalization?
Well, I grew up in Paterson, and there are a lot of challenges in the city that have existed for the last 30 years. There's a lack of belief around projects coming to fruition. I think it's a good use of tax credits, because the Great Falls is Paterson's best opportunity to create tourism and a center for the local economy. It's how the city was started in 1792; it was the first planned industrial city.
What we're doing is re-centering the Falls and the local economy, creating a chance to build momentum around other opportunities for economic development around the Falls. It's one of the first projects, and it's critical to the longevity and revitalization of Paterson.
Your website says you like to try to uplift minority communities by telling a story, which is alive with Hinchliffe. How important is it for current younger and future generations within minority communities to be exposed to those stories — their history — and to have that history preserved and facilitated for them to consume?
For me, it's extremely important to connect the history of Hinchliffe Stadium to education and to telling stories, but specifically for younger people. It's been closed since 1997, so you essentially have to be in your early 40s to remember what it was, and in your 60s to 80s to remember when it was extremely popular. That part of it is key, because you have all these people who don't know the history of the geographical location of Hinchliffe, or Black history and culture, and Paterson's history and culture.
There's a larger history of Hinchliffe, which is about the Negro Leagues, Jim Crow, white supremacy and segregation, that you can really tie, in terms of a curriculum, to the Amistad Bill in New Jersey, and really develop a curriculum to teach about racism and segregation and desegreation through sports. Jackie Robinson and Larry Doby pre-date Brown v. Board of Education; they pre-date Emmett Till. In that way, you get to tell this story about the continuum of history, and how Paterson and Hinchliffe and baseball played a particular role in it.
There's a story about how Josh Gibson and Satchel Paige used to go to Latin America to play baseball, and they wouldn't be treated like second-class citizens. Or that Major League teams would take two Black players on teams, because they needed someone else to room with the other Black guy. There are a lot of stories that are there that people need to know. We're developing the exhibition and museum space so we can tell those stories. Think about if all the schools in Tennessee were required to take a fifth-grade trip to the Lorraine Motel and learn about Martin Luther King Jr.
You have to have a long-term sustainability plan for these cultural projects, and oftentimes you don't see that. People are just not spending a whole bunch of money to preserve Black history and culture. That's just not happening.
After George Floyd, there was a rush from many in the CRE sector to respond to racial inequities in the industry, but it felt very much overdue and somewhat obligatory. As a veteran of the industry and former public official, what voids do you see that need to be filled? And where else can the industry gain traction to make it more equitable for people of color?
There are a lot of needs within Black and brown communities to work on projects that help families. There are a lot of projects in those communities that need support, so thinking of ways to connect developers to fundamental projects is key. There's a theoretical lens around people rushing in to do something obligatory, but at the end of the day, oftentimes that's a plan, it's not necessarily a project. For me, what's important is for folks to actually do the work, learning and working on projects. Maybe there's a support system that allows them to do the development or support a project that's tangible.
Part of the conversation is around people not being trained correctly or not having the resources, but you can connect the two by doing fundamental projects. That's what I see missing. Some people are happy training folks. You can train as much as you want, but [if these communities] don't have access to money, the training is not going to help. It's about the connection of the resources and the people to the projects where you'll develop some real traction. When I was in City Hall, there just weren't that many African American developers coming into my office, and, at that time, we had some of the biggest projects in the state coming through my office.
BAW Development
,
Baye Adofo-Wilson
,
Benjie Wimberly
,
Farish Street Historic District
,
Hinchliffe Stadium
,
Major League Baseball
,
Paterson Great Falls National Historical Park
,
RPM Partners
,
Shavonda Sumter
,
Stax Museum of American Soul Music
,
Vaughn McKoy
,
Goldman Sachs
,
U.S. Bank