Presented By: RXR Realty
Safety + Flexibility = Sustainable Workplaces
A return-to-work app and a new modular build-out option are enlivening RXR's Grand Central campus of buildings
---
---
The COVID-19 pandemic caused the third major shake-up of the commercial office market in the New York region in less than 20 years. Each one — from the attacks of Sept. 11 to the financial crisis to the current pandemic — arose from a unique set of circumstances, and yet, confirmed a fundamental truth: It's tough to make predictions, especially about the future (as Yogi Berra once said). Fortunately, that includes not just the bad news, but the good news, too.
Lower Manhattan after 9/11 did not become a ghost town and, in fact, continued to diversify and eventually rebuild. The financial crisis caused job losses, but also accelerated New York City's broadening economic base, particularly with tech-related job growth. Likewise, with the pandemic, the death of Manhattan's Class A office market is greatly exaggerated, said Scott Klau, vice chairman of Newmark.
"This crisis is not like the previous ones," Klau said. "There have not been significant layoffs. Corporate earnings are strong. There will be greater demand for flexibility and safety, but our research indicates that most companies are planning to be back in the office by the fall of 2021. Even if people work at home two days a week and are in the office three days, your footprint doesn't substantially change."
The first signs of recovery, according to Klau, are happening in the Grand Central submarket, with RXR Realty's 230 Park Avenue leading the way. As the agent for this iconic Beaux-Arts building, Klau said, "230 Park has more leasing activity than any other building. It is a place where creative companies can flourish, get a look and feel that is modern and progressive, in a location that is about as irreplaceable as you can get. RXR was already thought of as a leader, when it comes to health and wellness, plug-and-play spaces, and hands-on service. Those are the critical factors moving forward."
Turnkey flexibility
RXR's in-house design team was already developing a more flexible approach to prebuilt spaces before the pandemic. As one of the largest commercial real estate companies in Manhattan, RXR had come to realize the traditional way of providing turnkey spaces was expensive and inefficient. Office configurations that were meant to last 20 years needed major changes within five to eight years. "You either prebuild and modify, or demolish and start over," said Eric Schlameuss, senior vice president of design at RXR. "That's not sustainable, environmentally or economically."
The solution — developed in collaboration with Vocon, an architecture and interior design firm, and Steelcase, a commercial furniture company — is to pre-install HVAC/MEP systems in the floor plates and pair that with a moveable wall system, allowing for quick modifications of both size and use. This flexible approach gives tenants the ability to continuously adapt the space and furnishings to their changing needs and circumstances. It also allows RXR to fit-out a space for a new tenant quickly. "It's a gamechanger in the way we were thinking about construction methodology," said Schlameuss.
Debbie Donley, principal of Vocon, is both a design collaborator with RXR and a tenant at 530 Fifth Avenue. "We're out doing this for other people, but when we moved in September 2019, we leveraged RXR's project managers, which was exciting for us to see the other side of their day-to-day operations. As a tenant, there's just that personal touch that comes with being in an RXR building."
The benefits of a fast and flexible approach to space modification are even more clear in the wake of the pandemic. As tenants prepare to return to work, there is a lot of uncertainty about how much space is needed and how it will be used. Being able to easily modify as things change or move to a new space within the RXR portfolio, takes a lot of pressure off of a big decision about when and how to return to work.
"The world is chaotic. We want to make things less complicated for tenants," said Donley. "The word 'flexibility' gets thrown around a lot, but what it really means is modularity. We simplified everything so the tenant can prescribe what they need and get into the space quickly. We tested it first at 75 Rock, RXR headquarters, and it will continue to evolve as we roll it out to all [of] RXR's Grand Central campus."
RxWell
Much like the new modular prebuilt design, which was underway before the pandemic hit, RXR's digital design lab was deep into development of a proptech digital platform. Together, the two projects are integrating RXR's software and hardware, giving customers the ability to make informed decisions to meet evolving needs. Fortuitously, it also laid the foundation for RXR's response to the pandemic.
"When I first came on board," said Cory Clarke, who joined RXR in 2019 to lead the digital lab team, "the premise was to transform RXO, our signature concierge service, through technology," including things like event planning for the tenants of RXR's Grand Central campus. "Then the pandemic hit, and we paused that to create a robust health and wellness component to enable tenants to plan a safe return to work."
Developed in collaboration with Microsoft, RxWell allows employees to prepare for their workday before leaving home — from temperature checks to entry-time coordination to updated subway schedules and desk reservations. Once at work, the RxWell app provides employees with touchless entry, real-time air quality information, and alerts about COVID cases in the vicinity. In the event of illness, RXR partnered with Northwell Health, so workers can connect anytime to a virtual health care provider via the app.
For managers, RxWell provides data about HVAC/MEP systems to maximize energy savings and reduce carbon emissions. Anonymized data also helps managers understand occupancy rates and space utilization to better manage flex time schedules, and anticipate if and when space modifications might be needed. "You may have no people show up one day and lots another day," said Clarke. "How do they know if the space is being used effectively? No one is set up to manage that." 
In other words, RxWell has evolved into a comprehensive and transparent building performance platform that synergizes health and wellness, sustainability, operations, spatial usage and occupancy data — as well as social impact and cultural programming.
To that end, when people can come together again, the integrated digital and physical platform will be ready to coordinate some much-needed fun. The Grand Central campus is already coming back to life, and with five buildings — 230 Park, 237 Park, 340 Madison, 450 Lexington and 530 Fifth — RXR is expecting a big demand for shared experiences.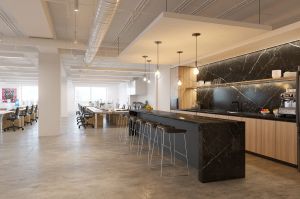 "Midtown is the most active market for deals and returns to market," said William Elder, RXR's executive vice president and managing director of New York City leasing. "Transactions that were paused are starting to move forward. For us, we have a variety of product in our Grand Central portfolio; they're all iconic buildings but at different price points, smaller and larger spaces, with standard prebuilds and the new flexible build-outs. It's the ideal location for centralized activity with a no-transfer commute into the premier transit hub in New York."
Grand Central's status as the premier transit hub will only improve with time. East Side Access, which will bring [the Long Island Rail Road] into the 108-year-old terminal for the first time, is set to open in 2022. One Vanderbilt has already provided better access from the west, and new improvements to the east were recently announced as redevelopment plans for the Hyatt Hotel get underway.
For these reasons, Newmark's Scott Klau is not surprised that Grand Central is the first submarket to show signs of life, with RXR's portfolio at the forefront. "RXR is prepared to be flexible, and the plug-and-play component is key. With all their services under one roof that you can call on at your direction is super important. Other landlords are trying to follow suit, but they don't have the size or expertise."
230 Park Avenue
,
237 park avenue
,
340 Madison
,
450 Lexington
,
530 Fifth Avenue
,
75 Rockefeller Plaza
,
Cory Clarke
,
COVIDD-19
,
Debbie Donley
,
Grand Central
,
New York
,
Newmark Knight Frank
,
RXR Realty
,
RxWell
,
Scott Klau
,
Sponsored
,
sponsored-link
,
Steelcase
,
Sustainability and Green Development
,
Vocon