Smaller Floor Plates and Flexibility Is Key to Brooklyn Office Market: Panelists
---
---
Small to midsize companies and startups — as opposed to behemoths like Amazon (AMZN) or Facebook — have flooded Brooklyn's office market, meaning projects need to offer tinier floor plates and more flexibility to succeed. 
Still, even with all the new developments, plenty of the borough's waterfront is still a "fuckshow" and needs more transportation options, panelists said today at Commercial Observer's Fifth Annual Brooklyn, Queens Forum at Ten Grand Street in Williamsburg, Brooklyn. 
Experts on the first panel of the morning said Kings County was proving to be a popular home to mid-sized companies who provide services or work with giants across the East River, so new office development shouldn't expect many — if any — massive square foot deals.
"We're not waiting for 200,000 square foot tenants to come take the whole building," said Morris Jerome, a principal at JEMB Realty, currently developing the One Willoughby Square office tower in Downtown Brooklyn. "We think the depth of the market is smaller tenants, people located in Brooklyn."
Still, it shouldn't be too much time before giant companies like Apple (AAPL) and IBM see the value in Brooklyn and open up offices in the borough, said Adam Hess, a senior managing director at Meridian Investment Sales, during the first panel moderated by the chairman of Fried Frank's real estate department, Jonathan Mechanic.
"Large companies are like an aircraft carrier, it takes a long time for them to turn, but eventually they'll see the light," Hess said. "It's only a matter of time before you see larger groups coming here where the talent pool is."
But even without companies taking massive globs of space, there's still healthy demand in the market and it's moving away from just being a cheaper option for tenants, said Jed Walentas, the CEO of Two Trees Management.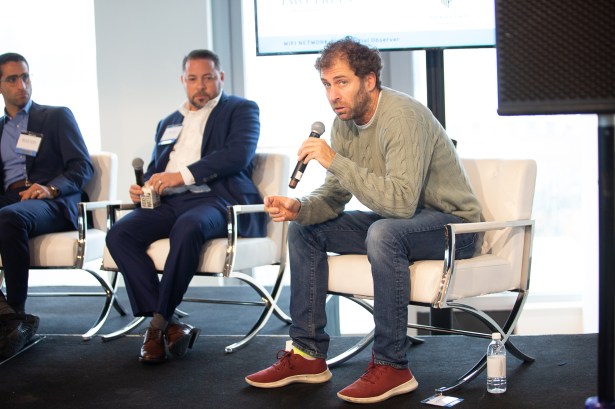 "The people that are here want to be here," Walentas, whose company is currently redeveloping the former Domino Sugar Factory site in Williamsburg that includes the office project Ten Grand Street. "In a lot of ways they have the attitude like, 'You couldn't get us to go back to Manhattan if you paid us to.' And I think that's a healthy market."
These tenants include Rent the Runway which inked a deal to move its headquarters from Hudson Square to 83,501 square feet at 10 Jay Street in Dumbo in May because of the access to Brooklyn's talent pool.
"When looking for space, it's trying to find things that are flexible, that give you the room to grow," said Gabby Cohen, the senior vice president of brand, communications and business development for Rent the Runway, "And that will attract the kind of talent that you're looking for.  Specifically in Dumbo, we're looking for web design and tech talent and other like-minded businesses. It just made sense for us."
But Brooklyn still has some challenges. Cohen said it's going to be a hard ask for Rent the Runway employees who live in New Jersey to schlep to Kings County each day for work so the company has to allow for more remote working options and potentially provide transit reimbursements.
Walentas said the borough's waterfront requires more transportation options, which is why he's been involved with the advocacy for a proposed streetcar line, called the BQX for Brooklyn Queens Connector, that would run an 11-mile stretch from Astoria, Queens down to Red Hook in Brooklyn.
"One of the things that transit does is it helps everything," he said. "You want to build housing: transit helps; you want to build affordable housing: transit helps; you want to integrate schools: transit helps."
"A lot of people that don't spend that much time thinking about it are like, 'The whole corridor is already developed,' " he added. "No. If you go to drive through the whole corridor, most of it is a fuckshow, most of it is a mess."
Experts on both the Queens and Brooklyn panels spent a good amount of time blasting the state's recently passed rent reforms, which a study recently found led multifamily sales to drop 76 percent year over year last month in the city.
Matthew Baron, the president of Simon Baron Development which owns residential projects in Long Island City, Queens, worried that since real estate taxes make up about half of the city's budget each year, the new law might not make them keep up with the city's needs in the future.
"We're setting ourselves up for a place where from a budget perspective, and from a financial perspective, it is only going to get worse," Baron said.
And with the new breed of Democrat-controlled state legislature setting policy, Hess said the real estate industry needs to gear up to push back more against other new bills.
"We got caught a little bit flat-footed [with] the rent stabilization," Hess said. "We got to fight back a little bit more on this stuff. The industry needs to mobilize a little bit."
Aside from Baron, other panelists on the Queens forum — moderated by Zetlin & De Chiara senior partner Michael Zetlin — included Cushman & Wakefield (CWK) vice chairman Stephen Preuss and Alan Suna, the CEO of Silvercup Studios and a principal at Silvercup Properties.
Suna said despite Amazon dumping Long Island City this Valentine's Day, the neighborhood still has plenty of interest from both tenants who want larger floor plates but don't want to go to Hudson Yards.
"Even though Related did a fabulous job in the Hudson Yards, I'm not sure that the young people, the young engineers … necessarily want to live in a shopping mall on steroids," Suna said. "Long Island City affords those companies to work with the community and make their workspace in their own image."
10 Jay Street
,
Adam Hess
,
Alan Suna
,
Gabby Cohen
,
Hudson Yards
,
IBM
,
Jed Walentas
,
JEMB Realty
,
Jonathan Mechanic
,
Matthew Baron
,
Meridian Investment Sales
,
Michael Zetlin
,
Morris Jerome
,
One Willoughby Square
,
Rent the Runway
,
Silvercup Properties
,
silvercup studios
,
Simon Baron Development
,
Stephen Preuss
,
Ten Grand Street
,
Two Trees Management
,
Zetlin & De Chiara
,
Amazon
,
Apple
,
Cushman & Wakefield
,
Facebook
,
Fried Frank