SL Green Seeking JV Partners on One Madison Avenue
The firm expects to partner with one or multiple firms on the $2.3 billion Midtown South development
---
---
SL Green (SLG) Realty Corp. is on the hunt for joint-venture equity on One Madison Avenue, its $2.3 billion old-meets-new development on the border of Madison Square Park, Commercial Observer has learned. Developer Hines is among the investors in the mix. 
SL Green is seeking to bring in either a single partner or multiple partners on the planned 26-story structure, according to Isaac Zion, the New York-based REIT's co-chief investment officer. The JV stake would total between 45 percent to 49 percent, with SL Green retaining a majority share. 
"It's sort of a singular-type project, a generational asset," Zion said. "All the factors that we love about it, which are going to be attractive to tenants – the location, the floor plates, the nature of new construction in Midtown South – is also going to be really attractive to potential capital partners."
The REIT is bringing on Hines to serve as the development manager and an equity partner at One Madison, he said. The deal mirrors the firms' partnership at One Vanderbilt, the Midtown tower that topped out last month. 
Construction on the 1.4-million-square-foot One Madison, located at the intersection of Madison Avenue and 23rd Street in the Flatiron District, is expected to begin in the first half of next year, as CO reported. 
SL Green has been plotting the joint-venture for a while, and recently began the process of engaging with investment firms. It expects to lock down the partnership within the next six months. For the REIT, the liquidity injection could aid in things such as its share buyback program or potentially investing in new assets down the road. 
The firm has been talking to investors across the spectrum, ranging from larger foreign sovereign wealth funds to domestic capital and institutional investors of all sizes, among others, Zion said. It's tapping domestic capital as well as foreign investors in Canada, Asia, Europe, and the Middle East. 
"I think the interest level will be for either a club-type deal or for one single potential investor," Zion said. "I think the interest will be robust, to say the least." 
The equity commitment on the $2.3 billion development is flexible depending on leverage levels, said Andrew Mathias, president at SL Green. "Depending on the debt tolerance, whether it's a low-leverage player or somebody who likes a little bit more leverage, we're flexible in terms of how much debt we put on the asset," Mathias said. 
Potential equity investors could include firms such as Prudential's PGIM Real Estate, who partnered with SL Green on the neighboring 11 Madison Avenue, and the National Pension Service of Korea, a partner from One Vanderbilt. 
Spokespeople for Hines and Prudential did not comment by press time. A call to the New York office of the National Pension Service of Korea was not returned. 
Upon completion in 2023, One Madison will feature 22 floors of office space as well as ground-floor retail, as reported. Offices will be split between the existing historic structure, which will be gut renovated, and a new glass tower with open, column-free space. Architecture firm Kohn Pederson Fox, who also worked on One Vanderbilt, is designing the space.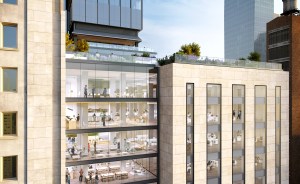 "We've arrived at sort of an ideal mix of old and new and that juxtaposition," Mathias said. "And so now we're going out and showing people that vision." 
It's been a busy week for SL Green, which is now in contract to sell 220 East 42nd Street, also known as the News Building, to Jacob Chetrit for $815 million, as CO first reported. 
As for Zion, he recently returned from a trip to Asia, with stops in Korea, Japan, Hong Kong, and Singapore, and is now set to head to the Middle East. 
"I thought that One Vanderbilt was a once-in-a-lifetime opportunity," Zion said. "I'm lucky enough to now have two, once-in-a-lifetime opportunities within a five-year window of each other. It's an exciting time."