Rudder, Rudder: Michael Rudder Masters the Office Condo Niche
---
---
Michael Rudder is not a man to rely on the comfort of the safe or conventional. As the Principal of Rudder Property Group (RPG), he has cornered the market on brokering office condos in New York City, selling over 2 million square feet of the space in deals totaling over $1 billion. But the office condo market is, according to Rudder, only 2 percent of the overall New York office market, and a specialty so niche that he often has to convince potential clients of its viability.
So why did Rudder pigeonhole himself within such an exclusive market segment? Is he a sucker for punishment, or simply a man who enjoys a challenge?
"I believe in the power of the niche," Rudder told Commercial Observer from his RPG office, itself a condo in Midtown's Bar Building. "I think it's important in business to have a specialty, something you're really the best at. Office condos are a small area within the New York commercial real estate market that we are the best at. And I think that's been really powerful."
Office condos — a chunk of an office building that is purchased outright, much like a residential condominium — usually attracts nonprofits and foreign governments because, according to Edward Midgley, senior vice president of investment sales at CBRE (CBRE), they are exempted from paying property tax.
"A lot of office condos are around the U.N.," said Midgley, who said that Rudder's figure — that they make up 2 percent of the market — sounded roughly correct. "And there's another cluster Downtown." Among the more prominent office condo addresses are 633 Third Avenue, 800 and 820 Second Avenue and 40 Rector Street.
Raised in South Orange, N.J., Rudder, 41, graduated from Ithaca College in 2000 with a B.A. in Anthropology. While Rudder's father, John, owned strip malls throughout New Jersey through his company, Rudder Real Estate, Rudder said his entry into the business was incidental to that.
"It wasn't my dad who inspired me [to go into real estate]. He encouraged me to do whatever I wanted," he said.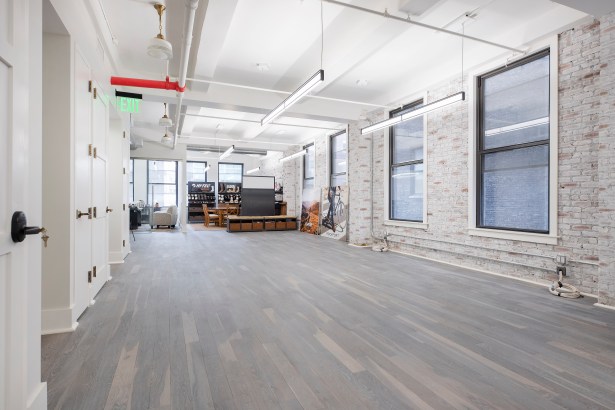 Rudder was drawn toward real estate by his childhood best friend, David Kronman, who had taken a job in the industry in Colorado.
"Michael has been one of my closest friends since I was seven. I was the best man at his wedding and he was the best man at mine," said Kronman, president and partner at Cape Advisors. "I was working for a developer in Denver, and it was a great transition between college and the real world. We both saw that it was an exciting path with a lot of opportunity. Michael's always been very driven, and he saw the success I was having, and he got really excited about it."
Rudder took a job in Denver with Colliers (CIGI) Bennett & Kahnweiler, where he handled the management and leasing of industrial properties. Colorado's great outdoors, with its snowboarding, skiing, and mountain biking, led to Rudder's intended one-year stay stretching to more than three years before he returned to New York with a clear career path ahead of him.
"I felt like if I stayed any longer, I would never leave," he said.
Rudder interviewed with 50 different companies before securing a job doing office leasing with Francis Greenburger's Time Equities. Rudder spent eight-and-a-half years with Greenburger, and considers the company founder his mentor.
Greenburger, Rudder said, pushed many of the office buildings he owned onto the condo side. "He's a contrarian thinker," Rudder said of his former boss, "and he pursues acquisitions and business lines that are not in vogue. That's really how I got into the niche specialty of office condominium sales."
Starting with the conversion of 125 Maiden Lane in 2005, Rudder became increasingly familiar with office condos, almost immediately making them his exclusive purview.
"The project at 125 Maiden Lane was a tremendous success, really the first-of-its-kind office condo project in lower Manhattan," Rudder said. "It was a sleeping market at that point, not something people knew about."
By the time he formed Rudder Property Group in October 2010 to deal exclusively in office condos, he had secured a reputation as a market leader in New York City — but the company spent four years at a space that they shared with Cape Advisor before purchasing their own office condo at 14 East 4th Street in NoHo for $1.2 million in January 2014, with the intention of making it their new headquarters.
Rudder spent $300,000 on a buildout and was about to settle in when RPG was hired by Meadow Partners to sell office condos at 866 U.N. Plaza.
"That was the biggest and most exciting project in our firm's history so far, because that was about a 500,000-square-foot office building in the U.N. submarket," Rudder said. "We worked with Meadow on the acquisition, on the conversion from an office rental building to an office condominium, and the ultimate sell-out of all the units. So we actually moved onsite to that building for several years." (Rudder still owns the space at 14 East 4th Street. He leases it out, and says it's been a "wonderful investment.")
"When we bought the building with this office condo business planned, we tried to figure out who did this, and he's the only guy," said Jeffrey M. Kaplan, managing director of Meadow Partners. "There were people who had done one or two, but he was clearly the market leader."
After approaching Rudder for advice, Meadow brought him on to handle the sale of the condos, which proved challenging, since many of the buyers were representatives of foreign governments, who look at their office markets more as an investment to build equity in and want to take advantage of not having to pay property taxes. Kaplan credits Rudder's knowledge and professionalism with getting the deals done.
"As you could imagine, dealing with foreign governments is difficult, because there are multiple layers of approvals and it took forever to make decisions — it was beyond what you're used to with a business tenant," said Kaplan. "Michael's mindset, his patience in dealing with those groups — there's no way we could have done that. We had existing tenants we were trying to convince to buy their spaces. He had to sell them on the concept, not just on the space. Some of these deals took literally years to play out. Some of them toured their spaces 20 times."
Rudder sold 28 office units at 866 United Nations Plaza totaling 84,000 square feet for an average price of $1,000 per foot, Kaplan said. Rudder also then advised on the March 2017 bulk sale of the rest of the building.
Once that project was complete, Rudder purchased his current 1,500-square-foot office condo in the Bar Building, at 36 West 44th Street for $1.5 million in March 2018. He views the space as an example for prospective office condo buyers.
"I liked the space and had a vision to do a nice, modern, clean buildout, and almost use it as our showroom to show what purchasers can turn old office space into," Rudder said.
That sort of persuasion is needed. According to Rudder, New York City is rare in failing to embrace office condominiums on a larger scale.
"Office condos are big in markets like Miami and L.A., and they're really prevalent in Europe and Asia," he said. "But in New York, for a variety of reasons, it's always been a smaller niche."
Part of the reason is because "Leasing oftentimes gives you a better selection," said CBRE's Midgley. Leasing "is a lot cheaper upfront. You don't have to come out of pocket $20 million to control your space. That upfront capital deters" potential buyers.
Of the city's 500-million-square-foot office market, office condos consist of approximately 10 million square feet spread out over 100 buildings citywide. On average, one new office building converts to condominiums in the city every year. Given this, Rudder notes that the demand for office condominiums in New York consistently exceeds the supply.
"The problem with that 10 million square feet is that it's predominantly sold out," he said. "There are very [few] fairly priced, quality buildings available for sale right now. That is the number one issue with this business. If you are a business that wants to own an occupier space anywhere from 34th Street to the southern tip of Manhattan in any size range, there's probably less than three options [available]."
A significant aspect of Rudder's job, therefore, is instructional, as he educates office building owners and tenants about the opportunity inherent in selling or buying office condos.
"A huge part of what I do is convincing building owners to convert buildings," Rudder said. "We have a road show we do where we talk about the benefits, risks, pitfalls, and success stories — all aspects of the office condo business. The number one objection I hear is, it's just not the trend. Some of the most active owners — Durst, SL Green, Savanna, for example — have all explored doing office condos. They get it, they like it, they understand the concept, it's just not what they do."
Rudder faces similar reluctance on the buyer side, noting that only a small segment of his buyers are tenants who decide to purchase their current space.
"We have done that, where tenants have been longtime renters and then get the opportunity to buy," Rudder said. "They get great financing and it costs them basically the same as what they've been paying for rent. But in my experience, people who were renters never really thought about owning, and their typical objection is emotional. There is no financial objection, because it ends up costing less than paying rent. It's a wonderful long-term investment — the numbers are there. The person who is really hot and heavy and eager to buy is probably not the existing tenant, but rather an outside buyer."
While the market may be small, Rudder's handle on it keeps him busy. When Cape Advisors sought to purchase an office, Kronman turned to his childhood friend to help them find the right space. With Rudder's help, the company bought a 6,000-square-foot office space at 375 Greenwich Street earlier this year.
"I generally try not to do business with close friends because in real estate things can go sideways. It's just the nature of the business," said Kronman. "Michael is the one friend I trust enough to do business with where, if it went sideways, it wouldn't affect our friendship."
It did not go sideways. Rudder worked tirelessly on Cape's behalf, spending 18 months presenting Kronman with options until 375 Greenwich Avenue, which Kronman viewed as a perfect fit for Cape Advisors, surfaced.
"We have four projects in walking distance of the office," said Kronman. "We're hands-on developers — we're at construction sites every day. So, it was the perfect location for us, and Michael presented it to us with an opportunity to get it at a below-market price."
RPG is currently handling the sale of half- and full-floor office condos for Hidrock Properties at the 12-story, 78,000-square-foot 35 West 36th Street in Midtown South. The half-floor units start at just under $3 million.
Rudder also represented the Witkoff Group in its sale of two office condos at 420 Fifth Avenue this past May. Ziff Brothers Investments purchased the 33,058-square-foot fifth floor for $27.3 million, and Mediterranean Shipping Company bought the same-sized fourth floor for $25.1 million.
Rudder notes that Mediterranean Shipping, based in Switzerland, is typical of the buyers of New York office condos. Foreign companies tend to have more of a cultural preference for ownership when it comes to satellite offices. "We were looking for unique purchasers who can justify paying a higher price because they're going to use the space for their own businesses," said Rudder.
When not immersed in office condos, Rudder spends his time with his family — wife, Lindsey, and their daughters, Isabella, 1, and Scarlett, 2 — at their home in Old Greenwich, Connecticut. He's also keeping busy in his new position as the head of the sales committee for REBNY, a position for which he's already making changes, including moving their meetings from their decades-long home at the Cornell Club to a Convene site.
"Some people might consider the Cornell Club beautiful, but I consider it old and stodgy, and indicative of an old way of doing things — an old boys' club," he said. "We're relocating it to the new Convene at 530 Fifth Avenue. It's the most beautiful office space you've ever seen."
He's also kicking off a new speaker series for REBNY, where industry players will share behind-the-scenes insight into deals and operations. The first one featured JLL's Bob Knakal interviewing Dov Hertz from DH Property Holdings.
While Rudder sees potential for office condos in the outer boroughs, where they're virtually nonexistent, saying he believes the concept would "resonate more there than it even does [in Manhattan]," he thinks Manhattan could be chock full of opportunities should people start warming to the unconventional.
"I don't expect office condos to take over any significant portion of the office market," he said, "but I certainly think there's room for two, three, five, or even 10 buildings to convert per year, and that there would be the demand to absorb that immediately. That wouldn't make even the most minor dent in the overall office market, but there's certainly demand for 10 new buildings per year to come online to sell units at fair prices."
125 Maiden Lane
,
35 West 36th Street
,
40 Rector Street
,
633 Third Avenue
,
800 Second Avenue
,
820 Second Avenue
,
Bar Building
,
David Kronman
,
Edward Midgley
,
Francis Greenburger
,
Hidrock Properties
,
Meadow Partners
,
Michael Rudder
,
Rudder Property Group
,
Time Equities
,
CBRE
,
Colliers