NYC Hospitality Alliance's Andrew Rigie on Restaurants, Regulations and Tips
---
---
If restaurant owners have a problem, Andrew Rigie is on the case.
Rigie was troubled by the sight, several years ago, of iconic eateries closing around the city and new restaurateurs dealing with heaps of red tape. In response, he formed the New York City Hospitality Alliance to advocate for restaurant owners' needs in City Hall and provide them with training on everything from labor laws to navigating the city's letter-grade system.
"The purpose was to ensure New York City's restaurants and nightlife venues had their own independent organization to represent them in the halls of government, in the media; and an organization to provide them with information, education and training," he said. "We wanted to make sure that we had an organization that would move as fast and be as engaged in the industry as those people working and operating in the industry."
Restaurants have been in Rigie's blood since he was born. His great-grandparents opened a bakery in Queens and he grew up working at it.
"It's not just a job, it's something that's very personal," the 37-year-old married father of two said. "When there's an issue, not only would I hear from members, I would hear from my aunt and my grandpa too."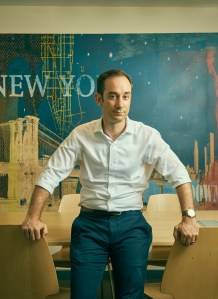 Rigie graduated from the Institute of Culinary Education's culinary management program and joined the New York State Restaurant Association in 2004, working his way up to executive vice president. He left in 2012 to form the Alliance, which has since grown to about 2,000 members in all five boroughs — including Harlem eatery Melba's and Upper East Side spot Rotisserie Georgette.
Commercial Observer sat down with Rigie to discuss disputed city regulations, the rising cost of labor, and sexual harassment in the food industry.
Commercial Observer: What regulatory burdens do you see restaurants dealing with now?
Andrew Rigie: One of the biggest things for restaurants is labor costs. As a rule of thumb, and it always moves a couple of percentage points here or there, but as a percentage of gross sales, restaurants want to keep their labor costs between 30 to 35 percent. Now, restaurants are getting close to 40 percent. I just spoke to a restaurateur who had actually 42 percent labor costs of the percentage of gross sales. This is unsustainable. In the past six years, we've seen six annual minimum wage increases, we've seen a doubling of the tip wage, we've seen the salary requirements for exempt employees increase, we've seen paid sick leave, health care. All of these other expenses continue to go up.
Also, [there's] the complexity of the labor laws, where a minor violation results in a major lawsuits. These suits are cost-prohibitive to defend, so people have to settle them for enormous amounts of money. We're not talking about situations where there was a gross injustice of the labor laws, we're talking about paperwork infractions and minor violations. There's a lot of concern and a lot of anxiety around that.
You've come out heavily against the potential elimination of the tip credit [which helps lower labor costs]. Can you explain why?
In New York City, the minimum wage is $15 an hour and in the restaurant industry, restaurant employers can take a $5 tip credit for tipped employees. Think of your server or bartender, they get paid $10 an hour if the tips that they earn equal or exceed $5 an hour. If it ever falls less than that the employer is required by law to make up the difference.
As you can imagine in New York City, employees are making a lot more than $15 an hour in their tips. There were hearings last year and some consideration of potentially eliminating the tip credit. You had restaurateurs around the city come out and express outrage and a lot of concern about potential elimination of the tip credit. What was interesting was that you also saw tons of tipped workers come out and express concern over eliminating the tip credit.
Their concerns are that the higher the labor costs go, you're going to see more restaurants continue to reduce worker hours, layoffs, businesses closing resulting in more vacant storefronts. Also, restaurants would need to increase their menu prices so much to offset the loss of tip credit; more of them may move to the no-tipping model.
That's a huge issue. The other big issue now is Mayor de Blasio has proposed mandating two weeks paid vacation on top of the one week paid sick leave employers are already required to give and the paid family leave program available under the state law. Everybody understands it's very nice, and in an ideal world everyone would have that, [but] a lot of small businesses just can't afford it.
For all the talk from our elected representatives that small businesses are so important to the economic and social fabric of New York City, so many of the actions they take make it more and more difficult for those exact types of businesses to survive.
You mentioned the vacant storefronts, and some city council members were saying that commercial rent control [a bill that would put more power in the hands of commercial tenants during lease renewals] would be a help. What's the Alliance's take on that?
We're hearing from members that it's the labor costs that are the most challenging; it's fines and it's the red tape. Commercial rent is certainly an issue, but one of the things we're seeing is the real estate taxes. Because the real estate taxes and property taxes end up getting passed through to the commercial tenant, and those have been skyrocketing. I think the  government could provide a tax credit on a portion of the property tax the commercial tenant pays. There are dozens of other reforms that we could enact to help support small businesses without going to rent control. If you get into a new lease, you know what your rent is and you know what your annual increase is. You can't always plan for the increases in property taxes that you're going to be paying.
One of the big challenges, though, is when a restaurant or any business comes up at the end of their 15-year lease and then they see a significant increase in their rent. That's a big problem, but having spoken with a lot of people, we understand it's a delicate issue and not every landlord is in the same position. Once we start passing these very broad mandates, they can end up having unintended consequences.
What things could the city specifically do to help the restaurant industry?
We should not pass the two weeks paid vacation mandate; however, if the council believes it is a moral imperative to have every person working in New York City have at least two weeks paid vacation, then they should help subsidize it. Clearly, we subsidize tons of projects. We subsidize ferry service, look at Amazon and the movie industry. There are tons of different ways where we use taxpayer dollars to help incentivize economic activity, and the restaurant nightlife industry is a billion-dollar industry with hundreds of millions of dollars in tax revenue and jobs. And, frankly, we create the environment that attracts the 65 million-plus that come to New York City every year.  It is in large part due to the restaurants and nightlife industry why so many people want to live in New York City and work in New York City. It is the hospitality, restaurant and nightlife industry why tech corporations want to come and relocate or open up in New York City. 
Not only is it the economic impact and the number of dollars and economic activity we generate, but it is also that social and cultural capital … I don't know any other industry that provides that. And, without that, New York City kind of becomes any other strip mall anywhere else around the world.
You said labor costs are the biggest issue. Aside from the two weeks paid vacation, are there any other ways the city could help?   Because they can't really lower the minimum wage?
Yeah and I'm not advocating for that. Hiring tax credits. Lots of industries get tax credits for hiring people. We are very unique because, for all the progressive talk in New York City, the restaurant industry is progressive. The person who owns the restaurant or is the executive chef started out as a dishwasher or at an entry-level position. We're full of immigrants — they're the backbone of our industry — and people that need second chances in life. The formerly incarcerated, they come and get work in our industry. There's a very strong argument to be made that if we are going to support job creation using taxpayer money, that it should be supporting the restaurant industry because we provide opportunities for people from all walks of life.
We don't need more discussions about how to help small businesses. We know how to help small businesses, we just need the political will to stop saying we love small businesses and we support small businesses and actually take action to do that.
Food halls have been a growing trend, how has that been going in New York?
They're good and now everyone wants a food hall. I think it speaks to just how restaurants have become anchor tenants. You look at new developments — whether it be the Seaport or Hudson Yards — the food and beverage is a driving factor to that property. It creates the culture, it creates the allure. That's why real estate developers have recognized that and are harnessing it. It also provides restaurateurs with opportunities they may not have had in the past.
While there are many factors that claim to [be] the strengths of running restaurants and nightlife venues, I believe it's very fragile. Even if we went from 65 million tourists to 40 million tourists, which is still an enormous amount, the loss of 25 million people would have a dramatic impact on local restaurants. Most restaurants, when they're busy, they need to be busy every single night. Just because you walk by a restaurant and you see it's really busy doesn't mean they're making a lot of money, it means that they're probably staying afloat.
Even those that are successful will express tons of concerns, and that's not a great environment. It's not a great look for New York City. Many restaurants that have been in New York City forever, they're born and bred and this is where they opened up their first restaurant. They say to me all the time, "Andrew, I am done with New York City and I'm not opening any restaurants here until the regulatory environment changes."
Has there been a lot of them opening up spots in other cities?
Yeah, there have been a lot of people. I see where they're opening up. Some overseas, but it's in Vegas, it's in D.C., some are going to Chicago, to L.A. It's a challenging time. You can't just be a good cook or a hospitable host, you have to be a business person. It takes opportunities away from people. That's why you've seen the growth of the restaurant group that operates multiple different concepts under one umbrella, because the idea of being a single-unit, mom-and-pop operators is becoming farther and farther from being a reality for most people.
There's been a lot of headlines about famous chefs sexually harassing their staff. Have there been any measures your group has taken to address that?
I always say the restaurant and nightlife industry is a labor-intensive, people industry for better or worse. These places are like tight-knight families. You're working nights, weekends and holidays under intense conditions with people, they become your second family. The best of people are expressed as well as the worst traits. Clearly, harassment is a societal issue that needs to be eliminated, so it's unsurprising that it's popped up in the restaurant industry. 
We've done, even before the "Me Too" movement, a lot of anti-harassment, anti-discrimination training. We've been working on an online platform, which is about to launch in December, to comply with the anti-harassment training by both the state and city of New York.
We've also added features to address discrimination, which is not a requirement under the law but we think it's very important for workers to train annually on those topics. We've worked with the New York City Alliance Against Sexual assault very closely at coming up with training programs to eliminate sexual violence in nightlife.
We want to make sure that people have information and access to resources so they can live healthy lives and not be in a position where they are subjected to harassment and discrimination.