Presented By: RXR Realty
Who Develops the World? Girls!
---
---
Real Estate is no different from any other industry: Innovation, efficiency, and talent will always be the key indicators of a firm's bottom line. Another quality which is gaining attention and runs as the foundation of the original three is diversity. In fact, a 2018 study conducted by the Boston Consulting Group found a "strong and statistically significant correlation between the diversity of management teams and overall innovation."
The study examined several dimensions of diversity and concluded the most impactful aspects in a management team included nationality, industry backgrounds, gender, and career paths. "Companies that reported above-average diversity on their management teams also reported innovation revenue that was 19 percentage points higher than that of companies with below-average leadership diversity"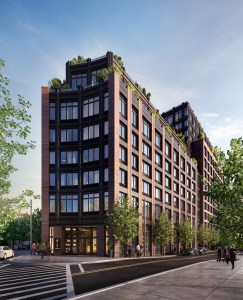 One company where this is evident is RXR Realty, a vertically integrated owner, operator, and developer in the New York Metropolitan area. Joanne Minieri, executive vice president and COO of RXR's Development and Construction Services, was recently featured by Commercial Observer, with whom she discussed the importance of women in construction.
"Women understand that construction is an opportunity and a career choice that they can make, and more and more women are making that choice and rising to the higher levels of management today, which is fantastic and we should continue to promote it," Minieri explained.
"We're proud with the percentage of women in leadership roles at RXR compared to the industry overall," said Scott Rechler, chairman and CEO of RXR Realty. "The women in various leadership roles throughout our company have been instrumental in RXR's continued expansion and success." One project that exemplifies this holistically is the recently opened 475 Clermont in Fort Greene, Brooklyn.
A mixed-use building featuring 33,000 square feet of retail and 363 residential rental units, 475 Clermont is RXR's first ground-up residential development project in New York City. RXR approached 475 Clermont as it does every ground-up development, by strategically bringing together the best-in-class partners at every step, regardless of gender, sexuality, and race. However, it was only after this first-class team was assembled did they realize it was predominately female.
The 475 Clermont development team includes Rose Tilley, RXR project executive and "quarterback" who oversees all aspects of the project. Additionally, Traci Wilhelm, first vice president of RXR's residential portfolio, continues to spearhead leasing and operations for the asset. Finally, Emily Bock, director of marketing, manages the public relations and marketing for 475 Clermont.
The array of external partners with which RXR engaged also included industry-leading firms with women-led teams. The interior architectural design was completed by Funda Durukan, the principal of Durukan Design. Durukan designed the building, translating the shared vision into concrete plans for the asset. BCG's Erika Smith utilized her more than two decades of construction experience to serve as the interiors' construction project manager and brought the team's vision to fruition. A critical contributor to a residential building's initial lease up is the model units; for this task, RXR engaged Lisa Galano, principal of Lisa Galano Design Consultancy, to stage the model units.
475 Clermont features luxury amenities to serve any potential resident's needs including a 24-hour concierge in the lobby, fitness center, business center, children's playroom, landscaped courtyard, and rooftop lounge featuring outdoor dining, grilling, gaming, and lounging with an outdoor movie screen. RXR engaged Anne-Laure Lemaitre, an independent curator, to find a muralist who could bring the courtyard's perimeter wall to life. Lemaitre found Mona Caron, an extremely talented San Francisco-based muralist. Caron and RXR collaborated with the Brooklyn Botanic Garden to select the cohosh plant as the mural's design. The Fort Greene-native wildflower exemplifies RXR's local approach to a specific project's design.
A unique differentiator for the building is RXR's partnership with Resident, a company that organizes communal dinners in private spaces led by up-and-coming culinary talent. The innovative program at 475 Clermont includes the Resident chefs to live full-time in the building, hosting family style dinners free for residents every month within their own units. Brian Mommsen, founder of Resident spoke to Forbes recently explaining the uniqueness of the partnership, "We've partnered with developers in the past, but this is the first time we facilitated a culinary residency where the chef has the opportunity to build relationships with her neighbors and be integrated into the community as a resident herself."
475 Clermont's resident chefs are a duo, Bronwen Kinzler-Britton and Meryl Feinstein. The chefs specialize in Italian cooking and feature a lot of hand-made pastas in their monthly resident dinners. Prior to moving into 475 Clermont, Kinzler-Britton worked as a pizzaiola at Paulie Gee's in Greenpoint. Additionally, Kinzler-Britton and Feinstein worked with Missy Robbins, award-winning chef, at Misi in Williamsburg.
The exclusive amenity is just one example of RXR's commitment to building community within their buildings and surrounding neighborhoods. Scott Rechler shared the meaning behind the program in a recent press release: "Dining is not just about cuisine, but the experience of bringing people together. Having a live-in chef create five-star level dishes and giving all residents a chance to sit at the chef's counter enhances the sense of community and elevates the sophisticated lifestyle offering at 475 Clermont."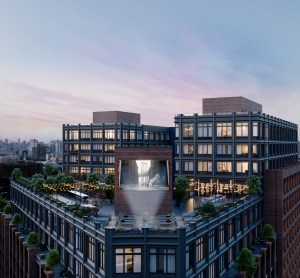 "We've been pleasantly surprised with the response," Whitney Arcaro, executive vice president at RXR Realty, shared with Forbes. Arcaro, who heads marketing and retail leasing at the company, described the culinary program as a true differentiator in the rental market.
475 Clermont is just one example of RXR's commitment and excellency in Brooklyn. Adjacent to 475 Clermont is 470 Vanderbilt, a 650,000-square-foot commercial asset which recently completed a $74 million renovation program which includes new mechanical, electrical, plumbing, life safety systems, state-of-the-art elevators, and modernized lobbies. Additionally, The Hall is a 10-building campus located across from the Brooklyn Navy Yard. Upon completion, the project will house creative brands and have extensive amenities including conferencing, food and beverage, and robust programming to foster community between tenants and with the surrounding neighborhood.
Beyond the firm's traditional scope of commercial and residential development work, RXR is also currently partnering with Long Island University Brooklyn on new developments. The project, which has over 48 percent union participation, includes an 18,000-square-foot academic space, a new state-of-the-art athletic field for the school's Division 1 softball team, over 525 new parking spaces, and 476 residential units — 30 percent of which are designated affordable. The project broke ground in July 2019 and is expected to be completed in January 2022.
Beyond Brooklyn-based projects, RXR values diversity throughout its portfolio. To the firm, diversity is not exclusive to gender, but includes diversity in perspective, experience, and area of expertise. It is this strategy that allows RXR to stay cutting-edge and consistently produce first-class products for its commercial tenants, residents and neighborhood communities.
475 Clermont
,
Anne-Laure Lemaitre
,
Brooklyn
,
Brooklyn Navy Yard
,
construction
,
Emily Bock
,
Erika Smith
,
Fort Greene
,
Funda Durukan
,
Greenpoint
,
Joanne Minieri
,
Kinzler-Britton
,
leases
,
Lisa Galano
,
Long Island University
,
Meryl Feinstein
,
Missy Robins
,
Mona Caron
,
New York Metropolitan area
,
Paulie Gee
,
Rose Tilley
,
San Francisco
,
Scott Rechler
,
Sponsored
,
sponsored-link
,
Traci Wilhelm
,
Whitney Arcaro
,
Williamsburg
,
RXR Realty