Sunset Park Councilman Pitches an Alternative to Industry City Rezoning Plan
---
---
When Councilman Carlos Menchaca asked the crowd on Monday night at Sunset Park High School in Brooklyn whether the city should rezone Industry City, a 16-building commercial complex a few blocks away, the raucous group roared, "No! No rezoning, no conditions!" 
Menchaca, of course, disagreed. He had spent the last hour painstakingly delivering a PowerPoint presentation about how he wouldn't support Industry City's dramatic commercial up-zoning unless its owners — Jamestown, Angelo Gordon & Co., Cammeby's International, Belvedere Capital and FBE Limited — ponied up millions in community benefits and eliminated hotels and some retail from its plans. His vote will determine whether Industry City's plans go forward.
Back in 2017, Industry City's owners applied for a rezoning that would add three million square feet of new commercial space to the 35-acre complex over the next decade. Those plans included two hotels, 700,000 square feet of retail, 387,000 square feet of academic space, 33,000 square feet of event space and 1.3 million square feet of "innovation economy" space, which encompasses offices and light manufacturing. The new development is expected to generate 15,000 new jobs. But many local activists oppose the plans, arguing that they will drive up residential rents and speed displacement in the south Brooklyn neighborhood. 
In February, just as Industry City planned to push its proposal through the public review process, Menchaca threatened to block the rezoning unless the developers delayed their plans. And so the rezoning has been stalled ever since. Then last week, Crain's New York Business reported that Menchaca had "reached a deal" with Industry City that would allow the owners of the former manufacturing property to begin the rezoning process, in exchange for reserving a portion of the development's 5 million square feet as nonprofit industrial space.
During last night's meeting, Menchaca called the Crain's piece "false," on a PowerPoint slide in three different languages. "You might have seen some rumors in Crain's about deals being done and decisions being made," he said. "I'm telling you that's not true."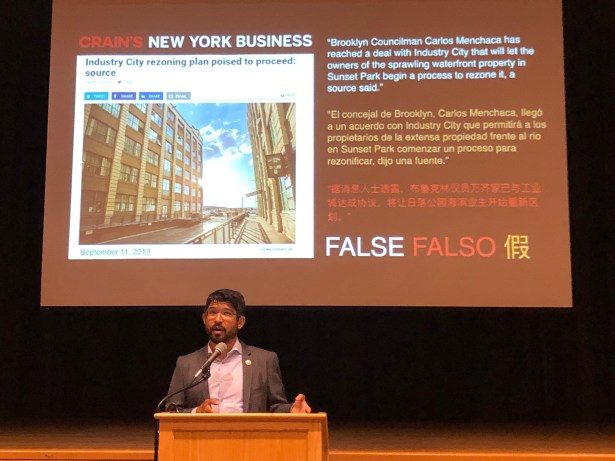 He told the crowd that he unequivocally would not support the rezoning in its current form. But he pointed out that the community wouldn't benefit from Industry City's renaissance if the rezoning didn't happen. 
"I'm not satisfied with anything the city has given us up to this point," he explained. "There's a pipeline of jobs here that has not yet impacted our immigrant community. We just passed aggressive legislation to upgrade commercial buildings, but are those jobs coming to Sunset Park?"
Then the second-term councilman pitched his own version of the rezoning that would include benefits for local residents, including funding to preserve affordable housing and tenant organizing, a manufacturing hub operated by a nonprofit at Industry City, space for a public technical high school at the development, a reduction in proposed retail space, and the elimination of hotels. 
Industry City, for its part, seems amenable to negotiating with Menchaca. 
"Last night, Councilmember Menchaca provided a pathway for the continued reactivation of Industry City," an Industry City spokeswoman said in a statement. "We look forward to receiving the letter from Councilmember Menchaca so that we can continue the conversation and create an outcome that allows for continued job creation while addressing the community's needs."