Inside Industry City's Big, Controversial Industrial Expansion Plan
---
---
Eighty years ago, the Sunset Park waterfront was an industrial hub for 3 million American troops and 37 million tons of wartime supplies passing through New York City. The 16-building Bush Terminal complex stretched across 15 blocks of the Brooklyn waterfront, bookended to the south by the massive Brooklyn Army Terminal and crisscrossed by freight lines.  
Today, Bush Terminal is known as Industry City, and it's owned by Jamestown Properties, Belvedere Capital, Angelo, Gordon & Co., Cammeby's International and the Fruchthandler family's FBE Limited. Warehouses that once housed bullets, bananas and coffee are now home to drone manufacturers, chocolatiers and media companies. Jamestown, Belvedere and Angelo have sunk $125 million into the 5.3-million-square-foot cluster of early 20th century manufacturing buildings since acquiring a 50 percent stake in the properties in 2013 from Cammeby's and the Fruchthandler family in a deal valued at roughly $150 million. But the companies see a way to squeeze more revenue out of the 35-acre industrial site. They hope to make it a little less manufacturing and a little more "new Brooklyn"—an extension of the boutique manufacturing, hip design firms and upscale retail that have come to characterize Industry City and other former industrial hubs throughout the borough.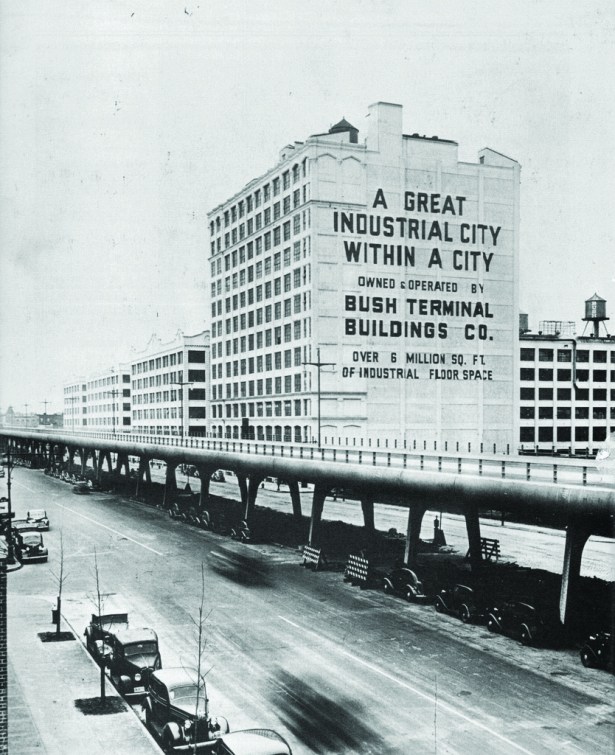 Last fall, the Industry City landlords applied for a rezoning that would pave the way for 3.3 million square feet of new commercial space over the course of the next decade. (However, the footprint of the complex would only grow by 1.4 million square feet, because 1.7 million square feet of storage and 680,000 square feet of vacant property would bite the dust.) The developers aim to build 700,000 square feet of retail, 387,000 square feet of academic space, 33,000 square feet of event space, two hotels comprising 270,000 square feet, and 1.3 million square feet of "innovation economy" space. The rezoning sets up a tension between the old-school industrial uses of Sunset Park's heyday and the new tenants that are driving Industry City's growth, from high-end fashion designers to distilleries.
So what, exactly, is the "innovation economy"? Industry City CEO Andrew Kimball described it as "a broad range of making a physical, digital or engineered product." The concept encompasses, in many ways, a certain kind of boutique light manufacturing. Kimball pointed to tenants like 3-D printing company Makerbot, drone maker Aerobo, Time Inc., which has its video production studio in Industry City, eyeglass maker M Factory and digital film distributor FilmRise, as examples of innovation economy companies.
More than half of the complex's tenants are small "creative workshops" ranging from 500 to 2,500 square feet, he added. "You might have a candle maker next to a woodworker that's next to a startup or a fashion designer. A very eclectic mix of creatives which is where the heart of the demand is for creative space in Brooklyn."
Kimball and his tenants argue that Jamestown and its partners have been good stewards of Industry City, upgrading the long-neglected warehouses with modern infrastructure and upping the number of tenants to 450 today from 150 in 2013. The number of jobs in the Sunset Park development has nearly quadrupled in the same period, to 6,500 from 1,900. And, with the help of the rezoning, the developers hope to generate $1 billion in economic activity, host 1,000 businesses and employ 15,000 people on the campus.
And the Industry City owners have tried to make inroads with the community. In April 2016, they opened the 7,700-square-foot Innovation Lab, which trains Sunset Park residents in skills like coding and web design and then places them with Industry City businesses. It has connected 140 locals with jobs and internships in the complex in the past two years.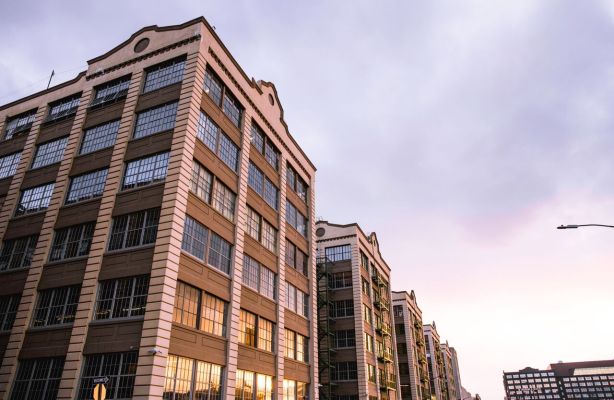 One of the organizations that occupies the lab is Opportunities for a Better Tomorrow, a job training group with other outposts in Brooklyn's Bushwick and Bedford Stuyvesant, and Queens' Jamaica neighborhood. Liliana Pullo-McKenna, the head of the nonprofit, said she grew up in Sunset Park. Her family worked in the neighborhood factories in the 1970s, as traditional manufacturing declined across New York City.
"Obviously those aren't the jobs that are there now," Pullo-McKenna said. "It's really difficult to wrap your head around, 'How do you prepare people for jobs that haven't existed before here?' For us as a workforce organization, we have to make sure there are resources in place to train people so they can actually access the jobs that are there. We have to make sure we're teaching young people how to use a 3-D printer, or how to do graphic design."
If the rezoning could bring more living wage jobs to the fast-gentrifying, working-class Latino immigrant neighborhood, Pullo-McKenna sees it as a positive. But she understands why community groups and neighbors are wary of a massive, developer-sponsored land use plan that threatens to dramatically reshape the neighborhood.
"Folks care as they should about what happens to the community changing to the point where people can't be there anymore," she said. "No one wants that. If that's a shared goal, I think there's a way to do this so we can honor what's here and honor the goals and dreams people have of working along the waterfront and also be able to leverage the investments that are being made there."
And the academic space in the rezoning plan could help house several local schools, Kimball said. Tenants in the mix for the proposed Industry City campus include universities that already have space in the development, like the New York City College of Technology (City Tech), New York University's Tandon School of Engineering and Rensselaer Polytechnic Institute's architecture program. During his decade transforming the Brooklyn Navy Yard, Kimball brought in Brooklyn College's Graduate School of Cinema and Carnegie Mellon's Digital Media Lab, which complement the sprawling film production facilities at Steiner Studios. But the current M3 zoning for Industry City caps academic and community uses at 10,000 square feet, heavily limiting the schools' ability to expand.
Activists, on the other hand, charge that the new, less restrictive industrial zoning would hammer the final nail in the coffin of the area's manufacturing legacy. The development of hotels and more light manufacturing would drive up rents on industrial space and ultimately prevent traditional manufacturing from returning to Sunset Park, they argue.
"Sunset Park contains New York City's largest and one of its last industrial waterfronts," said Ryan Chavez of UPROSE, which works on economic and transit issues affecting Sunset Park's Latino community. "It's been a source of working-class jobs for this community. And the market for these kinds of industrial jobs is getting more precarious every day. If you wanted to drive a knife into the heart into the industrial sector, hotels would be the weapon."
Chavez and UPROSE are not the only ones who think Industry City is pushing for a form of commercial gentrification.
Joel Moskowitz, the owner of a woodworking supply store called Tools for Working Wood, contends that Jamestown and its co-owners have never been interested in retaining manufacturing. He claims expensive rents and restrictive leases make it challenging for traditional manufacturers to move into and stay in the complex.
"We were basically chased out because of rent and work rules," said Moskowitz, whose 19-year-old business was based in Industry City from 2007 to 2016. "Industry City doesn't want our kind of business. We're manufacturing and retail. They would only give me a three-year lease in my current space and a five-year lease on my other space. I just bought a milling machine, and in order to make the milling machine work [financially], I have to invest another $15,000. On a short lease, I can't afford to."
He also called attention to a clause in the development's leases that allows the landlords to move any tenant to a different location at Industry City's expense if it decides it needs the space. "The kind of businesses they like are transient so they can move you," he said. "But if you're an actual manufacturer with real equipment, what you need is permanence more than anything else."
When Industry City wanted to raise his rent to $6,800 from $4,500 two years ago, Moskowitz looked at the cost and the terms of the lease and refused. He saved a couple dollars per square foot on rent by moving up the street to 112 26th Street, which he argues is better maintained than Industry City. Kimball confirmed that he had offered Moskowitz an "arguably below-market" asking rent in the mid-teens per square foot, but that the sticking point in the negotiations involved the tool maker's desire for a retail space.  
If the city really wants manufacturing jobs, Moskowitz claimed, all it has to do is enforce the existing heavy manufacturing zoning in Sunset Park. And a rezoning will only push the development further away from old-school industrial uses.
Kimball shot back that Industry City had made every effort to attract and retain manufacturers. "There is more manufacturing at Industry City than at any point in the last 30 years," he declared. "We bent over backwards to try and get that [Tools for Working Wood] guy to stay and he was not interested. And that's the approach we've taken with any of our existing manufacturers or people we've moved in. We've gone above and beyond in every instance where there's been an opportunity to keep a manufacturer."
One of the first deals he did after taking over Industry City was to extend a lease with Virginia Dare, a food flavoring and extract maker that has occupied 150,000 square feet at 882 Third Avenue for 95 years. Other industrial tenants who have stuck around since before Jamestown and its cohort took over the complex include Roll & Hill, a high-end lighting design and production business, ice cream maker Blue Marble, Colson Patisserie's wholesale bakery operation, computer waste recycler Ombligo, and guitar manufacturer Foedera Guitar.  
Pat Whelan, a Bay Ridge native and co-owner of Sahadi's Fine Foods, said that he strongly supports the rezoning even if some of his fellow industrial business owners don't. First opened by a Lebanese immigrant on Washington Street in Manhattan's West Village 123 years ago, the Middle Eastern grocery relocated in 1948 to Atlantic Avenue on Cobble Hill, where it recently expanded to a third storefront. Sahadi's moved its wholesale business into a warehouse in Sunset Park in 1983, and it purchased an 80,000-square-foot industrial property at the corner of 43rd Street in and First Avenue, across from Industry City, in 2001. Although the dry goods emporium will keep producing and shipping food in its current warehouse, last month it leased 7,500 square feet for a new shop and café at 52 35th Street in Industry City.
After 30 years of working in Sunset Park, Whelan recalls how three quarters of Industry City's industrial stock was vacant in the 1970s and 1980s. Even 10 years ago, he said, "It was awful. A lot of broken windows and a lot of giant cat-sized rats running around. I didn't even want to walk around there, and I'm not a small person. Industry City has done a phenomenal job of cleaning it up."
The big factories abandoned Sunset Park half a century ago for New Jersey, Pennsylvania, Ohio and Indiana, and their return is looking increasingly unlikely. Even running a large wholesale business in the neighborhood is financially challenging, because of New York's rising minimum wage and transit costs, Whelan explained. "We're one of the last guys down here moving a lot of big cargo," he said. "We cook something, make something, box something and move something. Ford's not going to have a plant here. [Now] you have Jacques Torres. You didn't have that years ago; you had grimy, gritty factories."
He also defended Industry City's plan to develop hotels. "The hotel part of it, I am 100 percent in favor of because when we fly people in for our wholesale business, they all have to stay in Midtown," he said. "They couldn't stay in this area."
Many of the hotels that have popped up in Sunset Park in recent years were built cheaply, with little thought about whether travelers would actually stay in them. In several cases, hotel developers in the area have gotten so desperate to fill rooms that they've started renting to the homeless on the city's dime. In December 2017, for example, the Department of Homeless Services rented 22 out of 99 rooms in the Brooklyn Way Hotel, at 764 Fourth Avenue near 26th Street, Brooklyn Paper reported. The agency plans to fill the rest of the hotel rooms this year.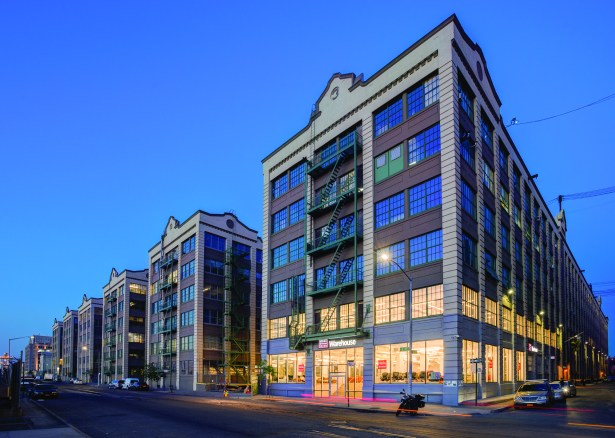 But there's a key difference between Industry City's proposed hotels and the haphazard hotel construction in the rest of the neighborhood's manufacturing zone. Any hotel developer who wants to build in the rezoned area would have to obtain a special permit from the City Planning Commission. Essentially, the special permit ensures that those hotels will be tightly regulated and employ union workers.
"Hotels tend to be tremendous local employers and we think they'll provide valuable meeting room space for tenants here," Kimball said. When CO asked whether he was concerned about New York City's dramatic hotel glut, he replied, "We're not going to put a hotel here unless the businesses demand it and the hotels see the opportunity here."
Expanding Industry City also raises urban planning issues. The waterfront complex isn't in the flood zone right now, but it's only a matter of time, explained Roland Lewis, the president of the Waterfront Alliance, an advocacy group pushing for policies that would protect the city's waterfront from climate change and preserve its industrial uses.
"Any wise developer in or near the flood zone needs to be aware that the flood maps are changing and they're only changing in one direction," he said. "What will be flooded will be more as climate change and the threat of storm surge increases over time. A set of measures to ensure that ground floors are floodable and either wet proof or dry proof is a wise precaution for folks there and for Sunset Park generally."
He added that extending the Brooklyn Greenway down from Red Hook would help create park space, bike lanes and a natural berm that protects the area from flooding. It wouldn't hurt to put a ferry stop at Industry City either, especially since the boat already goes to the nearby Brooklyn Army Terminal.
By the same token, Industry City's manufacturing space could be devoted to making resilient building materials, energy efficient appliances and other environmentally friendly pieces of infrastructure, like wind turbines or solar panels.
"We see cities and states putting out emissions benchmarks, and we understand that there's an enormous amount of manufacturing and production that goes into the resilience programs our cities and states are putting forth," Chavez said. "The community-based plans [that have ben passed] do explicitly identify that type of [green] manufacturing." (Sunset Park's community board worked with the Department of City Planning to draft a neighborhood zoning and development proposal, known as a 197-a plan, during the Bloomberg administration. The City Planning Commission approved it in 2009.)
He cautioned that if the city approved the rezoning, it was effectively abandoning that vision, as well as the promise of blue collar manufacturing jobs. After the Department of City Planning hosted a public scoping meeting last October, the rezoning is expected to enter the eight-month-long land use public review process later this year.
Still, the redevelopment might be necessary for the sake of progress and economic growth along the Brooklyn waterfront. "People yell about how price of real estate is changing and pushing people out of their homes, and it's happening all over the city," Whelan said. "Industry City isn't talking about residential rezoning. They're talking about going towards the new economy. How could that be a negative? Would you rather roll the block back 25 or 30 years to the giant rats and Pat being afraid to walk down the street? No. You can't have one without the other."
Belvedere Capital
,
Brian Kimball
,
Brooklyn Navy Yard
,
Cammeby's International
,
FBE Limited
,
Foedera Guitar
,
Industry City
,
New York City College of Technology
,
Opportunities for a Better Tomorrow
,
Sahadi's Fine Foods
,
Tools for Working Wood
,
Angelo Gordon & Co.
,
Jamestown