New York's Film Studios Are Ready for Their Closeup
The "Netflix Effect" is having a major impact on demand for sound stages in Queens, Brooklyn and beyond
---
---
As Hal Rosenbluth tells it, it was the 59th Street Bridge that was the problem. 
It was the 1980s and, after years of neglect, Kaufman Astoria Studios had been restored to its former glory as a filming hub. But Rosenbluth, who now serves as the studio's president, was having trouble luring crews over the bridge into Queens. 
"It was the days of Woody Allen, Alan Pakula, and Sidney Lumet, because they were the New Yorkers that were working here," he said. The studio's fortunes changed when a local news station interviewed a crew member working on an Allen film, the comedy "Alice" starring Mia Farrow, who mentioned that they were shooting at Kaufman. 
"When they said that, the bridge went away," Rosenbluth said. "It really became a destination for the industry." 
In the decades since, studios in Queens, led by Kaufman and Silvercup Studios in Long Island City, both sized at about 500,000 square feet, have more than landed on the map. 
Production crews, many from newly minted streaming services, are jammed into their spaces, drawn by the area's transportation options, large lot sizes, and walkable neighborhoods. And the borough is about to get a sizeable injection of space, not to mention a touch of star power, with the 650,000-square-foot Wildflower Studios on the outskirts of Astoria from developer Wildflower and actor Robert De Niro. 
"The biggest change in the last bunch of years has been what I call the Netflix (NFLX) effect," said Alan Suna, CEO of Silvercup, which opened in 1983. "Netflix went out into the marketplace and started spending money all over the world in terms of producing original content. And everybody else, from Amazon to Hulu to Showtime to Stars to whatever, are all playing catch up." 
And production spaces across the city are benefitting. Kaufman is currently constructing a new building on its seven-stage lot. The 150,000-square-foot addition will consist of two stages, production offices and support space, an underground garage, and 65,000 square feet of commercial office space aimed at creative services and media companies.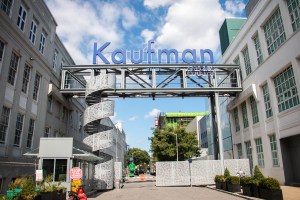 Further south, the sprawling 760,000-square-foot, 15-year-old Steiner Studios in the Brooklyn Navy Yard is bustling. The Los Angeles-style lot, which has 30 sound stages, expansive parking and a fitness studio, still has a ways to grow.  There's a roughly 1.8-million-square-foot master plan that will be developed over the next 10 years.
"I came here originally because it's 60 acres of great real estate," said Doug Steiner, the studio's founder and chairman of Steiner NYC. "The studio seemed like a no-brainer."
Actually, "It was not a no-brainer," Steiner continued. "I got in way over my head at first, and have made the best of it."
The Bronx has also got in on the action, with spaces including Silvercup's 120,000-square-foot outpost in Port Morris. Staten Island has seen its former Arthur Kill Correctional Facility converted to a filming set, complete with guard stations and a drained swimming pool, at the hands of Broadway Stages. 
The scene in Manhattan is concentrated in broadcast stages run by news organizations, as well as pre- and post-production spaces, such as the nine-story building at 110 Leroy Street in Hudson Square that's on the market via CBRE. 
"I think New York is a couple years behind L.A., but I think it's going to happen here," said James Kuhn, president and head of investor services at Newmark Knight Frank. "It's going to happen in, maybe Queens, but I think Brooklyn … it's where the employees are going to want to live … It's going to be a big business." 
Real estate investors have taken notice. 
In an era when the tech takeover has bruised sectors like retail, streaming's positive impact on production space has proven to be a welcome respite. 
Los Angeles-based Hudson Pacific Properties is among the investors that have been eyeing the New York market. The firm, which owns three sound stages in the City of Angels, has been expanding with a recent move into Vancouver. "We are looking beyond just Vancouver in studio markets," CEO Victor Coleman said on the company's second quarter earnings call in July.  "We're looking in New York. We're looking in Toronto."
On Wildflower Studios, the group has raised equity for the project and is expecting to close on its $73 million purchase of the land, at 87 19th Avenue in Astoria, at the end of the year, according to a source familiar with the deal. After that, the group will tap the debt markets once it's closer to breaking ground. 
The investor group was on the hunt for $150 million in equity and $275 million in debt financing, as Commercial Observer reported
The group, which includes the actor's son Raphael De Niro (the Douglas Elliman super-broker) and business partner Jane Rosenthal, is picking up the site from the famed piano manufacturer Steinway & Sons. The area houses Steinway's headquarters and also serves as a manufacturing hub where the pianos are built, and where the company conducts factory tours. 
Wildflower's site will be sized at five-and-a-quarter acres, with Steinway retaining about six acres, the source said. The studio is being built on a portion of the lot that Steinway used to store wood for the pianos. Those supplies will be relocated offsite and the piano maker is expected to continue its operations as normal. 
The group has released renderings that detailed a "vertical village" with a variety of stages, production support spaces, offices, lounges and public water access, all designed by Bjarke Ingels Group. The project is anticipated to cost about $400 million.
"This studio is a testament to the strength and future of the New York film and television production industry," the elder De Niro said in prepared remarks.
One industry insider was skeptical about the site, which sits on an outer parcel of Astoria, noting that it has scant transportation options, restaurants and other amenities, according to the exec. 
But there is a supermarket and the SingleCut brewery across the street from the site, and Astoria is a restaurant- and amenity-rich area. The site will have the largest parking lot for a studio in the region and the property is expected to house a commissary as well as other options such as food trucks and food stands, the source familiar said. And the subway connectivity is similar to the connectivity to Steiner Studios, with a roughly one-mile stretch at the end. 
All of the activity, and the investor attention, has raised concerns of a supply imbalance. 
"I think stages have become the flavor of the month, and everyone wants to put one up," Rosenbluth said. "You need that ratio of supply and demand to stay in the right balance, because when it shifts you have musical chairs."  
The activity in New York is still dwarfed by the ongoings in L.A., which is seeing its own arms race for production space and a slew of blockbuster deals. New York-based Square Mile Capital Management teamed up with Hackman Capital Partners in August to plunk down $650 million on a 587,000-square-foot media campus in Manhattan Beach, along with a related service platform. 
Still, the number of episodic TV series shot in New York City has risen from 29 shows in the 2013-2014 season to 56 in the 2016-2017 season and 67 in the 2018-2019 season, according to the Mayor's Office of Media and Entertainment. On the film side, the city hosts an average of 300 shoots a year. 
Walking down the hallways of Kaufman studios, those numbers translate to a veritable beehive of activity. 
A set for Anna Kendrick's "Love Life," a romantic comedy that will air on WarnerMedia's new streaming platform, is down the hall from a bustling carpentry shop where sawdust fills the air. Next is the freight elevator which has transported everything from cars for ad shoots to horses and other livestock for filming. 
Then there's the surplus costume room, technically the TDF Costume Collection, which is a wonderland of costumes ranging from marching band outfits to police uniforms and kimonos on racks stacked so high they almost touch the ceiling. The studio employees are known to come knocking before Halloween or a costume party. 
"What they have here is the support people, the makeup people, the costume people," said Daniel Lisser, a senior director at Marcus & Millichap who's worked with Kaufman on its financing deals. "And even the stars like being here in New York." 
That's proven true for one of the shows shooting at Kaufman, CBS' "Tommy." The show stars Edie Falco as Abigail "Tommy" Thomas, the first female Chief of Police in Los Angeles. Falco, a lifelong New Yorker who starred in the Sopranos, Oz and Nurse Jackie, was a driving force in getting the shoot staged in New York despite its L.A. setting, marking an ironic new turn in studio history.
Leasing space to media companies isn't for the faint of heart, industry execs said. 
"To me there's no glitz and glamour," Suna said. "It requires a tremendous amount of capital investment by private individuals and the clients do not sign up for long terms, like [they do with] office buildings. These are all short-term leases or licenses for use, so traditional banks don't lend against that kind of thing." 
Commercials rent space for just a few days, while television shows typically sign for six to nine months, and films usually sign for a handful of months. The latter is dealing with declining viewership, a trend that has accelerated to the point that Brad Pitt, arguably the most famous movie star alive, publicly mused over the viability of Hollywood films. "I'm curious to see if movies last, if movies stick around," Pitt told The New York Times in an interview this month.
On space taken by television shows, there's uncertainty over whether the show will be picked up for another season. The length of a season is also shortening, with a typical season made up of eight to 10 episodes, down from upwards of 20. And, if renewed, there's always the chance the production could change locations or there could be a surprise factor such as a star dropping out. 
"It's really a relationship-based business; if you tell a producer you can do something you absolutely have to deliver," Steiner said. "They have crazy jobs and are dealing with nothing but variables every day. And our job is to make their life easier and be super responsive." 
Studios make a good chunk of their revenue by renting out equipment such as lighting and grips, as well as services such as security and cleaning, and necessities like internet and phones. All these costs can rack up if a production runs into overtime. The studios themselves pour millions into getting the latest technology for the equipment and sound stages. 
But when the formula works, it can mark the beginning of a beautiful friendship. At Steiner, the lot played home to HBO's "Boardwalk Empire" for all five of its seasons and is currently housing Amazon's "The Marvelous Mrs. Maisel." Kaufman has hosted PBS' "Sesame Street" for the past 30 years and Netflix's "Orange is the New Black" for all of its seven seasons. Silvercup is home to HBO's critically acclaimed "Succession."
"The producers can come to New York with a confidence that they can get the quality of personnel that they need in order to make the show happen," Rosenbluth said. "And that's a hugely important piece … to have depth of talent in the crew and depth of talent in the acting."
Demand is being driven by a voracious appetite for streaming, with the dominance of Netflix, Amazon and Hulu prompting their rivals to enter the game. Apple is launching its new streaming service, Apple TV Plus, and Disney is launching its service, Disney Plus, both in November. NBCUniversal is following suit with its service, Peacock, in April next year, while WarnerMedia's HBO Max will also launch its service in the spring.
Alongside the launch comes the need for new original content. Apple is shooting its series "Dickinson," a coming-of-age story of Emily Dickinson set in the Victorian era, in an 18,000-square-foot sound stage at Kaufman and will be using all the related support space in the three-story building.
Meanwhile, Netflix, which has filmed at various studios including Kaufman and Silvercup, has decided to strike out on its own. The firm announced in April that it had inked a deal to lease space at a 161,000-square-foot warehouse in Bushwick, Brooklyn, owned by Steel Equities. The property, at 333 Johnson Avenue, will be converted to house six sound stages for the media company. 
The deal is being financed with a $40.3 million building loan and a $9.7 million project loan from TD Bank, as CO reported. 
The streaming behemoth also said it was taking 100,000 square feet of office space at Normandy Real Estate Partners' 888 Broadway in the Flatiron District, which will house about 160 employees in content acquisition, development, production, and other roles. 
"New York has created a film-friendly environment that's home to some of the best creative and executive talent in the world, and we're excited to provide a place for them at Netflix with our production hub," Jason Hariton, Netflix's director of studio operations and real estate, said in a statement at the time of the announcement.
New York City is in a perennial battle with other film-friendly cities such as Toronto, Vancouver and Atlanta, the latter of which has seen explosive growth, execs said. It's also competing against sites closer to home like recently announced projects in Yonkers and Jersey City. 
"There's places that will build a fake New York City in Toronto, or this place or that place," said Joseph Malizia, a stage manager at Kaufman. "But it's not going to be the same." 
Production companies have been drawn to New York by a $420 million annual tax credit program started by the state in 2004, when the industry was in the doldrums. A project shot in New York City can use the credits to reduce costs by 30 percent, and even more if it's shot elsewhere in the state. In April, lawmakers extended the credit from 2022 to 2024, according to media reports. 
"They don't come to New York because New York is in the scenes or it's based in New York as a story," Steiner said. "They'll go anywhere in the world to shoot wherever it's cheapest." 
He added that the industry has to make its case to Albany when the tax credit runs out.
"The case is pretty compelling," Steiner said. "But it's still a political decision on whether or not it can get renewed, at what level of funding, and for how long. And the more business that comes here, that can be served quicker, the faster that gets burned off." 
The program has reportedly drawn fire from some politicians, who see it as an imprudent use of taxpayer funds. Silvercup's Suna expects to see a modification to the program sometime in the next year. "I don't know whether that's up, down, left, right," he said. 
Proponents point to the boost to the economy, which the Mayor's office pegs at $8.7 billion per year, as well as the more than 130,000 jobs and 2,000 businesses citywide that support production, which includes everything from lumber yards and equipment rental stores to pizza delivery shops. 
At Kaufman, executives pointed to the surrounding Kaufman Arts District, which houses the Museum of the Moving Image and the Frank Sinatra School of the Arts, as examples of the positive impact. Rosenbluth said he's confident the tax credit will be extended. 
Regardless of the fluctuations on the business side, the creative side is alive and well in New York City. The city has kept its grip on the minds of generations of writers, actors, producers and directors in the industry. Woody Allen's character, Isaac, in the 1979 film "Manhattan" perhaps says it best. 
"Boy, this is really a great city," he says while sitting with Mary, played by Diane Keaton, on a bench overlooking the 59th Street Bridge at sunrise. "I don't care what anyone says. It's really a knockout, you know?" 
Alan Suna
,
Daniel Lisser
,
Doug Steiner
,
Hal Rosenbluth
,
Hudson Pacific Properties
,
Kaufman Astoria Film Studios
,
kaufman astoria studios
,
Robert De Niro
,
silvercup studios
,
Square Mile
,
Square Mile Capital Management
,
Steiner Studios
,
Steinway & Sons
,
Wildflower
,
Netflix