Adam Neumann Steps Down as CEO of WeWork Amid IPO Struggles
---
---
The bombastic, surfing-obsessed co-founder of coworking behemoth WeWork, Adam Neumann, is stepping down as head of the company after reports of him smuggling pot oversees and concerns over his conflicts of interest before WeWork's initial public offering.
Neumann will continue as a non-executive chairman at WeWork's parent company, The We Company, while WeWork executives Artie Minson and Sebastian Gunningham were named co-CEOs to replace him, the company announced today.
"While our business has never been stronger, in recent weeks, the scrutiny directed toward me has become a significant distraction, and I have decided that it is in the best interest of the company to step down as chief executive," Neumann said in a statement.
The news comes a week after the Wall Street Journal published a profile of Neumann which uncovered the 40-year-old CEO stuffed a cereal box with weed and brought it on a private jet to Israel; fired seven percent of staff then immediately passed out shots of tequila and treated remaining employees to a private concert by Run-DMC's Darryl McDaniels and his wife, Rebekah Neumann, fired multiple employees after a short meeting because "she didn't like their energy."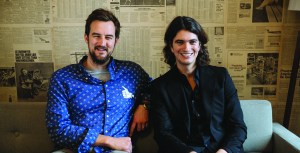 The revelations, along with WeWork delaying its IPO after investors questioned the money-losing startup's reportedly shrinking valuation, led some board members to try to push out Neumann as the head of the company, WSJ reported.
Neumann also reportedly lost the confidence of his biggest investor and cheerleader, SoftBank head Masayoshi Son, who helped lead the charge to push out Neumann over him brushing off advice from the investor, including moving forward with the IPO, CNBC reported.
"I think that [Neumann stepping down has] got to be labeled as a net positive," Alexander Snyder, a senior analyst at CenterSquare Investment Management, told Commercial Observer. "Fairly or not, a lot of the odd idiosyncrasies at WeWork have been pinned directly on Adam… The major backers are hoping that enough of the blame can be pinned on the man that's about to exit so that investors gain more confidence."
In August, WeWork filed paperwork to raise $1 billion in an IPO, but reports said the figure was likely between $3 to $4 billion. The 9-year-old company's filings showed that while its revenues grew at a staggering rate from 2016 to 2018, the amount of cash it burned each year followed at a similar pace.
WeWork's revenues grew from $436 million in 2016 to $1.82 billion in 2018, but its net losses increased from $430 million to $1.6 billion in that time, the filings show, with little signs of slowing down.
In the first six months of this year, WeWork pulled in $1.5 billion in revenue but posted a net loss of $690 million, an increase from the $623 million of net losses on $764 million in revenue during the same time last year.
The money-losing model led analyst Sam McBride, of New Constructs investment research firm, to dub WeWork "the most ridiculous IPO of 2019."
"At a time of really strong economic growth, this is when their business model should be working," McBride told MSNBC. "If real estate prices go down, if they hit a recession, they're going to be in big trouble with their lease commitments."
After facing criticism about its business model, WeWork was in talks to cut its valuation during the IPO process from $47 billion to as low as $10 billion, Reuters reported.
Snyder added that Neumann's ouster likely won't save WeWork plummeting valuation — since $47 billion was too high in the first place — but help convince investors who have written off the company to come back to the table.
"[Neumann] was the right person to get WeWork from nothing in 2010 to where it is day, but his personality is so different from all other executives in the public realm," he said. "The public realm values certainty. Something that different is inherently uncertain."
Aside from trouble with its valuation, WeWork has also had several top officials leave in recent months including chief brand officer Julie Rice, who joined in November 2017 from SoulCycle, and Sarah Pontius, who was hired by WeWork from CBRE in November 2018 to head up its real estate partnership division, and Wendy Silverstein, the co-head of its real estate fund, The Real Deal reported.
Adam Neumann
,
Artie Minson
,
Darryl McDaniels
,
Julie Rice
,
Masayoshi Son
,
New Constructs
,
Rebekah Neumann
,
Run-DMC
,
Sam McBride
,
Sarah Pontius
,
Sebastian Gunningham
,
SoftBank
,
The We Company
,
Wendy Silverstein
,
WeWork