Presented By: Industrious
Why Playa Vista Is the Hot New Workplace Destination for LA's Growing Tech Scene
Playa District is the Perfect Solution for Companies Looking for a Turnkey Tech Campus
---
---
Last year alone, venture capitalists invested over $6 billion in more than 400 tech companies in Greater Los Angeles.  The city is one of the fastest-growing tech hubs in the country, and it needs a workplace to support its growth.
A Hub for Tech Talent
Los Angeles is among the largest producers of tech graduates in the U.S., and thanks in large part to the growth of Playa Vista, Los Angeles County is now one of the fastest growing tech talent markets in the country with more high-tech jobs than the Boston-Cambridge area, Santa Clara County, and New York City.
Strategic Location
Strategically located just a few miles from the beach, the 405 and LAX, Playa Vista has become the address of choice for top tech companies. The emerging tech hub is now home to many well-known tech giants including Facebook, Microsoft (MSFT), YouTube, IMAX and Electronic Arts, more than earning it's nickname: "Silicon Beach."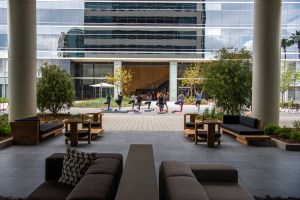 Located in the heart of Silicon Beach is Playa District, a newly-completed workplace destination. Spanning 33 acres, the campus features six buildings and over 1.4 million square feet of office space. Tenant experience at Playa District is managed by premium workspace operator Industrious and its perks and amenities are similar to those you would expect from a Google or Apple workplace campus.
The Campus
Playa District is the turnkey tech campus companies have been waiting for. Offering a mix of traditional and flexible workspace options provided by Industrious, Playa District can accommodate companies of all sizes and at all stages. It features 10,000 square feet of Wi-Fi-enabled outdoor meeting, work, and event space, as well on-site concierge offering various services similar to those of a hotel concierge including dining reservations, catering orders, transportation requests, salon appointments and more. There are also fitness facilities offering a variety of classes, outdoor recreation areas, a weekly farmer's market, dining options such as a cafe and rotating food trucks, activities and programming, and more.
Flexible Workspace
The integration of flexible workspace throughout the campus makes Playa District especially appealing. Rather than making predictions for the future and signing a long-term commitment of ten years or more, flexible workspace gives companies the freedom to plan for the now — they have the opportunity to sign for the space they have an immediate need for and nothing more. As the company evolves, this option allows them to grow or downsize as needed, with the ability to change offices, grow the space they occupy, or reconfigure the office, all without having to change their address. What's more, flexible workspaces are designed in such a way that the turnaround time from signing to move-in is much shorter than the buildout of a traditional office space.
Playa District offers nearly 100,000 square feet of flexible options, making it an ideal solution for occupiers of all sizes.  For teams of 20 to teams of 200 are Canvas suites: private, standalone offices that offer the flexibility and benefits of a flexible workspace, without having to share common areas or amenities with others. These suites include branding specific to the company occupying the space, a private entrance, kitchenette, private conference and huddle rooms, offices and workstations and more. For individuals and teams up to 20, a collection of smaller private offices with shared common areas and amenities are available. Additional benefits include a dedicated community manager, member programming and events, and daily breakfast and snacks in addition to a stocked cafe with coffee and sparkling water.
To learn more about Industrious Playa District, click here.
Boston-Cambridge
,
Electronic Arts
,
IMAX
,
LAX
,
leases
,
Los Angeles
,
New york city
,
Playa Vista
,
Santa Clara County
,
Silicon Beach
,
Sponsored
,
sponsored-link
,
Technology
,
YouTube
,
Facebook
,
Industrious
,
Microsoft