Presented By: Industrious
A New, Innovative Workplace Campus: Meet LA's Playa District
The 33-acre agile office campus is the newest workplace destination, catering to its tenants' every want and need
---
---
Now open in Playa Vista, Los Angeles: Playa District is a 33-acre workplace destination developed by EQ Office and Powered by Industrious. Playa District rethinks the way work gets done. Inspired by Southern California's coastal lifestyle, Playa is an agile campus built for collaboration and community, with flexibility to accommodate for growth and social spaces to thrive—whether inside or outdoors. The campus comprises six buildings and 1.4 million square feet of office space, including nearly 100,000 square feet of flexible workspace options.
In addition to operating Playa District's flexible workspaces, Industrious has partnered with EQ to assist in managing the workplace experience for the campus, including various event and meeting spaces, programming and activations, and the concierge desk. Playa District redefines the workplace by bridging the gap between work and play, providing innovative experiences, flexible work options and collaborative spaces in order to help businesses attract, support and retain talent. On-site features include 10,000 square feet of WiFi-enabled outdoor meeting and workspaces, fitness facilities offering a variety of classes, outdoor recreation areas, a weekly farmer's market, dining options such as a cafe and rotating food trucks, and more.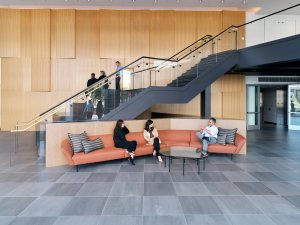 Tenants of Playa District, whether in a traditional or flexible workspace, will have access to best-in-class services, amenities and programming at their fingertips provided by Industrious. A new, innovative workplace—more than just a campus, a destination—Playa District has something for everyone. Here are a few reasons to consider Playa District as your client's workplace destination.
Flexibility
With nearly 100,000 square-feet of flexible workspace on-site that can accommodate teams of up to 200, this offering gives companies the ability to scale without the hassle of an exhaustive real estate search or, for existing tenants, without the need to even change their address. The flexible terms provided by this option allow companies to be nimble as their needs evolve.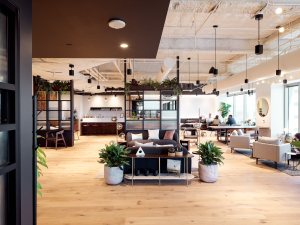 Work, Beyond the Office
Playa District has 5,000 square feet of meeting and event spaces throughout the campus, allowing businesses to host work functions outside their four walls. Scouting venues for conferences, networking events or team-building activities can be time-consuming; at Playa District, there's no need to leave home base in order to put on a great event. Industrious also has an Event Manager on staff to assist with tenants' planning needs.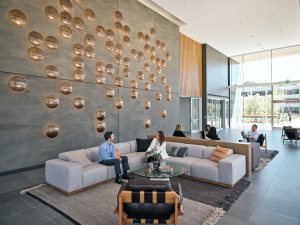 Talent Attraction and Retention
To stay competitive in the war for top talent, companies have to keep up with the expectations of today's workforce. Providing an amazing workplace experience in an inviting atmosphere is a must for any employer. With its sprawling campus, indoor and outdoor workspaces and Industrious-powered services, amenities and programming, Playa District delivers on this and much more, giving companies one less thing to worry about.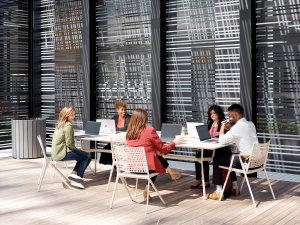 To learn more about available office space at Playa District, visit Industrious.
campus
,
EQ
,
EQ Office
,
Industrious
,
leases
,
Los Angeles
,
Playa District
,
Sponsored
,
sponsored-link
,
wi-fi
,
workplace