The Second Lives of America's Iconic Shopping Malls
As dead malls proliferate, some reanimate as megachurches, Amazon depots, TV sets, and other surprising uses
---
---
Some malls refuse to die. Long after the department stores have been shuttered, parking lots overgrown with weeds, and the halls emptied of bored teenagers, wailing children and daytime walkers, some malls attempt to live on long past their heyday. Although "living" might not be the right word.
Instead, they've mutated. 
Many retain something of their original form, with medical clinics and gyms for anchor tenants rather than the retail temples of yesteryear. One Pennsylvania mall is waiting on approval to turn a former Bon-Ton into a casino. In Seattle, a mall parking lot is being converted to a light rail station. Other shopping centers have taken on completely new lives. Rather than try to evolve piecemeal, these malls have transformed into college campuses, megachurches and movie sets. 
These malls are battling for survival amid an outlook for retail that's best described as bad, about to get worse. By the halfway mark of 2019, there were more than 7,000 planned store closures, eclipsing all of 2018, and Corelight Research estimates that number will rise to 12,000 by the end of the year. 
So, here's to the malls, and to some of the most surprising, creative and ironic second lives of the iconic American pastime. 
When the best use of a mall is … a mall 
In the third season of the Netflix show "Stranger Things," the fictional town of Hawkins, Indiana, sees the doors thrown open on The Starcourt Mall. It's 1985, and the neon-lit center breeds a new generation of "mall rats" while also sowing resentment among the town's mom-and-pop retailers.
The teenage protagonists fight the various evils that are haunting the town, while they work at Scoops Ahoy, explored The Gap, and make those of us who were around in the eighties swoon with nostalgia. 
The scenes were filmed at Gwinnett Place Mall, a 1980s-era center in suburban Atlanta. The producers took over roughly 20 percent of the center's 40 stores to rebuild a perfect replica of a mall in its prime, according to the Atlanta Journal-Constitution. When it's not cosplaying as Starcourt Mall, it's a "ghost town," a "haunted ghost mall," and "the place to shop 20 years ago," according to online reviews. 
Another Georgia center, the North DeKalb Mall, built in 1965 and once slated for demolition, has also become a hot spot for filming. The center played host to crews from "Zombieland 2," "MacGyver" and "Fear Street," a horror trilogy based on a teen book series, and which is scheduled to be released next year, according to AJC.
Other fan favorites filmed in abandoned malls include HBO's "Westworld" and the movie "Gone Girl." Both filmed at Hawthorne Plaza Mall near Los Angeles, which was abandoned in 1999. 
Adding insult to injury
Some may say that Amazon is at fault for the death of shopping malls, and they could be right. Bezos's ways are not our ways, after all. But hear this: Amazon is also the path to deliverance.
Amazon is turning at least two dead malls in Ohio, the Rolling Acres Mall in Akron, and North Randall Mall outside Cleveland, into fulfillment centers, with a little help from the taxpaying citizens of the state.
Built in 1975, the 140-acre Rolling Acres Mall was home to Macy's, JCPenney, Target and Sears at its height, according to Business Insider. It eventually fell vacant, which proved to be a macabre set-up; one man was electrocuted while trying to steal copper wire, and the body of a murder victim turned up. The city of Akron foreclosed on the center in 2016 and razed it. 
In 2018, the city approved a $100 million redevelopment at the site, nicknamed "Project Carney," which was pitched by an unknown company. The city also agreed to refund the $17 million the company spent on the land. After the project was approved, the Akron Beacon Journal revealed that the company behind the 695,383-square-foot project was Amazon. 
In North Randall, a town of 850 residents, Amazon opened its fulfillment center in the former mall in September 2018 with a promise to provide 2,000 jobs. According to Cleveland.com, which cited North Randall mayor Dave Smith, the project was codenamed "Goliath."
 Come for the Jesus, stay for the merch
This would be the appropriate place to make a joke about how malls have transformed from temples of consumerism to actual temples, but that's been overplayed. But there is something ironic about finding Evangelical megachurches in the big, boxy arenas that used to play on the desires of American teendom. 
Neighborhood churches have held services in storefronts and strip malls for years, but as they've grown, they've begun to take over big-box stores, wings of malls, and even entire shopping centers to accommodate their tens of thousands of congregants.
The headquarters of Elevation Church, a 20,000-member megachurch in Charlotte, N.C., is located in the former Matthews Plaza Shopping Center. The church's founder, Steve Furtick, purchased it for $10.2 million in 2015, and still leases portions of it to retail tenants. 
Perhaps they got the idea from Living Word Christian Center in Forest Park, Ill., another 20,000-strong congregation. That congregation purchased the dormant Forest Park Mall back in the nineties and uses half of it for a 3,500-seat sanctuary and continues to lease space to tenants in the other half. Pastor Bill Wilkinson uses a golf cart to get from one side to the other, according to the Forest Park Review.
But the prize goes to the aptly named First Baptist Church at the Mall, which bought a vacant 400,000-square-foot mall in Lakeland, Fla., in the nineties, and occupies the entire space. The church purchased the site for $5.6 million and spent $2 million renovating it to a concert-worthy venue, according to Business Insider.
Too cool for school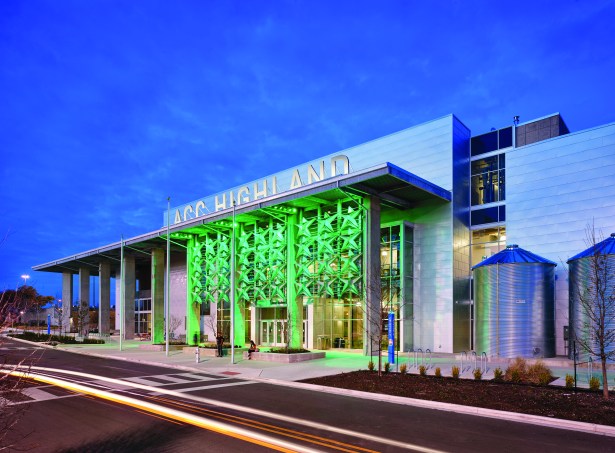 True or false? A shopping mall in Austin, Texas, has been repurposed as a college campus and it looks just fine. 
Yes, in fact, the entrance to the swanky new facilities for Austin Community College's Highland campus once welcomed shoppers to a J.C. Penney's, the gateway to the former 750,000-square-foot Highland Mall. (You know the type, a row of glass double-doors, a vestibule, then another set of doors leading to an overly air-conditioned store anchored by zig-zagging escalator banks.) 
Only now, it's been redesigned into a state-of-the-art campus with classrooms, coworking spaces, common areas, a cafe, and private study studios designed with an abundance of glass and paneled wood and colorful chairs. 
The reinvention is part of a grander redevelopment plan for the 81 acres surrounding the former mall, which was approved by the city. The plan envisions the area as a neighborhood unto itself, with a park, retail spaces, additional office space and a residential component. The plan was helped along after the city agreed to rezone the mall for a variety of uses, which was supported by the neighborhood, according to Austin Monthly. 
Other malls that have taken a scholarly turn include Nashville State Community College, which took over a portion of the former Hickory Hollow Mall in Tennessee, and Florida Community College, which breathed new life into the Grande Boulevard Mall in Jacksonville, Fla., back in 1994. 
Suburbia is calling
In a stroke of genius, Lennar Corporation has decided to turn a mall into another of suburbia's greatest gifts to society: the gated community. 
In June, the Miami-based developer purchased the five-acre site of the Santa Anita Plaza in posh Arcadia, Calif., for $36.6 million. The deal came with pre-approved plans to replace the 58,000-square-foot center with 80 residential units and 11,000 square feet of new retail space, according to The Real Deal. 
Perhaps the gated community will get a heritage name, drawing back to its roots, as is the tend nowadays. The Estates at Red Tag Sale, anyone?
Of mountains and moonshots
Our last use of note is from none other than Google. The search-engine-turned-internet-overlord will turn two malls into offices for itself. 
Not satisfied with Northern California, Google has signed on to fully occupy the Westside Pavilion in Los Angeles, following its transformation into 584,000 square feet of creative office space. The ailing property, which lost its Macy's and Nordstrom, has an attractive westside L.A. location that's a stone's throw from the media and tech hub in Culver City. Gensler is running the redevelopment with plans calling for up to 150,000-square-foot floorplates and expansive terraces, patios and a rooftop, according to property owners Macerich and Hudson Pacific Properties.
Google began leasing space at the Mayfield Mall in Mountain View back in 2013 and purchased it for $224.5 million several years later. Built in 1966 on the site of a former curling rink, the property is now home to Google's X Development, an innovation lab which has been nicknamed by some wise PR person the "Moonshot Factory." Google came into the mix after Hewlett Packard bought it and repurposed it as office space, then left it vacant in the early 2000s. Two developers purchased it in 2012 with plans to convert it to housing, but that plan failed and Google moved in instead.