Hotel Indigo Coachella Developers Looking to EB-5 for Construction Debt
---
---
Glenroy Coachella LLC, the development partnership constructing the Hotel Indigo Coachella resort near the site of the Coachella Valley Music and Arts Festival, is looking to the EB-5 market for $65 million in construction debt to help complete the project, Commercial Observer can exclusively report.
The development and investment partnership seeking the financing includes RP Realty Partners president and CEO Stuart Rubin, as well as longtime entertainment lawyer Gary Stiffelman. They've engaged real estate finance company George Washington Immigration Group, which specializes in EB-5 financing, to source the debt and facilitate the arrangement.
The property's Hotel Indigo brand is under the umbrella of the InterContinental Hotels Group, and it will be operated by hospitality manager and investor Highgate. The developers of the 300-key full-service hotel — at 84141 Avenue 48 in Coachella, Calif. — are anticipating an opening sometime in the spring next year.
The project's designers include SMS Architects, Carrier Johnson + CULTURE, and KHA Architects, according to sources. Doug Wall Construction is handling the buildout.
The hotel will include on-site valet parking, a full-service concierge, a fitness center with a yoga and Pilates studio, and a range of luxury food and beverage offerings for hotel guests and festival attendees.
It will also feature a 10,000-square-foot pool "complex," with private cabanas, a poolside restaurant and bar, and a DJ booth. Also within the 35-acre site will be a 10-acre, open-air concert and event venue that can host roughly 30,000 people as a "plug-and-play"-style space.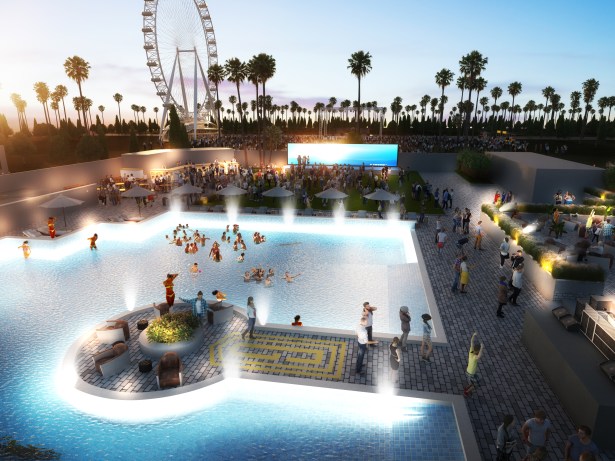 "This project presents a unique opportunity to bring an upscale resort-style hotel property in close proximity to some of the country's top cultural experiences," George Washington managing partner Steven Anapoell said in a prepared statement.
Because the city of Coachella is the only one in the Coachella Valley without a hotel, the development is a highly anticipated one. But the developers have faced construction delays, lawsuits and liens filed by companies involved in the construction of the resort who claim they haven't yet been paid fully for the cost of their labor, as The Desert Sun recently reported.
"As far as we know, the [project] is fine and we're ready to roll," George Washington Immigration Group founder Evan Stoopler told CO. Stoopler said that the new, heightened $900,000 EB-5 investment threshold established by the federal government this week has helped to attract many foreign investors who can get into the project at the original, $500,000 base requirement that was first established in 1993.
"We haven't even [put a book out on it] yet and we have two investors who already want it," Stoopler said, adding that he's received interest from investors out of Asia and Latin America as well as from Dubai and Canada, who want in before the investment requirement climbs on November 21. "Here's an opportunity where someone can come in at $500,000 and the project is on its way [to completion]."
Under the newly established EB-5 rules, any developments located outside of areas considered to be struggling economically will require a $1.8 million initial investment, an increase from today's $1 million threshold. These inflation-adjusted figures were raised from the original levels established by Congress in 1990, and the requirements will be revised up every five years by the United States Citizenship and Immigration Services (USCIS) to account for inflation.
This potential EB-5 debt for Hotel Indigo Coachella will help jumpstart the delayed project, which missed a planned opening in 2018 and, in February 2019, announced that it would not be ready for this year's music festival in mid-April. After the announcement, Rubin told the city's officials that it faced delays due to a change in branding and design, which includes the addition of more bathrooms and showers, and because the plans for the massive pool complex needed to be approved by the county's health officials.
Currently, the developers have indicated that its 250 units, part of the roughly $100 million first phase of development which also includes 51 villas, have already been framed — but still lay dormant — and that they are adding a convention center to the site; they're expecting to start a "phased" opening around November, according to The Desert Sun's report.
Coachella's development services director, Luis Lopez, has said that a few other unanticipated hurdles have slowed construction, including issues with water pressure and metering, The Desert Sun reported.
A representative for Rubin's firm RP Realty Partners did not immediately respond to an inquiry.
Carrier Johnson + CULTURE
,
Coachella Valley Music and Arts Festival
,
Doug Wall Construction
,
Evan Stoopler
,
Gary Stiffelman
,
George Washington Immigration Group
,
Highgate
,
hotel indigo
,
Hotel Indigo Coachella
,
InterContinental Hotels Group
,
KHA Architects
,
RP Realty Partners
,
SMS Architects
,
Steven Anapoell
,
Stuart Rubin