'We Learned a Lot of Lessons From Sandy': Transportation Panelist Says
---
---
In 2012, Superstorm Sandy battered down New York City and destroyed about 300 homes, damaged more than 69,000 residential units, killed 44 people and caused an estimated $19 billion in damages, according to the city.
And the agencies responsible for getting New Yorkers around said at Commercial Observer's Transportation and Infrastructure Construction Forum yesterday that they're still working on repairing damages caused by the storm while trying to build projects that can withstand future ones.
"We learned a lot of lessons from Sandy," James Starace, the chief engineer at the Port Authority of New York and New Jersey, said during the event at the City University of New York Graduate Center. "We found our vulnerabilities."
Starace said flood waters caused damages to the Holland Tunnel and the PATH train tunnels between New York and New Jersey—which the agency is still working on fixing—and damaged airfield lighting at Newark International Airport. The storm also led the Port Authority to write guidelines to take into account resiliency during the design of new infrastructure.
"We're designing for climate change, we're designing for storms and precipitation in the future," he said. "Every one of our projects takes into consideration resiliency."
Starace wasn't the only panelist still making repairs from Sandy. Petra Todorovich Messick, Amtrak's head of planning for its Gateway Program, called the tunnel that connects Penn Station and Newark a "ticking time bomb" because it still needs major rehabilitation since the storm sent waves of flood water inside.
"The issue we have is not of structural stability—we're not actually worried about the tunnel collapsing from the pressure of the water, it's actually quite robust—but it's the systems inside the tunnel that were damaged by salt," Messick said. "They're fail-safe, but they're failing safe more frequently than we want them to and that holds everyone up."
Amtrak has been pushing to build a parallel tunnel to supplement rail service so it could make repairs to the damaged one under its estimated $30 billion Gateway Program. The plan has been stalled for years and in March President Donald Trump's administration ranked it near the bottom of projects competing for transit grants and loans, Crain's New York Business reported.
But Sandy repairs wasn't the only issue the first panel—moderated by Withum partner Justin O'Horo—was trying to solve. Seth Myers, an executive vice president at the New York City Economic Development Corporation, said he's been focused on finding alternative ways to bring in freight around the city and cut down on truck traffic.
MTA Bus executive vice president Craig Cipriano talked about the agency's push to replace diesel buses with electric ones by 2040. A small fleet could require the same energy as the Empire State Building to charge, he said.
"We really need to figure out charging strategies, both on-street and in depots," he said, adding the city has already 10 electric buses on the streets. "Some of the earlier things we're seeing right now is that weather and climate are affecting battery capacity—both hot and cold—as well as grades in the street."
Other panelists were focused on ways on modernizing the city's aging airports like LaGuardia Airport, which former Vice President Joe Biden once said looked like it was in "some third world country."
"I've done a lot of traveling around the third world and generally their airports are better than ours," said Seth Pinsky, an executive vice president at RXR Realty which is working with JetBlue Airlines on the renovation of its terminal at John F. Kennedy Airport.
"As a result of all these efforts will be a north side of JFK that's completely transformed and will feel like a real, 21st-century world-class airport," he said. "We won't have vice presidents visiting us anymore claiming that we look like the third world."
The second panel—which focused on airport development—was moderated by Louis Coletti, the president and CEO of the Building Trade Employers' Association, and featured CAG Holdings' principal Anton Fredriksson, E-J Electric Installation president and CEO Anthony Mann and JetBlue's director of the JFK development Justin Ginsburgh.
The final discussion focused on the recently opened TWA Hotel, which renovated the landmarked 1960s TWA Flight Center that closed in 2001 to add a café, a conference center and a 512-room hotel.
"It's an insane project, you have to be a little crazy to do it," said Kaunteya Chitnis, a vice president at MCR who developed the hotel with Morse Development. "It went dark in 2001, sat dark for 18 years… because of the mechanical issues, because of the 187 panes of glass you have to renovate, because of the 14 preservationists you have to work with, because of the 22 government agencies you have to go through."
"When you peel back the onion, you have to believe in the celebrity of the building to carry you through that," he said. "Our basis of design for the building was always to bring the building back to how it originally was."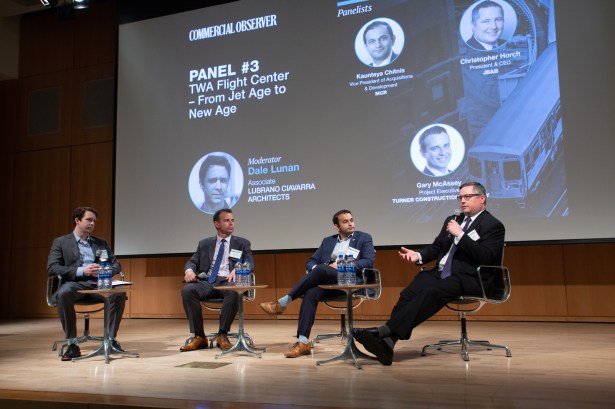 The panel was moderated by Lubran Ciavarra's Dale Lunan and featured Jaros, Baum & Bolles' Christopher Horch and Turner Construction Company's Gary McAssey, all who worked on the design and construction of the TWA Hotel.
Amtrack
,
Anton Fredriksson
,
Building Trades Employers' Association of New York City
,
CAG Holdings
,
Christopher Horch
,
Craig Cipriano
,
Dale Lunan
,
Donald Trump
,
E-J Electric Installation Co.
,
Empire State Building
,
Gary McAssey
,
Gateway Program
,
Holland Tunnel
,
James Starace
,
Jaros Baum & Bolles
,
JetBlue Airways
,
Joe Biden
,
John F. Kennedy Airport.
,
Kaunteya Chitnis
,
LaGuardia Airport
,
Louis Coletti
,
Lubran Ciavarra
,
MCR
,
Morse Development
,
MTA
,
New York City Economic Development Corporation
,
PATH
,
Petra Todorovich Messick
,
Port Authority of New York and New Jersey
,
Seth Myers
,
Seth Pinsky
,
The Gateway Project
,
The Graduate Center of the City University of New York
,
Turner Construction Company
,
TWA Hotel
,
RXR Realty