More Power to Them: CO's 12th Annual Power Gala
Over 200 of the industry's finest gathered to celebrate CO's 2019 Power 50 and 100 honorees
---
---
There was a packed house at the Park Hyatt on the evening of June 13 for Commercial Observer's 12th Annual Power Gala, a celebration of the publication's 2019 Power 50 in finance and Power 100 lists.
After opening remarks, J.P. Morgan Chase's Chad Tredway, the bank's co-head of real estate, took the stage to announce CO's 2019 Rising Star Award.
Tredway, glancing out over the crowd of over 200 in attendance—which included the likes of this year's Power 100 No. 1, Brookfield (BN)'s Ric Clark, L&L Holding's David Levinson and Kaufman Organization's Steven Kaufman—announced David Zussman, the new, 30-something CFO of Related Companies as 2019's rising star.
Zussman was named Related new CFO in December. He joined the firm nearly a decade ago, moving over from Lazard Asset Management's real estate investment banking group, and has been involved in over $18 billion in transactions.
Prior to being elevated, Zussman played a key role in the capital strategy, fundraising and financial management of Hudson Yards, including the $5 billion and $3.8 billion capitalizations of 30 Hudson Yards and 50 Hudson Yards, respectively, as well as The Shops & Restaurants at Hudson Yards.
"The most difficult thing about financing a project as large as Hudson Yards is really the size and scale," Zussman told CO in a pre-recorded interview. "The way we've approached it is by breaking it down into as many bite-sized pieces as possible. To date, we've closed about $20 billion in financing for the project, but to get there we had to have over 50 different financial institutions from 14 different countries."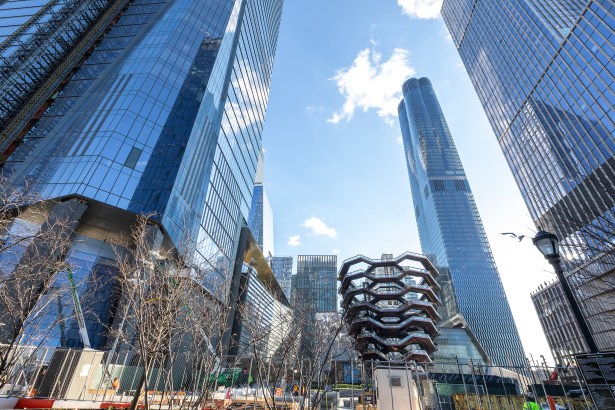 Gensler's Robin Klehr Avia took the Design of the Year Award for the firm's work on the redesign of the Ford Foundation Center for Social Justice, an architectural icon at 320 East 43rd Street that was originally designed by Roche-Dinkeloo and opened in 1968.
"The redesign of the building was necessary…and there was a requirement to bring the 50-year-old building into compliance with updated New York City safety codes," Avia said. "The renovation was carried out with an emphasis on architectural stewardship, accessibility and sustainability and advancing the foundation's social justice mission."
The design included the addition of a 2,000-square-foot, 20-foot-tall contemporary gallery dedicated to exploring issues of justice and injustice, she said.
Next up was Meyer Mintz, a tax partner and co-lead of the real estate practice at Berdon LLP, who announced 2018's Deal of the Year Award.
It was given to none other than the prolific pair of Douglas Harmon and Adam Spies from Cushman & Wakefield (CWK), who facilitated the much buzzed about $905 million sale of Starrett City—now called Spring Creek Towers—in May 2018. It was the largest multifamily portfolio deal since the sale of Stuyvesant Town-Peter Cooper Village in 2015, another deal in which Harmon brokered. (But the too-cool-for-school duo of Harmon and Spies didn't make it to the ceremony; C&W director Avery Silverstein accepted the award on their behalf.)
Brooksville Company and Rockpoint Group purchased the 46-building multifamily behemoth from Starrett City Associates, which had owned the 5,881-unit development since 1974. Harmon and Spies represented the seller in the deal.
"Starrett City was an attractive property because it had been fundamentally within the same ownership structure for 45 years, so it offered an opportunity for us to step in and really impact a lot of change across the community, both from a technological perspective as well as an infrastructure perspective as well as an operational perspective," said Brooksville president Andrew MacArthur. "The seller was very sensitive to the idea of doing a large public process as part of the marketing effort, but they were savvy enough to ensure that they had a couple legitimate buyers at the table. So, therefore you knew you really had to put your best foot forward."
The deal was structured to remain affordable, extending the Mitchell Lama restrictions to 2054 as well as its Section 8 subsidies to 2049; they discovered a mechanism within the debt that would allow them to trigger an automatic 20-year extension to the Section 8 restrictions, MacArthur said.
"Those two components guaranteed, from a regulatory perspective, continued affordability and subsidy," MacArthur said.
When the awards were done, the party continued. Some of the real estate industry's heaviest hitters—including Power 50 honorees Natixis' Greg Murphy, CCRE's Paul Vanderslice, Bank OZK (OZK)'s Rich Smith, Wells Fargo (WFC)'s Doug Mazer, Square Mile Capital Management's Jeff Fastov, TPG Real Estate Finance Trust's Greta Guggenheim and Invesco Real Estate (IVZ)'s Bert Crouch and Yorick Starr—networked the night away.
Even Trump administration appointee, Lynne Patton, who's been charged with watching over the New York City Housing Authority, showed up to mingle for a bit.
Hors d'oeuvres and the martini bar were sponsored by Himmel + Meringoff, and Stroock & Stroock & Lavan LLP provided a cigar rolling bar. 
30 Hudson Yards
,
320 East 43rd Street
,
50 Hudson Yards
,
Adam Spies
,
Andrew MacArthur
,
Avery Silverstein
,
Berdon LLP
,
Bert Crouch
,
Brooksville Company
,
CCRE
,
Chad Tredway
,
David Levinson
,
David Zussman
,
Doug Mazer
,
Douglas Harmon
,
Ford Foundation Center for Social Justice
,
Gensler
,
Greg Murphy
,
Greta Guggenheim
,
Jeff Fastov
,
Lazard Asset Management
,
Lynne Patton
,
Meyer Mintz
,
Natixis
,
New York City Housing Authority
,
Park Hyatt Hotel
,
Paul Vanderslice
,
Power 100 2019
,
Power 50 2019
,
Ric Clark
,
Rich Smith
,
Robin Klehr Avia
,
Roche-Dinkeloo
,
Rockpoint Group
,
slideshow
,
Spring Creek Towers
,
Square Mile Capital Management
,
Starrett City
,
Starrett City Associates
,
Steven Kaufman
,
Stuyvesant Town-Peter Cooper Village
,
TPG Real Estate Finance Trust
,
Yorick Starr
,
Bank OZK
,
Brookfield
,
Cushman & Wakefield
,
Himmel + Meringoff Properties
,
Invesco Real Estate
,
JPMorgan Chase
,
Kaufman Organization
,
L&L Holding Company
,
Related Companies
,
Stroock & Stroock & Lavan
,
Wells Fargo