The Contenders: The Next Generation of Fast-Casual Concepts to Expect Out of SoCal
---
---
No place in the country has been a greater creative incubator for fast-food brands than Southern California. McDonald's, Taco Bell, Baskin-Robbins and Panda Express—among many others—were all conceived in its sunny laboratory.
What's next from the Southland? The initial lab results are in, and the following are seven contenders from a plethora of purveyors of quick service, fast-casual concepts born and bred in Southern California that may be ripe for export to the rest of the country.
Mendocino Farms
Begun by a University of Southern California grad Mario Del Pero and his wife Ellen Chen in 2003, the "elevated" sandwich market has grown from its initial location in the Bunker Hill area of Downtown Los Angeles to 26 locations across California with two more in the works in San Diego and Carlsbad. The sandwich maker is now branching out of state with four new locations in Houston, Texas. According to Robert Ury, a senior managing director at RKF who reps the chain in Southern California, the sandwich market is also scouting locations in Arizona and potentially Denver.
"They saw a total void in terms of sandwich shops. At that point, it was kind of like neighborhood delis or the chain subs guys like Subway, Quiznos and Togo's, so [Del Pero] had this idea of bringing high-end restaurant quality ingredients and making sandwiches that are almost like deconstructed meals served between bread and introducing some interesting flavors like the pork belly banh mi as well as standard offerings and salads," Ury told Commercial Observer.
Gabe Kadosh, a vice president at Colliers International specializing in retail, also named Mendocino Farms in his tally of most likely to succeed. Aside from the quality of ingredients, he cited factors including the high level of employee training and service, as well as major venture capital funding courtesy of private equity giant TPG Capital, which acquired a majority stake in the fast casual chain for an undisclosed sum in 2017. (TPG bought its stake, in turn, from Greenwich, Conn. private equity firm L Catterton.) While the founders will remain the largest individual shareholders, Del Pero has stepped down as CEO with Harald Herrmann, former CEO for Yard House, now helming the enterprise, per a company release.
Tocaya Organica
An upscale successor to Taco Bell may just be this fast-casual chain dedicated to Modern Mexican cuisine, rooted in traditional Mexican recipes with locally sourced produce and a chef-driven menu.
The concept grew out of Toca Madera, a fine-dining Mexican restaurant in West Hollywood, which opened its first location in 2016 in Venice and was founded by Tosh Berman and Amrou Manaseer, according to Eater.
Currently, Tocaya Organica has more than a dozen locations largely in Southern California and Los Angeles with a growing presence in Scottsdale, Arizona, and more on the way, including the first international location of the original concept Toca Madera in Dubai this year.
The Los Angeles-based hospitality company behind Tocaya, The Madera Group, will be fueling the expansion through a $20.85 million capital investment received last fall from Breakwater Management, according to a company press release.
Kadosh breaks down the appeal of the Tocaya to the "whole vibe" of the restaurants and higher caliber ingredients.
"Their price point is a little bit higher [than Chipotle] because you're paying for organic, but they have a really good energy, eclectic décor and very open and lively spaces that really are appealing," he said.
Kadosh sees them succeeding outside of California—but not in every type of market.
"I look at other markets in the United States and not everyone is super healthy, but I do think in major metropolitan markets they can do well," he said.
Sugarfish by Sushi Nozawa
O.K., this one should come with an asterisk. Sugarfish—while cheaper than, say, dinner for two at Masa—is not going to be a $10 lunch. Plus, it has already stretched across coasts, with multiple locations in Los Angeles and two in New York City (one is in the Flatiron District and the second is in Soho). But its expansion has been progressing of late and we expect to see more.
Sugarfish was created by Chef Kazunori Nozawa and Jerry Greenberg in 2008 to take the food Nozawa was known for at his Studio City namesake restaurant and make it more accessible (and replicable).
Nozawa does not offer "American-style" rolls and fusion dishes, rather a streamlined offering of traditional sushi and hand rolls. By focusing on a limited number of items, the model goes against a traditional chain restaurant approach.
"Part of the common thought was you have to offer something for everyone to please everyone, like the Cheesecake Factory model, but it's kind of going against that. It definitely cuts down on overall food waste," Ury said. "You don't have to train people to make 100 different items. If you focus on only doing a couple of things in these restaurants and you use quality ingredients, the chances of you producing a delicious meal are higher than if you are trying to do that for 100 different things."
The menu at Sugarfish outposts are broken down into three categories (and price ranges), Trust Me Lite, Trust Me and The Nozawa Trust Me, as well as à la carte items.
The Sushi Nozawa Group's real estate strategy has been as deliberate as the pared down, largely pre-built combinations on the Sugarfish menu.
"They've expanded from a real estate standpoint very strategically—some might say slowly—over the years. They jumped out to New York for their next market, which would be very intimidating to a lot of restaurant groups from L.A.," Ury said about the restaurant enterprise behind Sugarfish.
"They've managed to hit the same sort of notes [in New York] that they have here. The price point is just right. It's not super cheap, but it's much more affordable than going to Nobu or Blue Ribbon and the food definitely satisfies," he said.
The restaurant group has branched out slightly with a hand-roll bar concept called KazuNori, which has three locations in Los Angeles; one in NoMad in New York City, HiHo Cheeseburger, which uses Wagyu beef in its offerings; and Uovo, which makes all their pasta by hand in Italy before flying it over to L.A., per Eater. Could HiHo Cheeseburger and Uovo be the McDonald's and Olive Garden of the 2020s?
Coolhaus
You may have spied Coolhaus products in your local Whole Foods or Safeway, or perhaps glimpsed one of the ice cream brand's mobile trucks or carts around New York, Dallas or Los Angeles. Known for its ice cream sandwiches named after architects and architectural movements in homage to the design and real estate backgrounds of its founders—there's the "Frank Berry," named after Frank Gehry, and a "Mintimalism" in homage to the Minimalism movement. The company has two scoop shops in Los Angeles, another in Dallas, a fleet of trucks and is sold at 6,000 retailers across the country.
The brainchild of Natasha Case, who studied architecture at Berkeley and got a master's in the field from UCLA, and Freya Estreller, a Cornell grad who worked in real estate development prior to founding the company in 2008, the hipster ice cream maker is a distinctively L.A. creation. The couple were in their mid-twenties when they decided to turn their hobby and occasional holiday craft fair offering into a business. A repurposed postal van and a debut at the Coachella Valley Music Festival (and resultant press coverage) the following April helped create buzz around the artisanal ice cream business, per CNBC, and the business has only continued to grow.
In 2009, Case and Estreller made $100,000.
"We thought we were rich. We couldn't believe it," Case told the news outlet. The next year, they made $650,000. In 2011, they opened their first shop, got a first round of investment from an angel investor and cracked $1 million in sales. The duo received its most recent undisclosed cash infusion from Sunrise Strategic Partners, a Boulder, Co.-based accelerator of emerging brands last year.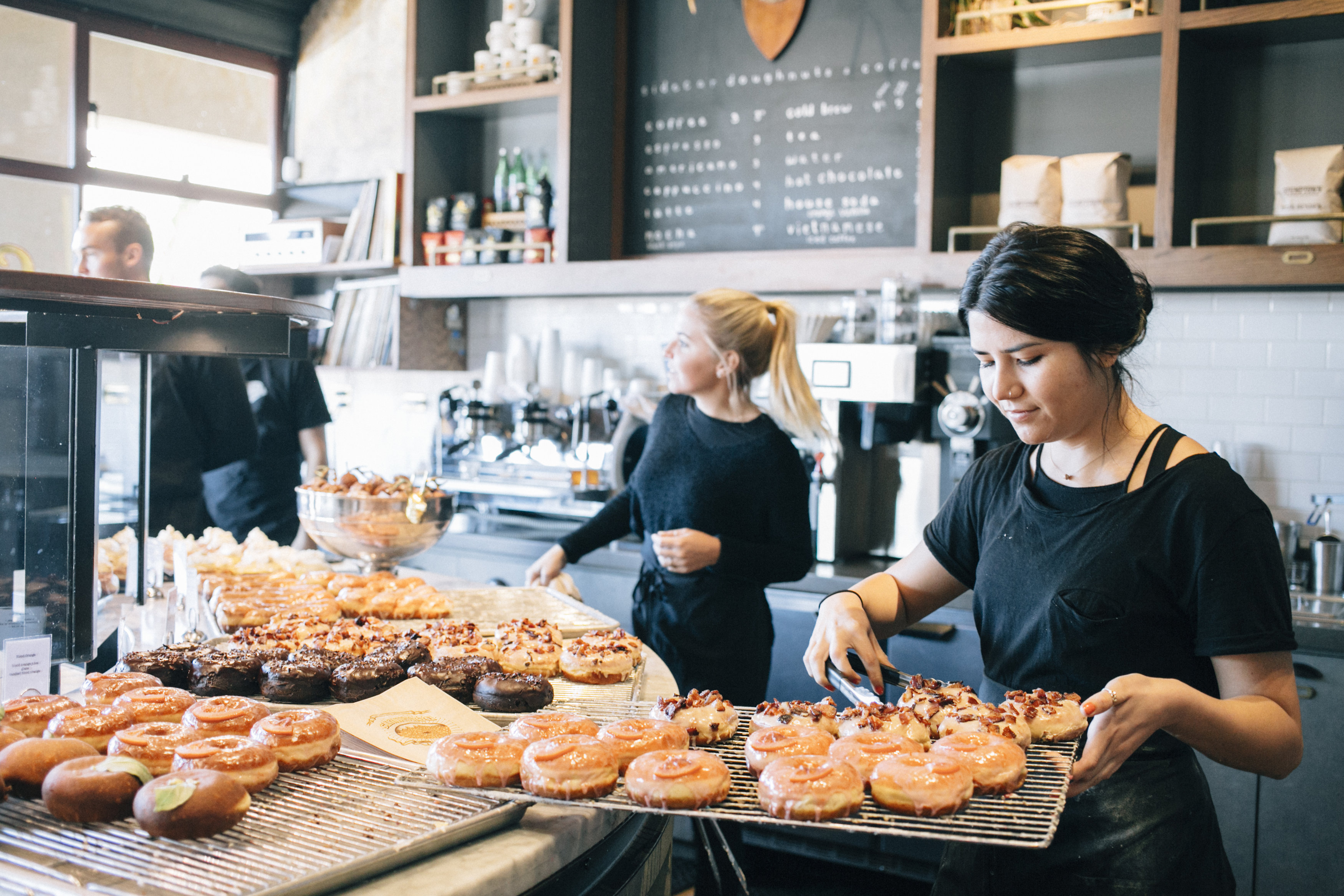 Sidecar Doughnuts
People have been lining up for the sweet and savory doughnuts at Sidecar—think huckleberry and Madagascar vanilla-glazed or basil eggs Benedict—since the original shop opened in Orange County's Costa Mesa in 2012. Married owners Sumter and Chi-Lin Pendergrast and Chef Brooke Desprez opened a second location in Santa Monica in 2015 and another in Del Mar. (Desprez has since left the enterprise.) They may not be a household name yet—like Randy's Donuts, for instance, which was established way back in 1953 and whose landmark giant-donut-topped drive-up restaurant in Inglewood has been featured in movies including Iron Man—but their products consistently make the top lists of media from the Los Angeles Times to Food & Wine (which named them a favorite on Instagram).
"There are some dessert places, that's a category I think there is room to grow like Sidecar," said Kadosh. "You watch the doughnuts being made, it goes to the [appeal] of an open kitchen and, if you haven't had them yet, you should. They're delicious."
Kreation Organic
It wouldn't be an L.A. list without a nod to the more health-conscious, and Kreation Organic is Ury's pick as an up-and-comer in the category. Created by Marjan Sarshar in 2007 as an organic full-service café with a Mediterranean-Persian menu on upscale Montana Avenue in Santa Monica, the enterprise has grown to include juiceries that include grab-and-go foods like sprouted garbanzo hummus and chia seed pudding, and cold-pressed juices and signature stores which offer the same, plus a smoothie and "koffee" bar. (Like another L.A. export, the Kardashians, Kreation stresses the "K".)
Kreation currently operates four full-service "kafes" and 13 juiceries and signature stores around Los Angeles, including the South Bay markets of El Segundo and Manhattan Beach. Last month, the organic juice, coffee and café group announced they will open three more signature stores in Silver Lake, Hollywood and the Arts District downtown, QSR reported, giving the company a total of 20 stores owned and operated in SoCal.
Ury said the concept gets it right in terms of its focus on healthy options, while not being too limited in its offerings like the now-defunct cold press juice company, Juice Served Here.
"They've done well by finding the right balance in the wellness category," said Ury.
Howlin' Rays
It sounds strange to say that Nashville hot chicken has taken over Los Angeles, but it's undoubtedly the case. Over the past three years, more than two dozen hot chicken restaurants, pop-ups and food trucks have opened in and around the city, per the Los Angeles Times. There's Angry Birdz, Raging Hot and one actually from Nashville, Gus's World Famous Fried Chicken. But one—L.A.-bred, Nashville-inspired Howlin' Rays—has become legend to Angelenos and, according to Ury, has the power to expand past its modest location at Far East Plaza in Chinatown, where it's been located since 2015.
Known as much for the lines that start well before the restaurant opens at 11 a.m. as for its food, Howlin' Rays was founded by Chef Johnny Ray and his wife Amanda Zone after Ray's first taste of the specialty in 2014 when he was at the Nashville outpost of Sean Brock's restaurant, Husk. It grew into an obsession, per Howlin' Ray's backgrounder. The duo started with a food truck before setting up more permanent digs. (As a courtesy, the restaurant's Twitter feed updates potential diners on the current wait times.)
Ury, who waited in line with a coworker for 80 minutes before getting a seat at the counter inside, said it was worth it, between the hospitality and overall atmosphere and experience.
"The person was super friendly who was taking the orders. They were playing hip-hop and everybody at the back of the house was rapping together and dancing a little bit. It's just very positive and happy vibe place," he said.
"The fact that you have to go to this dingy food hall or food court to get it and then there's this pot of gold at the end of this wonky rainbow is kind of a cool thing. It's like a sense of accomplishment, and you are so happy that you made it through plus the experience once you get there is so great that it just makes it that much more satisfying and people love to talk about it."
Overall, he said, Howlin' Rays and the other emerging brands that made his list of notable contenders share a common element.
"These concepts go beyond the food, obviously, and it becomes the experience, like retail has become the experience—everyone knows that about restaurants already. When you walk away from a meal, the way that you feel about it is not just about the food. It's the atmosphere, it's the service…it's how convenient it was to get there, to park and then it's the food," he said.
Amanda Zone
,
Angry Birdz
,
Baskin-Robbins
,
Berkeley
,
Blue Ribbon
,
Brooke Desprez
,
Cheesecake Factory
,
Chi-Lin Pendergrast
,
Coachella Valley Music and Arts Festival
,
Colliers International
,
Coolhaus
,
Ellen Chen
,
Food & Wine
,
Freya Estreller
,
Gabe Kadosh
,
Gus's World Famous Fried Chicken
,
Harald Herrmann
,
HiHo Cheeseburger
,
Howlin' Rays
,
Husk
,
Instagram
,
Jerry Greenberg
,
Johnny Ray
,
KazuNori
,
Kazunori Nozawa
,
Kreation Organic
,
L Catterton
,
Los Angeles Times
,
Mario Del Pero
,
Marjan Sarshar
,
Masa
,
McDonald's
,
Mendocino Farms
,
Natasha Case
,
Nobu
,
Panda Express
,
Raging Hot
,
Randy's Donuts
,
RKF
,
Robert Ury
,
Sean Brock
,
Sidecar Doughnuts
,
Sugarfish by Sushi Nozawa
,
Sumter Pendergrast
,
Sunrise Strategic Partners
,
Taco Bell
,
The Madera Group
,
The Sushi Nozawa Group
,
Toca Madera
,
Tocaya Organica
,
TPG Capital
,
UCLA
,
Uovo
,
Yard House