Presented By: Colliers International
Midtown South's Growing Sublet Supply
---
---
For the last decade, there hasn't been much room for office tenants in Midtown South. In the Manhattan market, where a 10 percent availability rate is generally the agreed upon equilibrium point, Midtown South's availability has been below 10 percent every quarter since the end of 2010. For comparison, both Downtown and Midtown's availability rates have been at or above 10 percent for nearly every quarter in roughly the same time span, with only a few exceptions.
However, while Midtown South's overall supply of available office space has remained tight for most of the last decade, there is one segment of the Midtown South's available inventory that has been growing: sublet space.
In Manhattan, a sublet market is considered "tight" when it makes up less than 20 percent of the overall available space. If a market has 1 million square feet available but less than 200,000 of it is sublet space, then it would be considered a "tight" sublet market. Once that share hits 25 percent, it would become what is considered a "glut" of available sublet space.
This is where we are with Midtown South, where sublet's share of availability is at 26.4 percent as of March 2019, up from 22.2 percent in March 2018. This was the first time since 2004 that Midtown South's sublet availability accounted for more than 25 percent of the total Midtown South available inventory.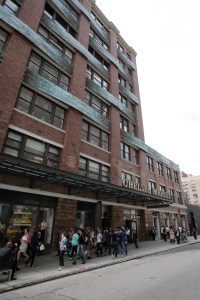 The reason is that several large (more than 100,000 square feet) and medium-sized (50,000-99,999 square feet) blocks of sublet space were listed in the last few months. This includes more than 500,000 square feet of Macy's space at 11 Penn Plaza, more than 100,000 square feet of MLB space at 75 Ninth Avenue and blocks of sublet spaces at 130 Fifth Avenue, Penn 2 and 601 West 26th Street.
Yet this isn't the first time Manhattan has experienced high volumes of sublet space. In the aftermath of the Sept. 11 terrorist attacks, as companies vacated Lower Manhattan the share of sublet space ballooned up to 48.9 percent of the Downtown availability rate by year-end 2001.
During the depths of the Great Recession, when firms were cutting back on expenses, shrinking their overall footprints by merging or otherwise folding, Midtown's sublet share of its overall availability grew to 31.6 percent by second quarter of 2009.
Normally, a glut of sublet space puts downward pressure on pricing since sublets are historically priced at a discount compared to direct space. Downtown saw the average asking rent drop more than 10 percent year-over-year after the Sept. 11 attacks. Following the Great Recession, Midtown's average asking rent plummeted 23 percent.
However, the current situation in Midtown South is a little different.
Despite the increase in supply, the overall asking rent average was a record $77.98 per square foot in the first quarter of 2019, a 9 percent increase from the last year. Surprisingly, the added sublet supply has not slowed the growth in the sublet asking rent average either. The most recent sublet asking rent average in Midtown South was a record $69.57 per square foot, 11.2 percent higher than a year ago.
Unlike other market cycles, in which an increased sublet supply was a canary in the coal mine for the health of the market, Midtown South's added sublet inventory has not detracted from the market's growth. The sub-10 percent overall availability rate and lack of options for tenants with sizable requirements has created landlord-favored conditions and that's being reflected in the asking rents.
As of the first quarter of 2019, pricing in Midtown South was only 6.3 percent cheaper than Midtown, which is a historic low. Additionally, Midtown South Class A, Class B and Class C product was priced higher than equivalent space in Midtown. Six of the top seven most expensive Manhattan submarkets were in Midtown South as of the first quarter of 2019.
Midtown South has also benefited from its undisputed position as the home of New York's Silicon Alley. More than 70 percent of tech leasing activity in 2018 was in Midtown South and all of Manhattan's top ten largest tech companies—Google, Facebook, Amazon, IBM Watson—have a footprint in Midtown South.
While not alarming, Midtown South's increased sublet supply is worth monitoring. But so far, the growth has not yet impacted pricing in Midtown South and, unlike other cases where increased sublet supply was linked to a downturn in the market, the number of sublet blocks might only impact the market in terms of providing a few more options for tenants as they explore the high-priced and supply-constrained Midtown South market.
Frank Wallach is senior managing director of the Research Group for the Tri-State Region of Colliers International. For questions about the data in this article, please email Frank or call him at (212) 716-3603.
Amazon
,
Colliers International
,
Downtown
,
Facebook
,
Frank Wallach
,
Google
,
Great Recession
,
IBM Watson
,
leases
,
Manhattan
,
Midtown
,
midtown south
,
New york city
,
Office Space
,
September 11 attacks
,
Sponsored
,
sponsored-link
,
sublet space