Disney's Magic Kingdom in Downtown Manhattan
With two moves in Gotham last year, Disney poised itself as a serious urban real estate presence. And there's probably more to come.
---
---
On June 15, 2018, the Walt Disney Co. closed on the sales of two Upper West Side campuses with nine parcels total for $1.155 billion. Silverstein Properties, the Manhattan developer perhaps best known for its World Trade Center towers, was the buyer of the Burbank, Calif.-based entertainment juggernaut's East Coast corporate and production hub.
At the same time, Disney also arranged with Silverstein to lease back the properties—which span what is essentially a contiguous complex from Central Park West to Columbus Avenue and includes 47 West 66th and 54 West 67th streets—for five years.
That was because, in the middle of those two deals, Disney had arranged a 99-year ground lease valued at $650 million for a collection of parcels bounded by Hudson, Varick, Spring and Vandam streets in Manhattan's Hudson Square. Disney is leasing the parcels—collectively known as 4 Hudson Square—from centuries-long owner Trinity Church and its minority partners and plans to build a massive headquarters there.
Got all that? We're not done yet.
According to analysts and brokers familiar with Disney, these Manhattan moves stemmed in large part from the company's $71 billion-plus acquisition of parts of 21st Century Fox and from its competition with the likes of Netflix, driving the expansion of Disney's streaming options produced in-house.
The moves also underscore just how big a scale Disney invests and develops on—and that its deal-making can open up opportunities for others.
A mouse that roars
The first rule of Disney real estate investment and development might be that there is no Disney real estate and investment.
The company itself declined repeated requests for comment and clarification on its holdings and plans. Brokers who've with the company in the past or familiar with its business dealings also declined to be quoted.
Silverstein Properties, Disney's Upper West Side buyer, declined to comment on any negotiations with the company. Eastdil Secured, the brokerage that represented Disney on the deals, also declined. And so did Trinity Church's real estate arm as well as Hines, one of the church's Houston-based partners in Hudson Square.
One broker familiar with Disney did describe the company as having a reputation in the commercial real estate industry as being far from mousey but rather a "very difficult client"—quickly adding that other entertainment conglomerates were not necessarily any easier to advise.
The company, like others, has been known to require nondisclosure agreements with its partners in real estate deals, and there is that obvious press shyness, which extends not only through Disney but also through those it retains for its business.
Another broker said that, despite its power, Disney had many of the same needs and faced many of the same challenges as other larger companies, especially those in technology and new media. Disney and its ilk need to be in urban areas where there tend to be deeper talent pools and the necessary infrastructure, including more modern commercial space—or the potential for such space—the broker said.
Disney CEO and Chairman Bob Iger said as much in a July 2018 statement on the Hudson Square-Upper West Side deals.
"This move represents an historic step forward toward our long-term vision for our New York operations," Iger said. "The Hudson Square district is rapidly becoming a dynamic, innovative hub for media, technology and other creative businesses."
He's right. Six months after Disney's deal, Google announced that it would lease space in Hudson Square as part of a 1.7-million-square-foot campus that its parent company, Alphabet, is planning in Manhattan. Other Hudson Square tenants include WNYC and Viacom.
Disney's campus will be a sprawling affair. It will eventually house the headquarters of ABC and its local affiliate WABC and will contain production studios and offices for shows, such as The View and Live With Kelly and Ryan.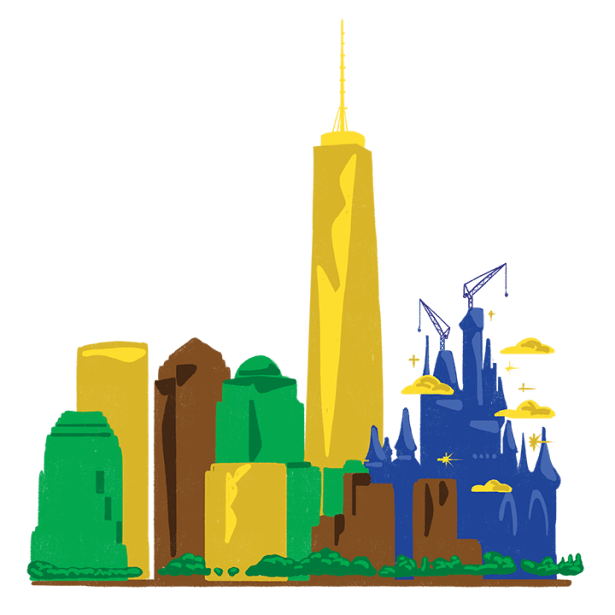 The ever-expanding kingdom
The Hudson Square development, which Disney said will take some five years to build out, will join myriad real estate holdings worldwide with most concentrated in the United States.
There are the theme parks, including the 28,000-acre Disney World in Orlando and the 500-acre Disneyland in Anaheim, Calif. There're also Disneyland Paris, Hong Kong Disneyland and Tokyo Disneyland. Within these and other theme parks are hotels, timeshares, condos and theme parks within theme parks, such as the 305-acre Epcot Center within Disney World.
In 2011, Disney opened the first parts of Golden Oak, a residential complex in Lake Buena Vista, Fla., next to Disney World. Its nearly 300 homes start at $2 million each. And within Golden Oak is the Four Seasons Private Residences Orlando, a collection of homes that the famed hotel brand services.
Then there's the 51-acre corporate and production hub in Burbank. Brothers Roy and Walt Disney bought the expanse from the city in 1938 for a $10,000 deposit and $100,000 total (in 1938 money), according to the official Disney fan club. The complex—its offices, sound stages and other facilities—serves as headquarters for a kaleidoscope of the publicly traded Walt Disney Company's subsidiaries, including Marvel Studios, Pixar, Touchstone, Disney Music, Lucasfilm and Walt Disney Studios Motion Pictures.
There are also hundreds of Disney retail stores worldwide—a 2015 announcement of a Shanghai opening pegged the total at around 310—including an approximately 51,000-square-foot one at 1540 Broadway in Times Square.
The company did not respond to requests to clarify its holdings beyond what was available in media reports, company statements and public filings. However, the bulk of Disney's real estate holdings appear to be in the Burbank and Manhattan corporate and production hubs as well as in and around the theme parks.
As for how much cash Disney might pull in from real estate trades, a Securities and Exchange Commission filing for the year ended Sept. 29, 2018, showed $601 million in pretax net income from sales of "real estate, property rights and other"—though most of that sprang from the Manhattan deals during the previous spring. Disney's market capitalization was more than $236 billion as of late April.
Joining the stream
The acquisition of the 21st Century Fox entities closed in March 20, nearly a year after Disney's Manhattan moves. Like with the company's real estate holdings, the Fox acquisitions now under the Disney umbrella are vast and varied.
They include 21st Century Fox's film production businesses, including Twentieth Century Fox and Fox Searchlight Pictures; its television creative units, including FX Productions and Twentieth Century Fox Television; and Fox's stake in Hulu, which along with Disney's existing one gives the company control of the subscriber-only streaming service.
The scope has analysts wondering about Disney's real estate needs going forward. The company is likely to open up and absorb space in its coastal hubs in Southern California and New York City in the coming years as it shuffles its newly swollen stable, one broker said. Call it a kind of spillover effect from a business colossus in transition from its traditional theme park and moviemaking roles to more digital and online production.
For instance, the Hudson Square complex is expected to host not only ABC but also Disney Streaming Services, which will move from space at Manhattan's Chelsea Market. That move will follow more imminent plans to launch a subscriber-only streaming service with original content, called Disney+, this fall. In anticipation, the company is slowly pulling its content from Netflix.
Netflix itself is planning to spend $100 million on expanding its New York City presence, including through a new production hub in Bushwick, Brooklyn. Netflix and state officials announced the expansion in late April, about a month after the Disney–21st Century Fox deal closed.
The timing was probably not a coincidence. Various media reports pit Disney's renewed efforts in digital media against those of Netflix as well as Amazon, which itself was recently—and famously—on the hunt for a lot more real estate.
Another part of the spillover effect is what might happen to 21st Century Fox properties now that Disney has absorbed so much of that company. One broker said that the more than 50-acre Century City lot in Los Angeles—which Fox retained in the Disney deal—could end up on the investment sales market, a prime candidate for redevelopment.
Irvine Co., which leases the complex to Fox, declined to comment, but Irvine's website says that the company "is committed to long-term ownership" of its assets, which, presumably, includes Century City.
Such trading could pay off handsomely for all involved. CBS in late December sold its 25-acre Television City headquarters in Los Angeles to Hackman Capital Partners, a developer based in L.A.
As for Disney, the speculation is sure to continue as it advances its Hudson Square plans, which will include demolition of existing buildings. As one broker put it, "There are a lot of question marks with Disney."