Presented By: Partner Insights
Office Leasing Blossoms in the Garden State
---
---
If 2018 was any indication, 2019 will see a strong and growing environment for office leasing in New Jersey.
"I think we're beginning to see a robust market," said Tim Sullivan, CEO of the New Jersey Economic Development Authority (NJEDA). "We're seeing lots of interest from companies outside of New Jersey in coming here and having lots of conversations with folks that are here about either extending or finding new spaces."
Cushman & Wakefield (CWK) took a deep dive into the Northern New Jersey office leasing market for Q4 2018 in their Marketbeat newsletter, and the results were encouraging.
According to the newsletter, "Leasing activity remained healthy in Northern New Jersey during the final quarter of 2018, fueling the market's second consecutive quarter of positive net absorption."
It continued, "Northern New Jersey posted its third straight quarter of 1.0 million square feet of new leasing activity. Annual demand finished 15.4% ahead of the 2017 figure as large transactions greater than 100,000 square feet propelled the total—six new leases of that size were inked while another four renewals were signed in 2018."
Marketbeat notes that the largest deal of the final quarter of 2018 in the market was "in the Hudson Waterfront where TD Ameritrade relocated to 70 Hudson Street for 207,000 square feet," and also cited Unique Designs' new 62,875-square-foot lease in Secaucus.
The strength of the market comes, in part, thanks to new developments across the state that are repurposing under-utilized resources.
Michael DeMarco, CEO of Mack-Cali Realty Corporation and one of the country's leading Real Estate Investment Trusts (REITs), went to high school in Jersey City. He and his friends used to play along the piers and docks at Harborside where cargo trains would ride straight through the buildings back in the mid-20th Century.
"This area was all industrial property for the transportation industry," said DeMarco. "Trains literally came into the building, and there's a roadway where trucks also came in. The floors are like a foot-and-a-half thick with rebar. You could run tanks on these floors."
Now, the company he runs owns the complex and just handled its $75 million renovation, re-igniting the massive development for the first time since its industrial and transportation uses trailed off in the 1980s. Mack-Cali has turned Harborside into a mixed-use community that dominates its sector of the Northern New Jersey office leasing market.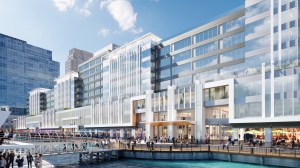 The centerpiece of the Harborside community, which the company is promoting as "its own waterfront city," is made up of six Class A office buildings totaling 4.3 million-square-feet of office space, with another 1.2 million on the way.
The complex has been a rousing success. DeMarco reported at the end of 2018 that "Mack-Cali garnered 53 percent of all Waterfront leasing during the year, far exceeding our 29 percent market share."
He also notes that as New Jersey grows as an office market, rates have risen accordingly.
"We've gotten much higher rates over the last few years," he said. "I started in the high-20s, low-30s per square foot, now we get in the high 30s [to] low 40s. That's a big increase. You're talking 30 percent in the last few years."
DeMarco attributes the company's success in office leasing to the plentiful amenities included in the Harborside community.
Harborside was built so that people working there theoretically never have to leave. It includes Jersey City URBY, a 69-story apartment building offering amenities like custom closets and panoramic views. Those in the community also have access to a food hall, an event space, and a wide variety of shopping and dining options including restaurants from celebrity chefs Leah Cohen and David Malbequi, and an Ample Hills Creamery.
"We've started to regenerate the space to make it look more and more like something you'd see in New York City," said DeMarco. "We added a ferry line. We have the Lutze Biergarten, which is probably one of the more popular places in New Jersey in the summertime. We added a food hall with 15 different vendors. We've added tables and chairs along the Hudson that seat around 800. There's food trucks, places to eat inside, music—it's a cool space."
The strength of the New Jersey office market in such developments has been helped along by assistance from the state, which is doing its part through incentives.
"We rolled out a new program over the summer to provide rent support for young, growing companies that want to be in collaborative coworking spaces, and that's been an early success," said Sullivan. "We're really focused on how we grow and seed the start-up and innovation-driven parts of our economy."
That program is NJ Ignite, an "incubator and collaborative workspace rent initiative," according to the NJEDA website, that supports "rent of early stage technology and life science companies in New Jersey collaborative workspaces." The program covers rent for a period of two, four, or six months, with the workspace matching the grant on a 1:2 basis (i.e. if NJEDA covers two months of a young company's rent, the host workspace must cover one additional month). If the space in question is "in an opportunity zone, affiliated with a hospital system or New Jersey university, or is recently established," then the company gets an additional month of support.
"Research shows that the likelihood of success for a young startup in a collaborative work space or an incubator or accelerator is substantially higher—you're something like twice as likely to make it if you're in one of these spaces," said Sullivan. "So, we want to encourage more companies to get into these spaces in New Jersey."
The NJEDA website has a list of requirements for both new companies and workspaces, as well as a list of eligible workspaces in the state.
This is just one tactic the agency is using to help grow New Jersey business. The 21st Century Redevelopment Program, another NJEDA program, will provide grants up to $50,000 for the modernization and redevelopment of out-of-date suburban office parks or shopping malls. The state is also developing tax credit incentives that will target "high-growth, high-wage industries like technology, life sciences, advanced manufacturing, clean energy," and more.
In late February, the NJEDA announced the first company to benefit from NJ Ignite: a medical device start-up called Carbon22, which recently moved into a "flex" office space at Building 78 of the Kearny Point development in Kearny, NJ. Kearny Point is located in an opportunity zone, allowing it to provide extra rent support to its NJ Ignite businesses.
The Kearny Point development is another seeking to revitalize office leasing in NJ. The 130-acre development is being built on the site of the old Federal Shipbuilding and Drydock Company, where over 50,000 people worked in the first half of the 20th century. Now, after years of underuse or outright dormancy, the Hugo Neu Corporation is reactivating up to four million square feet of industrial space there for office use, with the intent to host over 10,000 jobs.
The complex is focusing on office tenants with short-term and flexible commitment needs, offering creative flex office spaces and a co-working facility called Kearny Works.
Kearny Point's first building, Building 78, will occupy 240,000 square feet over two stories when completed this October. It's already at 99 percent capacity, hosting 220 separate businesses occupying anywhere from 120 to 10,000 square feet, mostly on leases no longer than one year.
Steve Nislick, CFO of Hugo Neu, estimates that around 15 percent of his current tenant base comes from small businesses fleeing the high prices of New York City, and he hopes to see that number rise in the months and years to come.
"A number of our tenants have operations in the industrial park but have their main headquarters in Manhattan. We're trying to break that chain," Nislick said. "I think over time we'll be successful."
Nislick notes that so far, smaller and more non-conventional tenants are more likely to bring their entire operation to New Jersey, as they're less attached to the perceived prestige of a Manhattan or Brooklyn headquarters.
"We have a lot of smaller tenants moving over from Manhattan, including co-working tenants and one or two office tenants," Nislick said. "We have a tenant from California who was deciding between Manhattan and us, and he choose us. We just moved in a tenant from New Hampshire who was thinking of opening a New York office but didn't want to spend the money and found our rate more than acceptable. There's a lot of that going on."
DeMarco, too, has noticed an increasing influx of tenants escaping New York prices and remaining unconcerned about any possible loss of prestige.
"If you look at the market, you have a great number of New York tenants that have moved over," he said. "I would say a predominant number of tenants are New York City companies, and also a decent percentage of New Jersey companies that wanted to move closer to Manhattan but not be in Manhattan."
DeMarco notes that prominent players who have committed to New Jersey of late include Pearson Publishing, which had planned in 2012 to move from Upper Saddle River and Old Tappan, N.J., into Manhattan, but chose instead to move its 900 jobs to Hoboken after receiving a $82.5 million tax credit from the state. JP Morgan Chase, relocated offices from Manhattan to Jersey City in a tax credit deal that would include the creation of 1,000 new jobs.
Less expensive leasing rates and tax advantages are just a few reasons companies are looking into moving to New Jersey.
"It's the standard of living," said DeMarco. "You can live in New Jersey, be very close to Manhattan, and still have access to all the public transportation. You can get to Newark Airport relatively easily, and Amtrak takes you to Philly or D.C. I also think New Jersey has one of the best education systems in the country because there are a lot of small towns. You lack the problems you have in bigger economic areas, where you have towns with 300,000 or 400,000 people, which is common in New York State."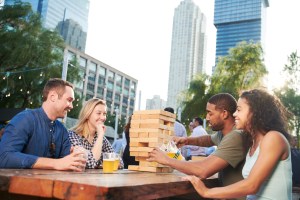 "Increasingly, companies are following talent, and in-demand talent want a mixed-use, walkable environment for work, with amenities beyond just the cafeteria or the gym," said Sullivan. "They want a choice of where to go to lunch, or to be able to walk around, and to have collaborative workspaces and open floor plans, those kinds of things. New Jersey is a mix of suburban, rural, and urban environments that is increasingly appealing to companies."
Nislick sees several ways to attract companies to his development, with Ignite NJ being just one exciting innovation.
"NJ Ignite is a great program," he said. "This is what New Jersey should be doing more of to effectively compete with New York."
But Nislick also plans a larger marketing push in the months ahead to show New York companies all they can gain from a move to New Jersey.
"It's not fully matured because we're almost 100 percent full right now, but we'll be making a big push in two, three months," he said. "We're represented by Cushman & Wakefield. We're expecting them to bring larger tenants, and hopefully some of those will come out of Brooklyn or Manhattan. We'll have a very strong internet presence, as we do now, and we have a beautiful marketing suite. We'll be doing advertising, we'll have broker events. It'll be traditional and non-traditional, and I predict we'll be successful on both ends."
The odds for this seem high. The message emanating from New Jersey these days is that for companies seeking an affordable and livable place for their employees, New Jersey is increasingly being recognized as a viable alternative to the hustle and bustle of New York City.
"I think New Jersey is wide open for business," Sullivan said. "Governor [Phil] Murphy is laser-focused on growing the innovation economy, and we're trying to spread the message as wide as possible that New Jersey is a great place to bring your investment."
70 Hudson Street
,
Ample Hills Creamery
,
Brooklyn
,
David Malbequi
,
Drydock Company
,
Governor Phil Murphy
,
Harborside
,
Hudson Waterfront
,
Hugo Neu Corporation
,
Jersey City
,
Kearny
,
Kearny Point
,
Leah Cohen
,
leasing
,
Mack-Cali Realty Corporation
,
Michael DeMarco
,
New Jersey
,
New Jersey Economic Development Authority
,
New york city
,
NJ
,
office
,
Real Estate Investment Trusts
,
Sponsored
,
sponsored-link
,
Steve Nislick
,
Tim Sullivan
,
Cushman & Wakefield