Presented By: Mack-Cali
Harborside: The Premier NYC Office and Residential Alternative on NJ's Gold Coast
---
---
In 2015, Mack-Cali Realty Corporation—the largest office landlord in New Jersey—announced plans for a drastic consolidation of its suburban office portfolio in the state, instead focusing both its efforts and its capital on investing in a $75-million multi-phase improvement plan for its 4.3-million-square-foot Harborside portfolio along the Jersey City waterfront. Harborside has since been completely transformed, and what was formerly a disconnected group of office "fortresses" just four years ago has become a connected, walkable cultural district that attracts urban workers and renters alike.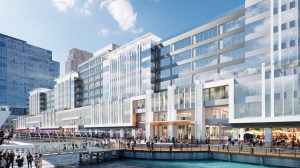 The reimagined Harborside neighborhood blends premier offices, luxury living, locally-inspired shopping and dining, and new public spaces for the community. Within its office properties, Mack-Cali recently completed significant enhancements to the building lobbies, highlighted by new pedestrian routes with built-in lounge areas that have been refinished with a raw industrial aesthetic that pays homage to Harborside's industrial past. Features include dark metal finishes that directly reference the railroads and intricately detailed wood planks that reference the shipping piers. Glass walls at the elevator banks now provide increased natural light and spectacular views of the Hudson River and New York City.
Mack-Cali has also partnered with Art House Productions—the longest-running professional theater and arts space in Jersey City that was built in response to the events of September 11, 2001—on the creation of two different panorama photography displays of the Pulaski Skyway. Now hanging eight feet tall and 80 feet wide in the lobbies of Harborside 2 and Harborside 3, both panorama images were taken by Jersey City-based photographer Joe Velez, who was commissioned by Art House Productions.
Other office property upgrades that are currently underway include the overhaul of the Harborside food hall (to be completed in early 2019) into a grand marketplace featuring renowned local restaurant pop-ups, with a new interior design that reflects the themes of openness and efficiency. The company will also be reskinning the exteriors of all of Harborside's buildings.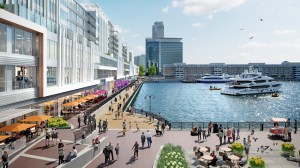 It's already clear that the decision to invest in the capital transformation of Harborside was prudent: When Mack-Cali reported its 2018 office leasing activity earlier this year, the company announced that Harborside garnered 53% of all Jersey City Waterfront leasing during 2018—far exceeding its 29% market share. While Mack-Cali has certainly charted a course for Harborside as a sought-after office hub for major corporations, it has also—and perhaps more importantly—catalyzed the Jersey City waterfront's continued evolution into an easily-accessible destination on the banks of the Hudson River. Under the direction of Mack-Cali Chief Executive Officer Michael J. DeMarco, the visionary driving the Harborside transformation, the company has made it a priority to invest in and create beautiful indoor and outdoor public spaces that benefit Harborside's tenants, the broader Jersey City community, and now the daily visitors that come from throughout the surrounding region.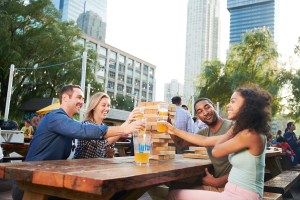 In 2017, NY Waterway celebrated the opening of its new public ferry terminal at Harborside, for which Mack-Cali invested in the necessary docking infrastructure. The ferry service has successfully supported Mack-Cali's goal of ensuring seamless connectivity between Harborside, Hudson Yards and the World Trade Center. That same year, the company contributed to Harborside's dining and lifestyle scene, bringing offerings like famed New York City chef Leah Cohen's Piggyback Bar and the uber-popular Lutze beer garden to the neighborhood. With the weather finally warming up, Lutze–now celebrating its third season at Harborside—will be packed with residents and workers alike who can take in the scenic views while sipping artisanal beers. And just last year, the company unveiled its new dog park and children's playground at Harborside, which has been a game-changer for pet owners and families that live and work in the community.
Mack-Cali is also in the midst of reinventing the Harborside Atrium, which now doubles as a cultural space that hosts music, dance, art performances and 'foodie' fests. The company has placed an emphasis on curating events there that cater to the young, vibrant office and residential communities. From movie nights and concert series, weekly yoga, whiskey and beer festivals, to art by the water, there are gatherings that appeal to all interests.
With all of these upgrades, Mack-Cali's residential offerings at Harborside have been created to meet the same standards, and the response from renters has been swift. Buildings like M2 and Marbella offer a collection of 723 luxury apartment homes connected by a 16,000-square-foot landscaped sky terrace with a swimming pool and sweeping views. Nearby, the 50-story Monaco tower offers everything from cozy studios to expansive three-bedroom apartments. And down the street, Jersey City's most iconic residential tower, URBY, combines a boutique hotel personality with imaginative architectural design to create a fresh new standard for apartment living. Each of these buildings are close to every mode of transportation—PATH, NY Waterway Ferry at Harborside, Light Rail, and Citi Bike—with ample parking nearby.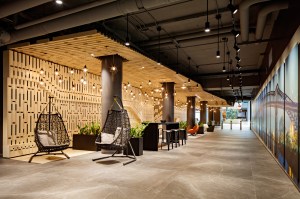 For corporations and residents from throughout the region that value the urban waterfront lifestyle but are either looking to escape the crammed quarters of New York City or are in search of more accessibly-priced office space or apartments, Harborside has emerged as the premier alternative on New Jersey's Gold Coast. The capital transformation has facilitated far greater connectivity at Harborside, activated the waterfront, energized the neighborhood, and created a seamless experience for residents, workers, and visitors.
Citi Bike
,
Harborside
,
Hudson River
,
Jersey City
,
Leah Cohen
,
Light Rail
,
Lutze
,
Mack Cali
,
Michael J. DeMarco
,
New Jersey
,
New york city
,
NY Waterway Ferry
,
PATH
,
Piggyback Bar
,
Sponsored
,
sponsored-link