Presented By: SL Green Realty Corp.
Best-in-Class Gets Even Better
---
---
New York City has never been more popular for business. This might seem an obvious statement, but on the back of a strong economy and job growth, 2018 was a record-setting year for Manhattan's office leasing market. With 4.4 million private sector workers, the highest level on record, the city is undergoing its largest and longest job expansion since World War II. Developers across the city reacted swiftly to meet the demand for office space, leasing a record 36 million square feet, including Deutsche Bank's recent 1-million-square-foot signing in Midtown.
Unsurprisingly, the Midtown market attracted the majority of large-block transactions totaling over 100,000 square feet and saw the most leasing success across the city. Businesses continue to recognize that Midtown has the most desirable office stock and selection of amenities for their employees. Anchored by Grand Central Terminal and its abundance of shops and restaurants, a Midtown address also offers employees tremendous public transportation options throughout the city and tri-state region via Metro-North Railroad and five east side subway lines. For commuters making their way into and around Manhattan, Grand Central Terminal is the easiest, most convenient option.
That's why SL Green Realty Corp., New York City's largest office landlord, with its industry-leading portfolio of Class A office buildings, is primed to meet growing consumer demand. In the heart of Midtown is 750 Third Avenue, where SL Green is planning a significant capital investment program to upgrade the building with new destination dispatch elevators, convert roof set-backs into usable tenant terraces, replace all the building's windows, and renovate common areas, bathrooms and corridors.
Standing 35-stories tall, 750 Third Avenue offers tenants an unmatched set of amenities, including a 100-car on-site parking garage, a grand three-story atrium entrance lined with marble and granite, and tower floors with views of the East River. Additionally, the building is LEED Gold, ENERGY STAR rated and has been recognized for its green infrastructure and commitment to sustainability, receiving the prestigious BOMA 360 Award.
"SL Green's capital plan for 750 Third Avenue is indicative of our commitment to offering companies best-in-class office space to help meet their growing business needs while also implementing industry-leading sustainability measures," said Steven Durels, executive vice president and director of leasing and real property of SL Green Realty Corp.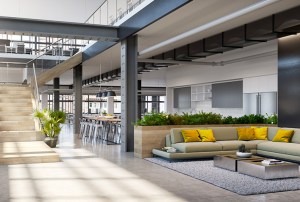 The building is home to leading firms, including FTI Consulting, an independent global business advisory firm, and Sompo International, a wholly-owned subsidiary of Sompo Holdings, Inc., whose core business encompasses one of the largest property and casualty insurance groups in the Japanese domestic market.
Beyond 750 Third, SL Green is modernizing Midtown by developing some of the most exciting projects in New York City. The firm is constructing One Vanderbilt Avenue, the East Midtown office tower slated to open next year, and revitalizing One Madison Avenue in the Flatiron District, both of which will offer state-of-art amenities in the city's most iconic locations.
SL Green is committed to investing in new developments and renovating current assets to ensure Midtown can meet the accelerating demand for office space. The firm's 750 Third Avenue capital project is a prime example, as the building offers large floor plates, access to multiple modes of transportation, and amenities that will host exclusive clients and guests. The investment in 750 Third Avenue is just one of the many ways SL Green is staying ahead of the curve in the forever-changing Midtown submarket.
750 Third Avenue
,
Deutsche Bank
,
East Midtown office tower
,
East River
,
Energy Star
,
Flatiron District
,
FTI Consulting
,
Grand Central Terminal
,
LEED Gold
,
Manhattan
,
Metro-North Railroad
,
Midtown
,
New york city
,
One Madison Avenue
,
One Vanderbilt Avenue
,
Sponsored
,
sponsored-link
,
Steven Durels