A More Affordable Billionaires' Row: Allen Gross' $420M Bet on the Parker New York
The Parker New York hotel is gearing up to reimagine itself with a facelift that includes 67 semi-affordable luxury condos (plus two really expensive ones)
---
---
GFI Capital Resources Group and Elliott Management Corporation made a $420 million bet on Billionaires' Row last week, acquiring the Parker New York with plans to renovate the 38-year-old hotel and build 67 luxury condominiums on top of its 729 rooms. Bank OZK financed the purchase with a $350 million debt package.
The Central Park South area has seen a slew of luxury condos cropping up over the past few years, from Extell Development's One57 (also home to the high-end Park Hyatt New York) and Central Park Tower to JDS Development's 111 West 57th Street. It's also been the poster child for "luxury condo market slowdown" headlines, with an oversupply of eye-wateringly expensive inventory.
But, GFI and Elliott aren't following the path of other developers who have aimed for the ultra-ultra-luxury condo market. Instead, the new owners of the Parker are carving out their own niche, offering more affordable units (by Billionaires' Row standards) coupled with the perks of hotel living.
"We came up with a new concept, and it's probably unique for the 57th Street market," Allen Gross, GFI's chairman and CEO, told Commercial Observer in an interview at his office during the snow squall last week. "Most of our units are going to be small—between 500 and 800 square feet—and you're going to be able to buy a condo starting at $1.5 million, which is unheard of in that market. When I see people selling condos for $40 million, $50 million, $200 million? We're not interested in that."
The exception to the affordability rule? Two 4,000-square-foot condo units at the top of the building with 10,000 square feet of outdoor space between them overlooking Central Park. Those two will fetch north of $20 million ("Their outdoor hot tubs will start at $1.5 million," Gross said with a laugh.)
Parker New York's starting numbers, although still pricey by the city's wider standards, will give GFI's condo units a vastly lower price per square foot than neighboring buildings on Billionaires' Row.
A 500-square-foot, $1.5 million apartment amounts to about $3,000 per square foot, a bargain compared to the $6,500 per square foot being asked nearby at 111 West 57th Street. However, it's still well above the average price per square foot in Manhattan, which was $1,609 in the fourth quarter of 2018 and $2,630 for the luxury market, according to a Douglas Elliman report.
Granted, units in the Parker New York are also smaller than ones in neighboring buildings, where 500 square feet is sometimes set aside for "servant's quarters" in them, according to Jonathan Miller, the president of residential appraisal and consulting firm Miller Samuel.
Still, brokers said the location of Gross's new development and the relatively low price will make it an easy sell to plenty of first-time buyers who follow the advice of "buy the cheapest house on the best street."
"I would introduce my entry-level clients to it by letting them know there's homes with four to six times greater prices near theirs," said Nikki Field, an associate broker at Sotheby's International Realty who has sold plenty of units on Billionaires' Row. "I think it's a smart move."
Adelaide Polsinelli, the vice chair of commercial investment sales at Compass, said Gross scored a good deal with the purchase and called his condo pricing strategy "genius."
"We see a lot of activity in the under $5 million range, that's where all the action is happening right now," she said. "If the finishes are of a luxury scale, this will be a bargain for some people."
Both Polsinelli and Field agreed that those marketing $20 million and above condos in the neighborhood shouldn't have to worry about competition from the new development because they'll attract vastly different buyers.
"We're talking about two different markets: entry level versus Forbes high-end billionaires," said Field. "They buy the best, they buy the most expensive and I certainly don't see another location in Manhattan competing with this."
GFI and Elliott are no strangers to developing successful properties that comprise both hotel rooms and luxury condos—case and point The Beekman hotel (which won the Conde Nast Traveler Readers' Choice Award in October 2018).
Further, uniqueness and an appreciation of different eras is a trademark of GFI's hotels. For example, each room in its Ace Hotel in NoMad includes a guitar and a record player (with 5,000 records available to borrow at reception) and guests enter the property through what once were Macy's original doors.  
But, the real key to its success, Gross said, is that every hotel must have certain intangibles.
"I look for a story and what I can add to that story—another chapter. It can't be a closed book," he said. "You go to the Beekman and you're transported to a different era while having drinks in its atrium. We see the Parker as another story. It was what the 1980s were and now we're going to celebrate it; we're restoring this hotel to that greatness. Of course, we're going to modernize it and bring everything up to date, but are we going to put robots in there? No—because everything is about service." Plus a robot can't make a decent martini.
GFI and Elliott acquired the Parker New York from the estate of the late developer Jack Parker after scouting potential hotel acquisitions for some time. In particular, GFI was seeking a property further uptown to complement its downtown Beekman Hotel and its James Hotel and Ace Hotel in NoMad and give its guests some choices.
So, when the opportunity to buy the Parker arose, it was too good to pass up. The acquisition process began in June 2018, with GFI and Elliott facing buyer competition for the asset—although the 729-key hotel's size knocked some competitors out of the running.
"It's like anything else," Gross said. "You have to be able to take a bite, chew it and swallow.  Not everyone can take a hotel this big at a big price; you have to be able to really digest it."
Newmark Knight Frank's James Kuhn, Lawrence Wolfe and Adam Etra represented the sellers in the purchase, while the buyers didn't have representation.
GFI ultimately won the bid not because it offered the highest price—it didn't, according to Gross—but the Parker family knew GFI's reputation and that the new owners would bring honor to the Parker name through continuing to run the hotel to the highest of standards. "To us that's important because [Jack Parker] was one of the great builders of New York," Gross said.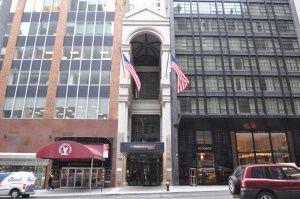 Eighteen lenders—a mix of traditional and alternative—competed for the acquisition financing, with Bank OZK as the ultimate victor (and David Sarner, an executive vice president at the bank, leading the deal).
NKF Capital Markets' Dustin Stolly, Jordan Roeschlaub and Nick Scribani negotiated the debt.
"The process was extraordinarily competitive," Stolly said. "We were very surprised by the depth of interest in the project, but Allen and the Elliott team did a fantastic job of navigating a situation where they had a time-is-of-the-essence closing. During that short timeframe they pulled together a pretty substantial business plan and budget for what they were going to do with the hotel."
GFI had multiple options at different leverage points, Stolly continued, but Bank OZK had the competitive edge: "[Bank OZK's] core business is construction lending, and there were certain structural features in their deal that helped them separate themselves from other lenders in giving the sponsorship what it needed to successfully execute its business plan in the future," he said.
"Bank OZK ultimately won it because they fought the hardest," Gross said. "It's not only about money; you want to work with a lender that really wants the asset—and Bank OZK was that."
Along with its significant expertise in construction lending, the Arkansas-based lender proved its commitment to the deal by offering GFI flexibility and responsiveness. "Every time we called with an issue they'd tell us, 'Don't worry, we're not changing the rate! The rate is the rate, we're not re-trading you,' " Gross said. (Bank OZK declined to comment on the deal).
The $350 million debt package was ultimately structured as a $250 million acquisition loan and a $100 million renovation loan.
"It isn't typical that an acquisition and construction facility is bundled; it normally would be a two-phase loan," Stolly said. "But because of the profile of the sponsorship and the high-profile nature of the asset we were able to drive a competitive process and provide one facility in a one-stop shop."
"What I didn't want to happen was for us to pay the loan down from the sales of the condos and all of a sudden have to refinance the hotel," Gross said. "I wanted the financing to stay at a certain amount on the hotel. He added that GFI utilized the same loan structure when it acquired the Beekman. "A lot of banks have wrapped their head around this [concept]; it means they're staying with the loan for longer, but by the time the construction is finished all of the risk is out of the deal anyway and we have cash flow."
When the deal closed, the buyers celebrated—how else—with burgers from the hotel's famed Burger Joint (Gross' burger was Kosher, he noted).
GFI's partnership with multi-billion-dollar hedge fund Elliott dates back to 2011, and the two firms have a solid appreciation for one another's strengths in transactions, Gross said. GFI leads development and design and Elliott is responsible for lender and financing decisions. "I opine, but they are the ones who are better positioned to tell me what's going to happen with the economy over the next couple of years," Gross said. (Officials at Elliott Management didn't respond to requests for comment).
The two firms are proving their unique hotel and condo business model works. GFI and Elliott's Beekman Hotel (at 123 Nassau Street) includes 68 apartments—The Beekman Residences—of which only three remain available for purchase today. In a strained time for luxury condo sales, Gross is often asked how they have been so successful.
"The answer is because we never sell to investors," Gross said. "If someone comes and says, 'I want to buy four units,' well…they're going to have to find another building to buy them in. I want people to live there or at least spend time there. I don't want to have a dark building."
Additionally, GFI's primary goal is to make his units sellable and to differentiate them from nearby competitors' product—enter hotel living, complete with room service, housekeeping and hotel amenities.
The Parker condos are being designed by Thomas Juul-Hansen, or Mr. 57th Street, as Gross calls him due to the fact that he "knows the block better than anyone." The developers expect the 48 units priced between $1.5 and $2.5 million to fly off the shelf, but even if they don't  "you'll always have people who want to own something in the city," Gross said.  
"If you think about Billionaires' Row, the inventory in that corridor is ultra luxury, high-price-tag apartments that don't start anywhere close to $1.5 billion, so selling apartments at that price point that could potentially be put back into the hotel key count when not being used is a differentiator from the condo perspective because they are lower priced product in the same location; there is really nothing else like this product in that area," Stolly said.
With the inclusion of the condos, the Parker's number of hotel rooms will be reduced to 630, further broken down into two hotels; a 500-key four-star hotel and a 130-key four-and-a-half-star hotel. The latter component will have a more luxurious feel and feature higher-end features and separate floors, check-in desks and elevators. "That will help us build the rate and also give people something interesting," Gross explained.  
The Parker New York also has personal sentimental significance for the GFI CEO.
"I remember during the days I used to date—which was yesterday [laughs]—we used to go there for drinks, that's where we always ended up," he said.  Gross was attending New York University's law school at night—starting in 1977—and the hotel was a convenient place to stop for a cocktail. "You either went to the Parker or the Plaza, we worked that whole area. To me, it brings back my past—but now we're taking it forward from the 1980s to 2019."
As for the redevelopment, this year is the most important to Gross, because it's the year that nothing physically happens, but rather the year of planning and design before construction begins in 2020. "We just gave birth, and we have to appreciate this baby and hug it and smile on it a little bit—and then we're ready to begin," he said.
Additional reporting by Nicholas Rizzi.
Adam Etra
,
Adelaide Polsinelli
,
Allen Gross
,
Bank OZK
,
Dustin Stolly
,
Elliott Management Corporation
,
GFI Capital Resources Group
,
James Kuhn
,
Jonathan Miller
,
Jordan Roeschluab
,
Lawrence Wolfe
,
New York featured
,
Newmark Knight Frank
,
Nikki Field
,
Parker New York
,
The Beekman Hotel