Winick's Aaron Fishbein and Steven Baker on Paying LIC Attention Before Amazon Did
Since 2011, Winick's Aaron Fishbein and Steven Baker have been focused on Long Island City, Queens. With Amazon's recent announcement, this is their moment to shine.
---
---
Years before all eyes were on Long Island City, Queens, Winick Realty's Aaron Fishbein was canvassing the neighborhood, mapping out buildings and vacant retail space.
"No brokers were focused on it," Fishbein, a director at the company, said. "I was walking the streets with pen and paper and just creating that infrastructure."
Nearly a decade after Winick Realty President, Steven Baker, created a five-person brokerage team (based in Manhattan) to focus on LIC, the hard work might soon pay off. Last month, Amazon selected the western neighborhood of Queens to house its second headquarters along with one in the Arlington Va., area.
Amazon is expected to bring 25,000 workers to LIC daily, house them in up to 4 million square feet and invest $5 billion to get up and running. The news has created a huge amount of buzz in the waterfront neighborhood and sent demands for residential condominium units skyrocketing, with reports of buyers closing deals sight unseen through text messages.
While Baker and Fishbein haven't leased space through text messages (they only lease commercial space), they have been inundated with requests from retailers of all types—from small restaurants to national chains—hoping to open up before Amazon HQ2 gets there in 2020.
"The Amazon announcement really kind of created a sense of urgency," Fishbein, 29, said.
"They were kicking tires for a period of time," Baker, 48, added. "It's going to be a decision-making factor."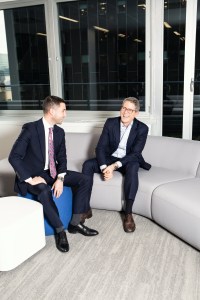 And even as other brokers turn their attention to the waterfront neighborhood, Baker and Fishbein's years of doing deals in LIC have them poised to retain leasing assignments from landlords who remember that they were pounding the pavement in LIC at a time when other brokers wouldn't ride the 7 train over the East River.
"They were excited about Long Island City," said Jodi Gershman, the CFO of World Wide Group, which is behind the mixed-use Luna LIC and QLIC projects in the neighborhood. "Other brokers we worked with treated it like it was the stepchild."
As would be expected, the retail deals that Baker and Fishbein have inked up until now are more of the mom-and-pop variety rather than the big-box department store. They've leased about 60,000 square feet in the neighborhood since 2011 and are currently working on another 175,000 square feet of retail being built (aside from World Wide, Fishbein and Baker also were the brokers for landlords TF Cornerstone, Lightstone Group and Related Companies in projects like 1-50 50th Avenue and Gantry Park Landing).
Winick made its foray into Long Island City in 2011 when Baker's client, TF Cornerstone, asked him to market 30,000 square feet of retail space in its development complex on the waterfront including 45-45 Center Boulevard and 46-15 Center Boulevard because of his work for them at 505W37 in Hudson Yards.
"Similar to Hudson Yards, Long Island City was changing and TF Cornerstone was at the forefront of helping to shape this dynamic neighborhood," Steve Gonzalez, the head of retail leasing at TF Cornerstone, said in a statement.
Baker wasn't immediately sold on the neighborhood—even with its close proximity to Manhattan, number of subway lines and new developments—until he started leasing space.
"We did two really quick deals and I said, 'We could be onto something,' " he said. "There wasn't that many, if any, Manhattan-based retail brokerage companies that were focusing their attention on Long Island City."
Fishbein added, "We were shocked that we were getting more offers on our Long Island City retail properties than our Manhattan properties."
Baker asking Fishbein to work on a LIC-focused team was the perfect opportunity. He had just started working at Winick after graduating from college in 2011 and jumped at the opportunity to develop a niche market in the outer boroughs while other brokers spent their energy focused on Manhattan.
"Long Island City was really a big-picture neighborhood and a big-picture focus for me," Fishbein said.
The neighborhood had "pent-up demand," Baker said; despite a huge amount of office space, massive residential developments, a large family population and several hotels, the area had few businesses for residents to frequent.
"These are families that are working in Manhattan, they're making income levels that are substantial," Fishbein said. "It's not like a college town; it's a real sophisticated community."
That demand coupled with lower retail rents than Manhattan—averaging $45 to $60 a square foot compared with more than $100 a square foot—made it easier and faster to get deals signed, with many taking a lot less time to complete, the brokers said.
Baker's first deal in the neighborhood was the 800-square-foot lease of Crank Cycling Studio at TF Cornerstone's 46-30 Center Boulevard. Fishbein and Baker started pairing up in 2013 with NY Kids Club's 5,000-square-foot lease at 45-45 Center Boulevard and they kept going with everything from children's clothing stores to pharmacies.
"Aaron wore out a lot of shoe leather," said Richard Lebow, the executive director of marketing and sales for World Wide. "And the tenants he brought were of good quality."
And even as Fishbein was working on the streets to get World Wide's 15,000 square feet of retail space at Lunca LIC (42-15 Crescent Street) and QLIC (41-42 24th Street) leased, Baker was still heavily involved in each deal and stayed in touch regularly with Lebow during the process.
"I personally appreciated his attention to the assignment," Lebow said. "We weren't getting that from some of their competitors."
Baker, a Pace University graduate, didn't immediately fall in love with LIC, he soon realized it reminded him of the neighborhood where he launched his career in real estate in 200, Midtown West while with Winick.
When he was 29, Baker ditched his job working for his in-laws' dental supply company because he felt like he hit a ceiling there and went looking for a gig where his success depended on his work, not who he was married to.
"I didn't have kids at the time," said Baker, who's now a father of three (ages 11, 9 and 5). "I figured if I'm going to make a career change, now's the time."
A friend helped him land a job at Winick in 2000 and he decided to focus on Midtown West when he spotted a "For Rent" sign on a storefront near his apartment.
"I got offended that somebody else's name was on the sign in the neighborhood in which I lived," he said. "I wrote the owner a letter and I eventually wound up meeting him. He saw something in me and 18 years later I'm still his broker." (He declined to give the name of the landlord.)
Baker developed an expertise in that neighborhood and continued to do deals while he climbed the ladder at Winick. He eventually was appointed the president of the firm—which has about 35 brokers and has headquarters at 655 Third Avenue—in 2011.
"Any broker would be prudent to go the market and see where it really would grow and really focus their attention there," Baker, of Scarsdale, said. "It's better to create a niche."
Unlike Baker, Fishbein knew for a while he wanted to get into real estate.
The California-native ditched the West Coast for the East Coast when he moved to New York City to attend Yeshiva University, where he studied real estate and finance. After graduating with a bachelor's degree, he realized he didn't want to leave Gotham.
"I just saw how unique the New York real estate market is," said Fishbein, who lives on the Upper East Side with his wife of two years. "And retail was a very interesting part of the business because you're able to walk the streets."
Fishbein was brought in on LIC pretty early in his time at Winick and, aside from building his career in the neighborhood, has been an active member of the Long Island City Partnership—which aims to spur economic development in the neighborhood—for several years.
"We're not just brokers coming in based on the Amazon announcement," Fishbein said. As far as the Queens neighborhood is concerned, they're old school.